Kyle Abraham to join USC Kaufman as Claude and Alfred Mann Endowed Professor of Dance
April 7, 2021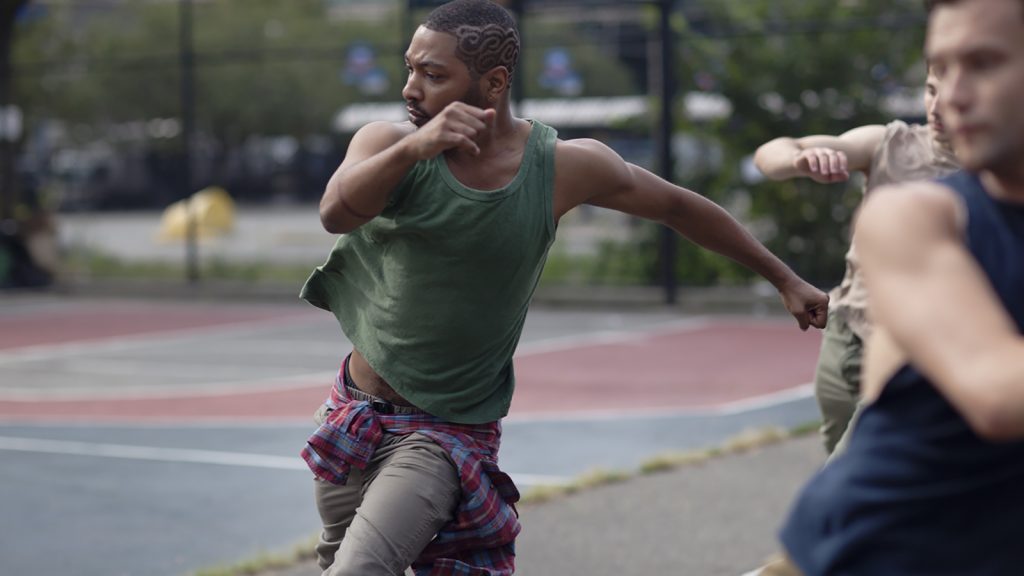 The USC Glorya Kaufman School of Dance has named Kyle Abraham to the Claude and Alfred Mann Endowed Professorship in Dance. In addition to Abraham joining the USC Kaufman faculty, up to 10 members of his dance company, A.I.M, will teach a week-long intensive every December at USC Kaufman for BFA students, as well as professional and pre-professional dancers.
"I'm incredibly honored to accept the Claude and Alfred Mann Endowed Professorship of Dance," said Abraham. "The mission of my company is to create an evocative interdisciplinary body of work, and I look forward to bringing that focus on hybridity to the USC Kaufman community."
Abraham will succeed multi-dimensional artist William Forsythe, whose appointment ends in spring 2021, as holder of the endowed professorship.
"I am so immensely pleased to learn that my brilliant colleague and friend, Kyle Abraham, will be the next Claude and Alfred Mann Endowed Professor of Dance," said Forsythe. "I am so happy knowing that Kyle will be deeply, warmly embraced by the same extraordinary community that generously offered to me, its own profound artistic visions."
An award-winning choreographer
Kyle Abraham is a 2018 Princess Grace Statue Award Recipient, 2017-18 Joyce Creative Residency Artist and 2016 Doris Duke Award Recipient. He is also a 2015 City Center Choreographer in Residence and a 2013 MacArthur Fellow. His dance training began at the Civic Light Opera Academy and the Creative and Performing Arts High School in Pittsburgh, Pa.
He continued his dance studies in New York, receiving a BFA from SUNY Purchase and an MFA from NYU Tisch School of the Arts. Abraham also received an honorary Doctorate in Fine Arts from Washington Jefferson College. He most recently served as a visiting professor in residence at the University of California, Los Angeles. Abraham is the founding Artistic Director of A.I.M, an American contemporary dance company, created in honor of his history, experiences and artistic interests.
An undeniable talent
"Kyle is an undeniable talent and innovative thought-partner in the international dance community," said USC President Carol L. Folt. "His impressive experience, along with his commitment to equity, diversity and inclusion, will ensure the future success of our prestigious dance program for years to come."
In November 2012, Abraham was named the New York Live Arts Resident Commissioned Artist for 2012-2014. One month later, Alvin Ailey American Dance Theater premiered Abraham's Another Night at New York City Center. That same year, Abraham was named the 2012 Jacob's Pillow Dance Award recipient and 2012 USA Ford Fellow. In 2013, he served as a choreographic contributor for Beyonce's British Vogue cover shoot.
Abraham received a Bessie Award for Outstanding Performance in Dance for his work in The Radio Show, and a Princess Grace Award for Choreography in 2010. He was selected as one of Dance Magazine's "25 To Watch" for 2009, and received a Jerome Travel and Study Grant in 2008.
In addition to performing and developing new works for his company, A.I.M, Abraham has been commissioned by a variety of dance companies. Most recently, Abraham collaborated with New York City Ballet Principal Dancer Taylor Stanley on Ces noms que nous portons, a Lincoln Center and NYCB commissioned solo. He also choreographed the music video for Sufjan Stevens' Sugar. He premiered to be seen, a new solo for American Ballet Theatre Principal Dancer Calvin Royal III, for the 2020 virtual Fall For Dance Festival.
National and international recognition
In fall 2019, he choreographed Ash, a solo work for American Ballet Theatre Principal Dancer Misty Copeland; Only The Lonely, a newly commissioned work for Paul Taylor American Modern Dance; and The Bystander, a new commission for Hubbard Street Dance Chicago to rave reviews. Abraham premiered the Bessie-nominated The Runaway for New York City Ballet's 2018 Fall Fashion Gala. It was recognized as one of the "Best Dance of 2018" by The New York Times.
In 2016, Abraham premiered in Untitled America, a three-part commissioned work for the Alvin Ailey American Dance Theater. He toured The Serpent and The Smoke, a pas de deux for himself and acclaimed Bessie Award-winning and former New York City Ballet Principal Dancer Wendy Whelan as part of Restless Creature. He also choreographed for the feature-length film, The Book of Henry, for acclaimed director Colin Trevorrow.
His choreography has been presented at New York City Center, Lincoln Center, Brooklyn Academy of Music and The Joyce Theater. In addition, his work has been presented at The Los Angeles Music Center, Jacob's Pillow Dance Festival and Théâtre de la Ville. Other presenting organizations include Sadler's Wells, Maison de la Danse, Tanz Im August, On The Boards, Danspace Project, Dance Theater Workshop, Bates Dance Festival, Harlem Stage, Dublin's Project Arts Center, The Andy Warhol Museum and The Byham and The Kelly-Strayhorn Theater. His work has also been presented in Montreal, Ottawa, Italy, Germany, Sweden, France, Jordan, Ecuador and The Okinawa Prefectural Museum & Art Museum in Japan.
One of the highest honors
"An endowed professorship is one of the highest honors that a University can bestow on a member of its faculty," said Dean Robert Cutietta. "We are excited to welcome Kyle to the USC Kaufman community and look forward to seeing the impact he has on the school over the next five years and beyond."
The endowed professorship is a part-time faculty position for an internationally acclaimed artist with expertise in choreography, composition and concert dance. Abraham will spend six to 12 weeks in residence at USC Kaufman each year for the next five years. In addition to teaching dance technique, choreography, repertory and performance, and improvisation and composition, among other courses, he will stage and create work for students to perform at events and performances.
"I am thrilled Kyle Abraham will be joining the Kaufman family," said Assistant Dean of Faculty Jackie Kopcsak. "The nuance and rigor of his work as an artist are equally matched by his warmth and generosity as a person."
"From its beginnings, USC Kaufman has welcomed the world's most influential and relevant choreographers, and Kyle will continue our tradition of exposing students to artists that reflect the dynamic and vital themes and issues of our changing times," added Founding Director Jodie Gates.
Claude and Alfred Mann
The Claude and Alfred Mann Endowed Professorship is named for USC trustees Claude and Alfred Mann. Claude Mann, elected as a USC life trustee in 2016, is the executive vice president of gifting and development for the Alfred Mann Foundation, her late husband's charitable arm.
A renowned humanitarian and longstanding friend to USC, Mann has been honored with the Women of Achievement Award from the Women of Sheba, the Woman of Valor Award from the Women's International Zionist Organization and the Larry King Heart Award. She has served on the boards of numerous organizations, including the Alfred Mann Institute at the Technion – Israel Institute of Technology, the Los Angeles Opera and the Walter W. Naumburg Foundation.
Her late husband served on the USC Board of Trustees from 1998 until his passing in 2016. He was a humanitarian and entrepreneur who founded 17 companies in the aerospace and biomedical technology industries.
He donated more than $174 million to advance USC's contributions to human health, establishing the Alfred E. Mann Institute for Biomedical Engineering at the USC Viterbi School of Engineering. The institute invests funds to accelerate the commercialization of bioengineering or medical inventions.