Living and learning in Los Angeles
November 22, 2019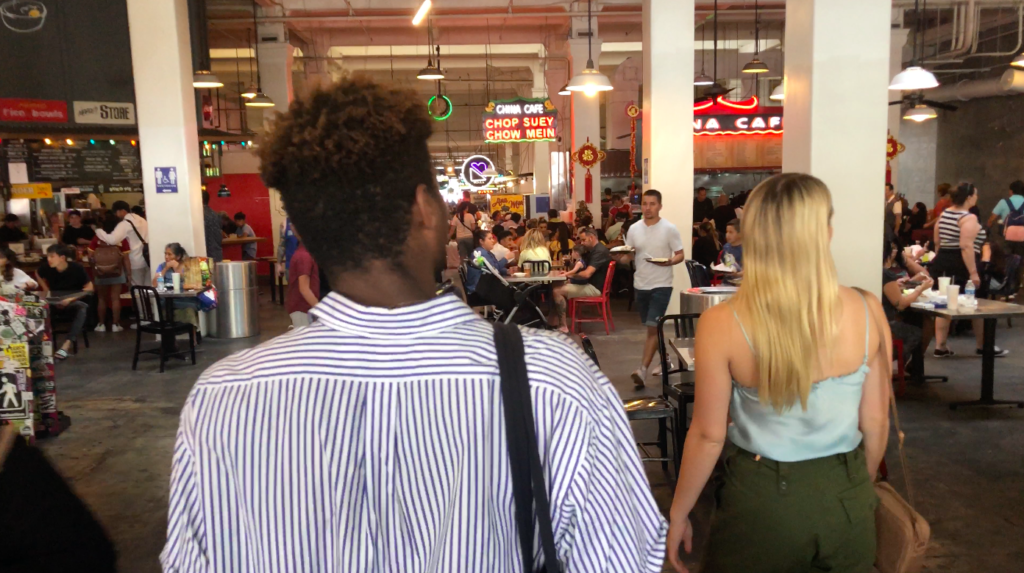 At USC Kaufman, students not only have the chance to learn in a diverse city like Los Angeles. They also have the opportunity to enjoy everything it has to offer.
"Living is Los Angeles has been a whirlwind! First of all, the city is so big. All the way from Long Beach to Hollywood, there is a plethora of events, shows and communities to engage with," said Alyssa Myers (BFA '20). "Every year, I make a goal to go out into the city and explore. As the long semester grinds along, these little excursions become so necessary for refilling my mind and spirit. Whether it's going to the mall with friends, trying a new restaurant or walking down Santa Monica Beach."
At USC Kaufman, students are surrounded by a rich community with a variety of attractions. The environment can inspire the artistic brain and give students a break from the rigors of academic life.
"Finding space from the university setting provides inspiration and rejuvenation for the work that is waiting for me when I get back," Myers said.
Commercial dance classes in Los Angeles
Inside a city teeming with incredible art in all forms (theatre, visual art, music, cuisine and more), the Los Angeles dance industry is booming. USC Kaufman students and faculty are constantly active in the community. Adam Vesperman (BFA '20) makes a point to take local classes.
"There are so many advantages to attending a school in Los Angeles, particularly as an aspiring member of the entertainment industry. We have infinite access to training, education, leisure activities and unique experiences," he said. "One day, I would like to be a dancer in the commercial entertainment industry. While in school, I have the opportunity to continue my commercial training at studios in the Hollywood area, which is only a 20-30 minute drive from USC. I enjoy taking classes at dance studios like Millennium, Movement Lifestyle, T-Milly, Playground and the Edge."
But these classes are not just for aspiring commercial dancers—the atmosphere informs and supplements classes at USC Kaufman.
"Whether you want to be a commercial dancer or not, the information provided in these classes can be essential to our training in regards to picking up choreography quickly and efficiently, incorporation of personal artistry within a given framework, and dealing with unique circumstances that could be presented to us (ex. dancing in front of an industrial fan, working with multiple cameras, etc)," said Vesperman.
Eat, dance and be merry
As students continue through the program, they discover the things that speak to them the most about Los Angeles. Like Vesperman, Eli Alford (BFA '22) also takes advantage of the city's dance offerings.
"My favorite part of every weekend happens Sunday mornings at 10:00 a.m. I take a quick Uber to 'The Sweat Spot' on Sunset Boulevard to take a class called Dance Church. This dance-centric cardio class is an excellent workout that also allows me to connect with the LA dance community. Every class I take leaves me feeling inspired and excited to start a new week of classes back at USC."
He also makes time to enjoy Los Angeles' bustling food scene, which provides a wide range of options and are often open late at night. Perfect for students who often have rehearsals in the evening.
"Things tend to stay pretty busy at USC Kaufman, but whenever I find myself with a free weekend, there's nothing I love more than getting a group of friends together and hopping onto either the Metro or an Uber to go see and experience the greater LA area. Being a college student, most of my meals are 'batch baked' at the beginning of the week to make for quick and easy lunches and dinners. When the weekend rolls around, however, I enjoy treating myself to a nicer meal at a restaurant off-campus," he said.
"Luckily, for me, there is never a shortage of new, exciting restaurants to try. Being vegan, my favorite place to eat is Crossroads Kitchen in West Hollywood. Its diverse menu has something for everyone and it is entirely plant-based," Alford added.
Unwind after class
At USC Kaufman, students' schedules tend to fill up quickly. Fortunately, Los Angeles provides plenty of opportunities to unwind and to inspire creativity.
"I feel a special connection to the beach, its continuous waves and renewing cycles. For the most part, the weather in LA is always calling for some beach vibes," said Myers. "Some of my favorite memories from college have been with friends down in Malibu and at Manhattan Beach. It is such a blessing that this escape is so close to my USC home."
Students also have a plethora of hiking trails to choose from. "The best part of Runyon Canyon is definitely all of the dogs hiking alongside you. If their owners are nice, they'll even let you enjoy time with their pets on the way up," said Vesperman. "Just on a short hike, I get to experience some LA sunshine, a good workout and a touch of animal-assisted therapy. Who wouldn't want that?"
What makes living and learning in Los Angeles so special is that each student develops a personal relationship with the city. There is truly something for everyone in Los Angeles and no shortage of things to love about living in this unique city.
---