New Movement Residency: Marissa Osato revisits her "Spectacular Society"
June 18, 2019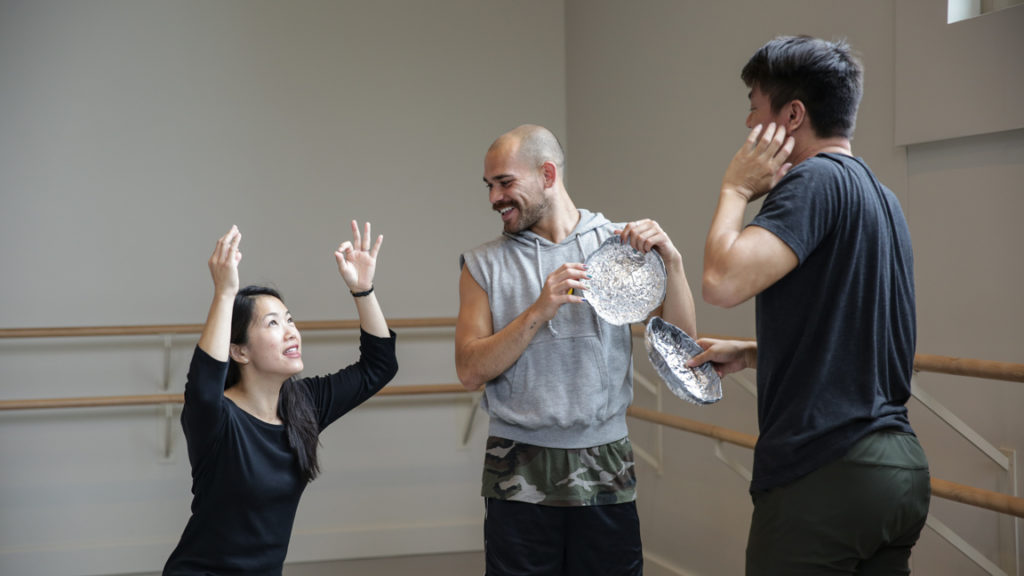 Choreographer Marissa Osato is no stranger to dance in Los Angeles. This year, Entity Contemporary Dance—which she and choreographer Will Johnston co-founded and co-direct—will celebrate its tenth year in the city. Osato's roots in Southern California, however, reach further back than Entity. She earned her BA in Dance and BA in Literary Journalism from the University of California, Irvine. There, she studied several forms of dance. When she began working as a dancer and choreographer in Los Angeles, she knew she wanted to combine elements of each in her work.
More recently, she completed her MFA in Choreography from California Institute of the Arts. Osato is in her element at the New Movement Residency. With time and space to choreograph, she finds that concentrated resources help her cast of local dancers to focus and create. She's using the time to reimagine her MFA thesis, The Spectacular Society.
Old stories meet new movements
Osato's 2018 Master's thesis at CalArts, The Spectacular Society, was layered with thematic density. In it, she used the United States government-sanctioned WWII Japanese internment camps as a narrative structure. She reflects on her grandparents' stories to explore silence, trauma, othering, marginalization, bodily commodification and more.
"My grandparents on my dad's side were both interned," she said. "But it's a really complicated story, because my grandparents also fell in love in the camps."
Osato's work researches the way that racism and discrimination can be masked by persuasive propaganda and spectacle.
"The idea of spectacle is where the title, The Spectacular Society, comes from," she explained. "The camps put on these shows where people could see that the Japanese prisoners were well-treated. People 'saw' that they were nothing like European camps."
The Spectacular Society presented complex subject matter and apparent symmetry in today's American politics. Osato realized there was much more to explore after debuting the work at CalArts. Consequently, she decided to spend her time at the New Movement Residency restaging the work on a new cast of dancers. During the residency, the original cast from CalArts joined Entity dancers, as well as USC Kaufman BFA students and alumni to transfer the work in full force.
For Osato, identity politics remain relevant
When Osato first staged The Spectacular Society, immigration issues in America were at the forefront of media coverage.
"When I was creating the work, I was thinking about how cyclical history was. It was really repeating itself in terms of keeping track of this 'new enemy alien.' How quickly we forget as a country what fear will do to us," she said.
She centered this particular work on the oppression of Japanese-American citizens. She found, however, that broader themes were applicable in a comparable climate. This year, her process coincides with political unrest centered on women's rights. Therefore, new ideas have made their way into the work.
"A year later in this different space, I've grown. How I create and how I present my work politically is different than when I began in 2017," she said. "Now, I'm infuriated at issues regarding reproductive and women's rights. Ultimately, it's just about marginalized communities, and how power structures can take rights away so easily."
A friendly face in the cast
Though The Spectacular Society will retain its general message, Osato is conscious that it will reconfigure itself throughout the process. Essentially, new dancers, new resources, a new environment and new political context will all influence the work. 
"I'm keeping the skeletal structure of the work, but there are seven new individuals who all process the story differently," she said. "They're finding new bonds, new meaning from this story. It wouldn't feel right to set the exact same thing."
In Osato's new cast is an old student: USC Kaufman dancer Adam Vesperman (BFA '20) has been learning her choreography for many years. Since they met at a convention in Seattle several years ago, Vesperman has showed up in Osato's classes quite often.
"I've always loved his intensity and work ethic. I think USC has opened him up, and I love having this continuing relationship with this little fiery kid with sharp dynamics who is now a maturing artist," she said.
Now, Vesperman takes company class with Entity and sometimes appears in Osato's work. During the New Movement Residency, he's bringing his intensity to The Spectacular Society. He will perform in the piece, as one of the seven members of the new cast.
Time and space create depth
Aside from Vesperman, commercial dancers comprise the majority of the cast. Most are Entity company members who work in the entertainment industry in Los Angeles. Long blocks of time for research and reflection in the studios at USC Kaufman contrast the crowded schedules they usually navigate. In general, Osato sees the extended time at USC Kaufman as adding depth to the work.
"It's really amazing to have so much time. Just to spend a whole hour discussing, having dialogue, a whole hour with improvisation to find new things has been such a blessing," she said. "A concentrated block of time where everyone can come in, focus and be on the same page is so beautiful."
During this intensive period of rehearsal, Osato and the cast are working toward a performance of The Spectacular Society at NAVEL, a venue in downtown Los Angeles. According to Osato, the venue's commitment to supporting and presenting underrepresented communities aligned well with the values embedded in The Spectacular Society. When they heard about the piece, they commissioned a showing for November.
"I really love what they stand for. They're all about pushing the status quo, challenging these ideas and opening up space for voices that are often overlooked," Osato said.
Moving forward, she hopes that The Spectacular Society will live longer. She wants to continue to shed light on the stories of disenfranchised communities, Japanese-American and otherwise.
"I really want to tell this story. It floors me that none of my cast knew that this happened, and I'm hoping that this show can open up as many eyes as possible," she said.
---
By Celine Kiner