Members of USC Kaufman participate in vigil for victims of anti-Asian hate
March 16, 2022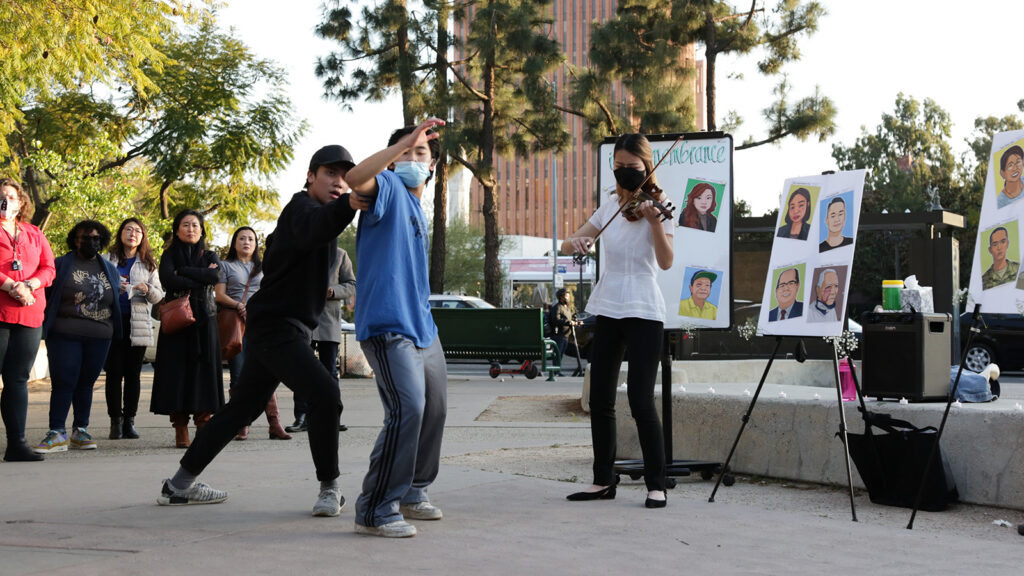 On March 9, the USC Asian Pacific Islander Faculty and Staff Association (APIFSA), USC Asian Pacific American Student Assembly (APASA), Asian Pacific American Student Services (APASS) and the USC Office of Religious and Spiritual Life (ORSL) held a vigil for victims of the Atlanta shooting that occurred on March 16, 2021. The event took place on the corner of Hoover Street and Jefferson Boulevard on the USC University Park Campus campus. The vigil, which also honored other recent victims of anti-Asian hate crimes, included a student performance, a group prayer and statements from each of the organizations represented.
USC Kaufman staff connection
Members of the USC Glorya Kaufman School of Dance community participated in the event. Cecile Oreste, Head of Communications at USC Kaufman, serves as the Vice Chair of the USC APIFSA Professional Development, Mentorship and Networking Committee. She is also a USC APIFSA Communications and Engagement Committee Member and a Programming and Events Committee Member. Oreste was part of the vigil planning committee comprised of Programming and Events Committee members and representatives of partner organizations.
Oreste, who identifies as Filipino American, explained that this event was important to have as the Atlanta shootings were one of the main reasons Grace Ryu, Associate Director at the USC East Asian Studies Center and Linda Truong, Managing Director for Library IT and USC Libraries, formed APIFSA.
"Although other anti-Asian hate crimes had been reported during the pandemic, I think the Atlanta shootings made people really pay attention," Oreste said. "As this tragedy served as one of the main reasons in forming APIFSA, many of us felt it was important to honor the victims around the anniversary of their deaths."
USC Kaufman student performance
USC Kaufman students Hayden Rivas (BFA '24) and William Okajima (BFA '24) prepared a dance performance for the vigil to music by USC Thornton School of Music student Elizabeth Wei. She played an excerpt of "Butterfly Lovers' Concerto" by Chen Gang and He Zhanhao on the violin.
Rivas shared that he had immediate interest in the vigil when he heard about it. He identifies as Filipino Canadian and has been looking to create works that tackle social justice issues around the world.
"Growing up in my dance training, I never had a figure that looked like me. I'm grateful that we're creating these spaces while also addressing problems that impact our community," Rivas said. "At the core of it, this performance is a part of an event that serves as a remembrance for the victims of the Atlanta shootings and the recent victims of anti-Asian hate. With dance, I always view it as an opportunity to impact someone without words. I hope this performance will do so."
Rivas originally planned to perform a solo, but then reached out to his classmate Okajima to collaborate. The two decided to show an improvised duet. They hope that their movement communicated a shared vulnerable state and presence in the moment.
Supporting Asian American Pacific Islander self, worth and values
In addition to Rivas and Okajima, USC Kaufman faculty member Bonnie Oda Homsey provided a written statement. Oreste read this on her behalf.
"Growing up in Hawaii's ethnic melting pot shielded me from experiencing Asian 'model minority' microaggressions. When I moved to NYC, reality hit when I was called a 'banana' and realized what it meant," wrote Homsey. "Words do not define me. Behavior and action do! Behave the way you want to be treated. Be fearless and proactive in asserting your distinct, unique Asian American Pacific Islander self, worth and values."
For more information about the USC Asian Pacific Islander Faculty and Staff Association, please visit apifsa.usc.edu.
---
By Brigid Murphy