Announcing Fall 2022 Artists in Residence
June 13, 2022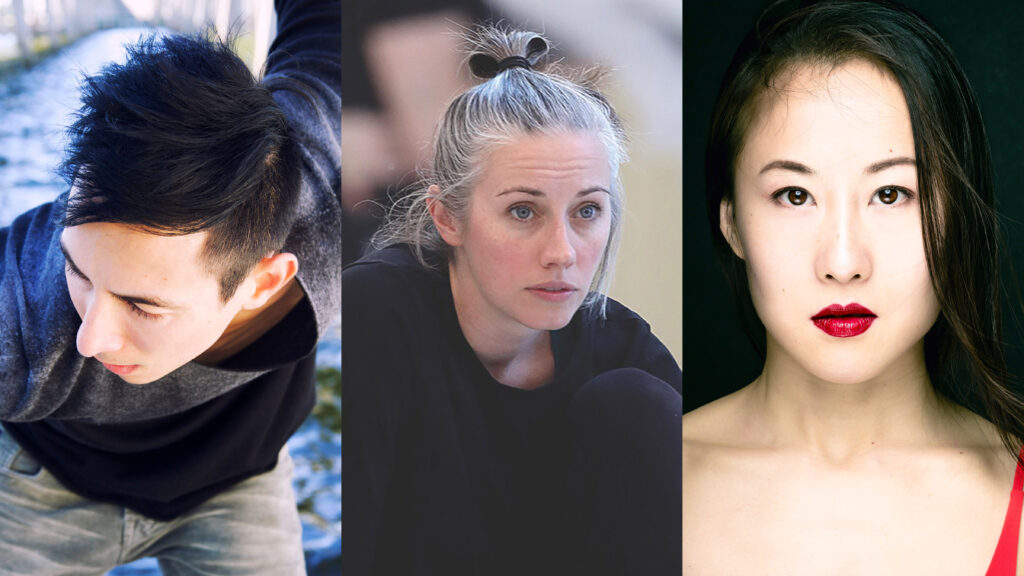 Starting this fall, the USC Glorya Kaufman School of Dance welcomes three new Artists in Residence. These renowned artists will work with BFA students, teaching classes and setting choreography.
Peter Chu
Originally from Cocoa Beach, Fla., Peter Chu began his movement practice as a gymnast. He later transitioned into dance and trained at the Dussich Dance Studio. Chu earned his BFA from The Juilliard School, where he received the Hector Zaraspe Prize for Choreography upon graduating. As a performer, Chu danced with BJM Danse and EZdanza, as the lead in Christina Perri's "Jar of Hearts" music video, in Celine Dion's Vegas spectacular A New Day, and with Crystal Pite's company Kidd Pivot.
Chu strives to push the physical bounds of dance, and created the Las Vegas-based multidisciplinary dance company chuthis., in 2008. This company combines innovative lighting and sound with live contemporary movement. chuthis. has performed globally and also aims to provide movement education programs. Their intensives and workshops foster technical and artistic development and mind-body familiarity in a new generation of artists.
Chu has also created works for many dance and creative entities such as Hubbard Street Dance Chicago, Staatstheater Augsburg, Germany, Gibney Dance Company, Charlotte Ballet, Orlando Ballet Theatre, Giordano Dance Chicago, So You Think You Can Dance, Naomi Stikeman's Çaturn, Houston MET Dance, New Dialect, SALT Contemporary Dance, Springboard Danse Montreal and more. He has worked with several dance programs in higher education including The Juilliard School, Harvard University, Point Park University and SUNY Purchase, among others.
Dani Rowe
Born in Shepparton, Australia, Dani Rowe trained at the Australian Ballet School. From 2001-2015, Rowe worked as a principal dancer with the Australian Ballet and Houston Ballet. She also danced with the Nederlands Dans Theater.
Rowe previously served as the Associate Artistic Director of SFDanceworks. She has created works for a variety of dance companies. These include San Francisco Ballet, Nederlands Dans Theater's SWITCH program, Royal New Zealand Ballet, Co.Lab Dance (featuring dancers from American Ballet Theatre) and more.
During the COVID-19 pandemic, Rowe pivoted to filmmaking. She began writing, choreographing and directing dance films, namely Wooden Dimes for San Francisco Ballet, The Animals for Ballet Idaho and The Misfits for Louisville Ballet. In collaboration with filmmakers Garen Scribner and Alexander Reneff-Olson, she created Wilis in Corps-en-tine for The Australian Ballet, which Vogue called "one of the best things to come out of quarantine."
Yin Yue
Yin Yue began her dance training at Shanghai Dance Academy. She received her MFA from New York University's Tisch School of the Arts in 2008. She founded and serves as artistic director of YY Dance Company (YYDC), a New York City-based, nonprofit contemporary dance company. YYDC teaches, produces and performs Yin's original choreographic work. The company incorporates Yin's signature FoCo Technique™ which represents a dynamic fusion of Chinese dance, folk and contemporary movement languages.
Under Yin's direction, the company presented work to live audiences across the world. Their touring credits include: Schrit_tmacher Festival (Germany), SummerStage in New York City, Jacob's Pillow Dance Festival, New York International Fringe Festival and more. Additionally, the company has staged repertory internationally at universities, companies and dance studios.
Yin has received many awards, including the 2021 Harkness Promise Award, the Hubbard Street Dance Chicago 2015 International Commissioning Project, the 2015 BalletX Choreographic Fellowship and the Northwest Dance Project's 5th Annual Pretty Creatives International Choreographic Competition in 2013.
USC Kaufman Artists in Residence are supported in part through generous funding from The Choi Family Artists in Residence Fund. Additional support for visiting artists provided by Katherine and James Lau. For more information about Artists in Residence, please click here or watch the video below: