New Piece by Christian Vincent Brings Dance to the Forefront of USC Village Opening Ceremonies
October 5, 2017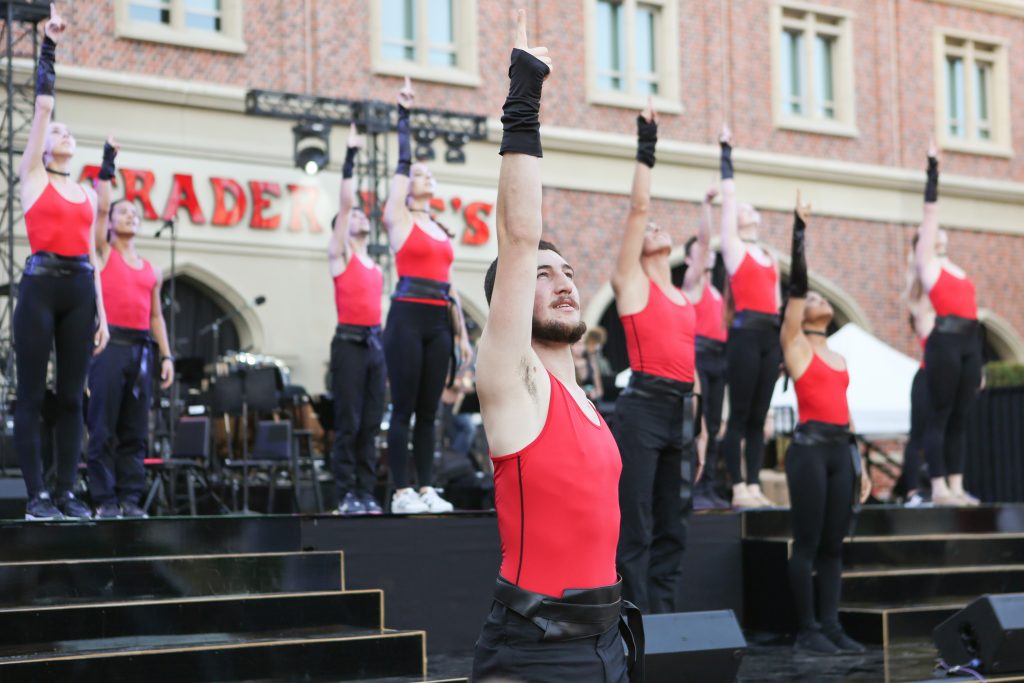 Commercial dancer, esteemed choreographer and Kaufman faculty member Christian Vincent was tasked with choreographing for the USC Village Opening Ceremonies and ribbon cutting, which took place on October 3. From Kaufman students to campus dance organizations and more, this celebration featured a diverse selection of the USC student body, while putting dance at the center of this exciting moment in USC history.
"This project is unique because it involves everyone on campus," said Vincent, before the event. "Dance is about community and I think that is a cornerstone of the USC Kaufman philosophy. The fact that the Thornton School of Music, the School of Dramatic Arts, Kaufman majors and non-majors and the two dance teams will be included in this performance is continuing to create this idea of community on the USC campus. I think that's something we should continue to do."
The rehearsal room for this piece was a buzzing hub of energy where dancers bounced ideas off one another, improvising and testing out tricks in-between runs of the choreography. In the same way that the Village brought students together over the course of the first weeks of school, this rehearsal process brought together about 30 dance majors of different class standings and backgrounds to perform in the ceremonies.
"We volunteered, we showed up and we had no idea what to expect," said Aurora Vaughan, freshman BFA dance major. "It turned out to be a great mix of styles. I'm not a commercial dancer—or I don't think of myself as that—so this is a really fun experience for me. It's challenging, but I'm having a fun time."
Fellow freshman BFA student Matthew Perko added, "It's really cool to be a part of something kind of historic. Across from this brand new program, there's a brand new Village. This is like our home and now we have a place across the street where we can go and visit."
For Vincent, this project was a "breath of fresh air," due to the high caliber of performers found within his cast.
"Working with the USC Kaufman BFA's has been enlightening and refreshing," he said. "It's great because I'm in a room with a group of dancers that can do anything I want. A lot of times when you choreograph you have certain limitations, but I've found in this room that, because of the talent pool, if I need something or want something specific there are not just one or two people in the room who can do it, but the majority of them can do it. It's freeing."
Having such flexibility with his cast lent itself well to the scope of the performance Vincent pieced together. "I've found that being in the space, it's vast, so the performance has to be able to fill the space with the energy, with the visuals," he said. "It's a big, but fun, undertaking."
From this experience, Vincent hoped the dancers would be able to walk away more flexible performers. More so, he hoped to, "impart on them a specific kind of work ethic, because this is a discipline. Anyone I work with, I do want to work hard, but I want them to have a sense of joy and fun. At the end of the day, we put in the work in rehearsal, but when it comes time to perform, it's time for them to share their gifts."
Overall, this performance was, "important because it [was] very inclusive and it [was] another opportunity for a broader scope to see the USC Kaufman students," said Vincent. It was a chance for the school to reach out to members of the Trojan family may not be predisposed to interact with the vibrant dance community on campus on a regular basis.
The USC Village ribbon cutting was invite-only and took place on October 3 at 7 p.m. following a cocktail reception. The Village itself remained open to the public during that time.
---
By Sara Silberman