Philanthropic Senior Projects
April 17, 2020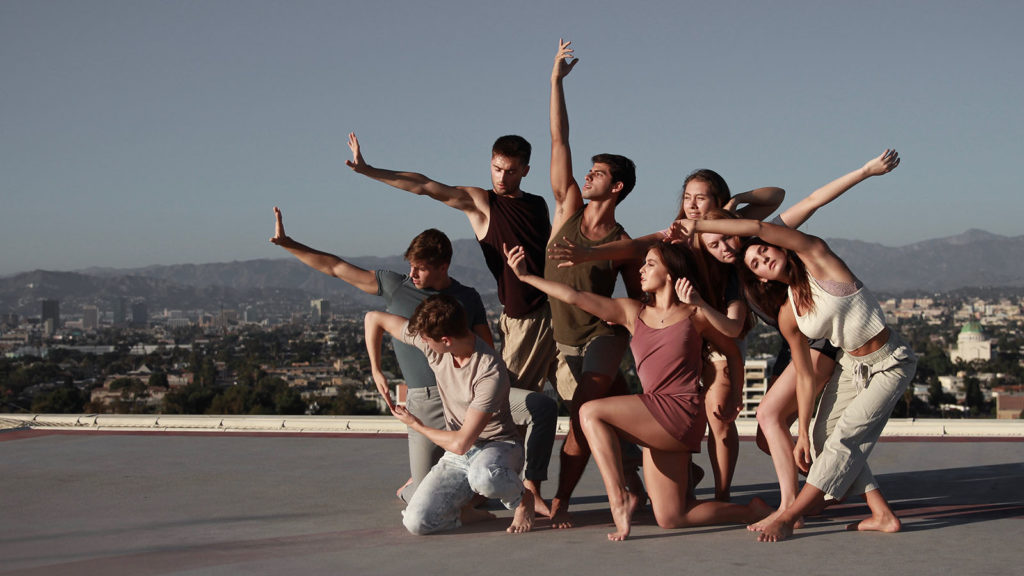 Starting in their junior year, BFA students at the USC Glorya Kaufman School of Dance embark upon their senior projects. These projects display a culmination of four years of work at USC Kaufman. They also explore the students' diverse fields of study and their relationship to dance. This year, philanthropy was a common theme for a few USC Kaufman seniors.
Relevancy of Dance Curriculum
According to Jake Tribus (BFA '20), senior projects show the multifaceted curriculum of USC Kaufman and how dance study can be relevant within many other professional realms.
"USC Kaufman trains people beyond just being dancers," Tribus said. "They're training innovators, and they're training intelligent people who are not just dancers on a stage. The senior project reaffirms the idea that we are taking dance study and blending it with other forms. We're taking it beyond the walls of the studio."
Giving Back with SCCC
According to Tribus, his passion for giving back inspired the theme of his senior project. Tribus' goal was to merge dance with arts administration, business practices and curation in addition to philanthropy.
During his senior year, Tribus served as president of the Southern California Choreographic Collective (SCCC). The SCCC is a student organization committed to creating a platform for upperclassmen BFAs to develop self-produced work and to collaborate with students from different schools at USC. Tribus saw the opportunity to stage a performance with the SCCC as a chance to give back to the community.
"My original idea was to put together a show, a one-night benefit gala and dance performances," Tribus said. "We would then donate ticket sales and proceeds from other fundraising activities back to Dancers Responding to AIDS (DRA)." His project was partly inspired by Dylan Balka (BFA '19), who put on an SCCC show to support DRA last year.
Philanthropy and Networking
Similar to Tribus, Brendan Evans (BFA '20) chose to pursue a philanthropic theme for his senior project. He worked alongside his peers Ausia Jones (BFA '20) and Rae Srivastava (BFA '20) to execute an event titled Young Artists for Planned Parenthood. They planned to host a social and artistic event and donate proceeds from ticket sales to Planned Parenthood.
According to Evans, the idea spurred from past experiences with Alexandra Wells, who established the nonprofit organization Springboard Danse Montréal. Evans previously participated in their intensive to sharpen his dance skills and to kick start professional networking in the dance community.
"It's literally meant to springboard you into your career. It's as social as it is rigorous and artistic," Evans said. "I've done the program twice, once after my sophomore year in college and once after my junior year. Both programs were really impactful. I made lasting relationships with choreographers and friends, so I was really wanting to create somewhat of a springboard within the dance community here in LA."
Adjusting Projects due to COVID-19
Since USC's transition to online learning due to COVID-19, Tribus, Evans and the rest of their class have had to adjust their senior projects in response. As social distancing guidelines were implemented and academic buildings closed to the public, both had to cancel their corresponding events.
Evans added that the cancellation of the event inhibited their ability to continue the philanthropic aspect of their project.
"We unfortunately have not continued a partnership with Planned Parenthood seeing that our donations would come directly from ticket sales," Evans said. "However, we are still interested in future opportunities and value what the organization stands for."
Although his main event was canceled, Tribus raised about $3,500 which he will be donating to DRA. He is also currently looking for a way to showcase the dance aspect of his project despite the inability to hold live performances.
"In the meantime, we're still brainstorming ways to continue fundraising," Tribus said. "Even though we can't physically be on that stage, we want to put together a virtual showing of the works. Maybe something you can watch via a YouTube link or an Instagram post."
Senior Project Presentations will take place virtually, April 22 – April 24. The Class of 2020 Senior Projects are supported in part by The Collaborative Projects Fund and the generosity of The Cheng Family Foundation.
---
By Brigid Murphy