Senior repurposes choreographic showcase for Dancers Responding to AIDS
March 29, 2019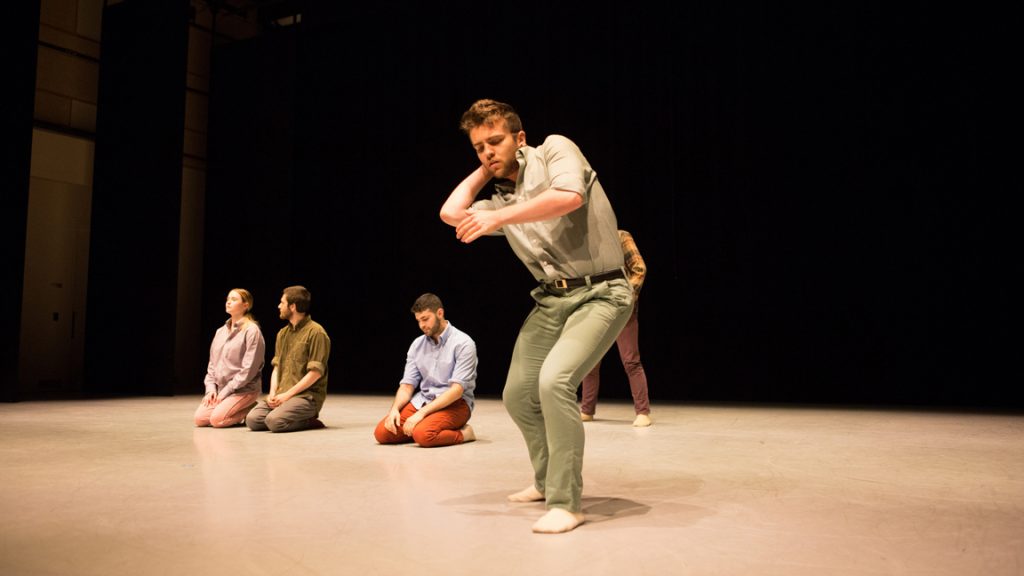 Last spring, the SC Choreographic Collective presented—for the first time—its own show: curated, choreographed, directed and produced all by USC Kaufman BFA upperclassmen. This year, in carrying on the tradition, SCCC member Dylan Balka redirected the collective show for a cause very near to his heart. His main goal: to put on a show that would support Dancers Responding to AIDS (DRA), a program of Broadway Cares/Equity Fights AIDS. Balka took on the majority of the show's administrative duties, as well as performing in the show last Saturday alongside his peers.
Early ideas and shifting parts
Balka's initial motivation to rework the production came from a shift in SCCC members' availability and schedules. Last year, at the collective's founding, the leadership positions were filled by junior BFA students. This year, they are busy seniors, preparing for commencement and creating senior projects, all the while searching for employment. Knowing that the collective would need a boost in order to present at the same caliber, Balka offered his time. His incentive was furthered by an existing relationship with DRA, where he interned last summer.
"I wanted to use it as a fundraiser, for something larger than just the gratification of performance, to use dance for the spirit of giving," Balka said.
He had been in conversation with DRA during the summer about the possibilities of a benefit involving his peers at USC Kaufman. Combining the resources of the two organizations seemed like a win-win.
Creation and curation 
This would be Balka's first show curating and producing, though he did show his own choreography at last year's SCCC show. With the help of USC Kaufman and DRA staff, he enlisted his peers for jobs of all sorts. Some submitted choreography and some performed. Others made up the backstage crew, the box office and even the musical accompaniment. Through this process, Balka learned to delegate and to make executive decisions.
"Curating always really excited me, and as a choreographer I always liked to see how transitions could move seamlessly," he said. "Translating that into curating the show itself was a really interesting concept. I had to see how pieces flowed into each other, kept the audience awake and interested, made strong finishes, and segued into good conversation."
He said it almost seemed like he was able to design his own little world for the night. Details he hadn't even considered before they were brought to his attention. The length of intermission, the in-house playlist, the front-of-house greeters were all his responsibility.
Lessons from leadership
Atop the leadership duties, Balka met unexpected disruptions and learned the value of last-minute solutions. A dancer and choreographer had emergency knee surgery—Balka, wanting to maintain a complete program, performed his own solo instead.
He was ultimately able to reach his goal—he raised over two thousand dollars for DRA, with the help of peers and mentors. In the wake of success, he's much more aware and equipped for the stressors of future endeavors.
"With fundraising, you almost don't know if it's going to happen until the day of the show," he said. "You just have to have faith and persistence, and trust that it will happen if you do the work."
He attributes much of his success to collaboration. The team he assembled included several dancers with multiple talents, who were able to fulfill many roles.
"If you can collaborate, by all means get them on board," he said. "You don't realize how many details come up, from programs to playlists to tech rehearsals—if you have a team, you're in good shape."
It doesn't seem this will be the end of Balka's producing career. Though the process was difficult, he admits he feels much more prepared now for what may come.
"I have realized I'm much more capable than I previously expected: at the end of the day, I know I have such a solid foundation for the next time around."
---
By Celine Kiner