Pursuing a BFA in Dance at USC Kaufman after a career in the field
October 11, 2019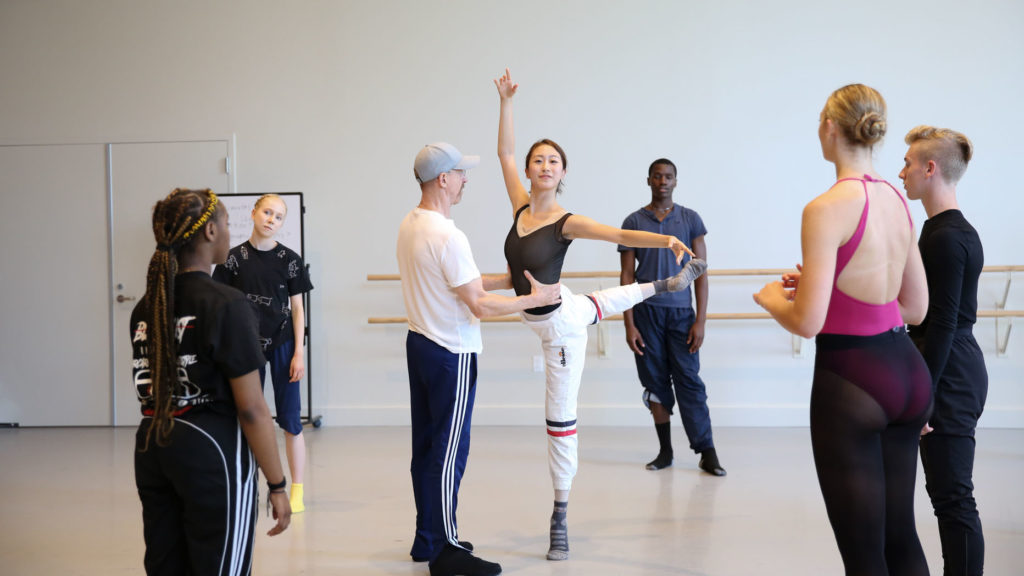 USC Glorya Kaufman School of Dance students Eileen Kim and Jonathan Alexander (BFA '23) have already achieved career milestones that many may consider to be an end goal. In June 2018, Kim joined Universal Ballet Company in Seoul, South Korea. Then, in January 2019, she was promoted to the corps de ballet. Similarly, Alexander danced professionally with Ballet Austin for their 2017-2018 season, and Cincinnati Ballet for their 2018-2019 season.
This year, in a seemingly unorthodox move, these professional dancers chose to step away from the professional stage and into USC's classrooms. Both Kim and Alexander shared what drew them to USC Kaufman specifically, what they learned during their time as members of professional ballet companies and where they see their dance journeys going from here.
Deciding to pursue a BFA in Dance
For both Kim and Alexander, USC Kaufman posed a unique opportunity for the diversification of their interests and abilities. Kim decided to audition for USC Kaufman while at a crossroads in her career.
"I thought that once I 'made it' as a professional ballet dancer, that I would have arrived at where I was supposed to be. While I was enjoying my time in Korea and learning a lot from Universal Ballet, I found myself feeling I hadn't arrived at where I was 'supposed to be,'" said Kim. "There are so many things I have an interest in that I haven't had the ability to explore because I've been so invested in ballet for the last few years. I knew I was searching for something. I just didn't know what. USC Kaufman was the only school that really caught my interest, and the only school that I applied to. So, I wasn't choosing to come to USC Kaufman among other schools. I chose USC Kaufman as my next place in life."
In Alexander's case specifically, pursuing dance in higher education marked a shift in his mentality about dance.
"Throughout my training as a ballet dancer I used the goal of dancing professionally as a way to fully commit to my training. Upon graduating from my school, I decided to continue on a professional track. I wanted to discover how I could grow as an artist and person in a ballet company," he said. "I decided I wanted to pursue dance in higher education when I developed an interest in expanding my hybridity as a dancer and fusing my dance experience with other artistic and academic endeavors."
Why USC Kaufman?
In choosing to attend USC Kaufman, the school's faculty and performance opportunities were a big draw for both dancers.
"The opportunity to work with such a diverse group of world-renowned artists was something that I thought was too good to be true," said Kim. "I was also drawn to the opportunity to learn the school's incredible, diverse repertory."
Kim was also inspired by the variety of academic options offered at USC.
"I definitely want to minor in something, but I am currently trying to narrow down my options by hopefully taking some introductory courses," she said. "Right now, I'm thinking about something in the realm of neuroscience, occupational science or cognitive science. I also want to check out what the School of Cinematic Arts has to offer. I feel like I would be interested in something like production or videography."
Setting new goals
As college students, Kim and Alexander have the opportunity to learn a whole new set of skills and to discover a variety of artistic and professional interests.
"I want to really take advantage of all the amazing faculty who are available to us and want to grow into a well-rounded person. I also want to take this time to really find myself and explore the parts of myself that aren't related to dance," said Kim. "As for long term goals, I honestly have no clue what I will be doing after I graduate. I think that's the exciting part about coming to USC Kaufman. After four years here, the possibilities are endless. I cannot wait to see the person who I become after my time here."
Alexander has similar goals in mind for himself.
"During my time at USC Kaufman I hope to unify all of my interests. My goal is to pursue a combination of dance performance, choreography, musical composition and film professionally," he said. "I do not yet know how I will make that happen, but I am excited to redefine what it means to me to be professional dancer. USC Kaufman is the perfect place to do so because the curriculum is so multifaceted. They really help their students connect with all of the other amazing schools at USC."
The professional perspective
Now, in their first year at USC Kaufman's, Kim and Alexander reflect back on their time as company members.
"One of my favorite memories was going on tour to Paris with the company to perform Swan Lake," said Kim. "It was definitely challenging, but the experience of performing in the city where ballet was essentially developed, in front of thousands of people, and being a part of the corps de ballet in one of the most iconic classical ballets was really special."
For Alexander, the best part of his experience happened in the studio.
"What I loved the most about dancing professionally was simply taking company class every morning," he said. "I felt so inspired by the more seasoned and mature dancers around me. I enjoyed facing the challenge of keeping up."
The value of a BFA in Dance
For dancers deciding whether the BFA track is right for them, Kim offered her advice.
"I think a BFA in Dance shows employers that you are a well-rounded person. You have a greater amount of knowledge of the world, of our history and of people," she said. "Getting a BFA in Dance gives us the time to grow into mature professionals. It gives us the opportunity to make mistakes and fall in an environment that will support and lift us up. I feel that USC Kaufman fully prepares its students to face the professional world in a mature and thoughtful way. The program takes into account all the challenges that come with the profession."
---