Recapping Hip Hop 50: Trojans mark half-century of influential music and dance
October 20, 2023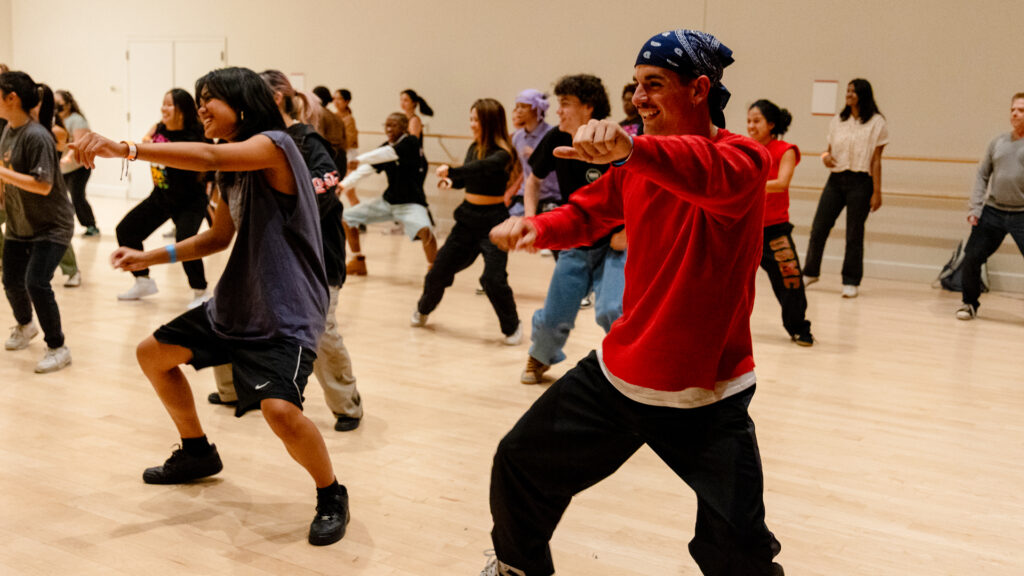 Earlier this fall, the USC community came out in force to celebrate a cultural phenomenon.
That phenomenon was the birth of Hip Hop. The celebration was Hip Hop 50. Launching into full swing throughout the months of September and October, this three-day festival welcomed pioneering figures from across the country to mark the genre's 50th anniversary. It was facilitated by the USC Glorya Kaufman School of Dance under the direction of USC Kaufman professor d. Sabela grimes. The curated series of events and performances allowed the USC and Los Angeles community to experience abundant learning, insight and dancing.
View the Gallery
The Origins of Hip Hop
The origin of Hip Hop is widely believed to have taken place on August 11, 1973, on Sedgwick Avenue in the Bronx. That's when local DJ Clive Campbell (a.k.a DJ Kool Herc) threw a back-to-school party with his sister Cindy. From behind two turntables, Campbell spun the familiar sounds of James Brown, Aretha Franklin, and The Meters. He used a technique known as the merry-go-round — looping the percussive sections of two separate records to keep the beat alive.
Fifty years later, the influence of Campbell's historic house party is still resonating through music and dance practices worldwide. Today the culturally rich and unifying nature of Hip Hop informs scores of iconic artists and milestones within the global development of music and dance.
Partnering with Visions & Voices, USC Kaufman set out to honor Hip Hop's anniversary through dance and scholarship. It began with workshops, discussions and guest panels, culminating with a school wide dance party at USC's McCormick Quad.
Recounting Favorite Moments
"My highlight from the series was cyphering with the community and the Kaufman students and faculty," said Nina Flagg, a lecturer of Dancehall and Hip Hop at USC Kaufman. "It was unifying, which Hip Hop culture does at its core. It brings us together."
For Flagg, Hip Hop 50 was more than a festival. This art form has historically been undervalued in institutional settings. But the dynamic is slowly shifting thanks to the deep and, at times, challenging work of Hip Hop scholars and educators. The form has found appreciation not only as a street style, but also a legitimate form of art and pedagogy. The authentic representation of the genre across prestigious universities nationwide — including USC — has partially encapsulated this transition.
Ryan Phuong (BFA '24) was invited to present choreography for one of the Hip Hop 50 events. Phuong describes this opportunity as a chance to "share space with OGs" in the community.
"My favorite moment from the event was during my piece when the beat dropped," Phuong remembers. "I could feel it down to my spine and everyone around me felt it too. I felt so connected with my peers. It brought me so much joy."
Program Event Highlights
It is impossible to fully encapsulate the brilliance shared with the USC community throughout the various Hip Hop 50 events in a single article. Nonetheless, we recap some of the highlights below offering insight into the heart of the celebration.
September 20, 2023: A musical essay was led by DJ Lynnée Denise, 2022 Sterling Brown Visiting Professor at Williams College and founder of "DJ Scholarship." Denise shared how she has re-positioned the role of the DJ in Hip Hop culture — from party purveyor to archivist, cultural custodian and information specialist.
A Hip Hop scholarship discussion panel celebrated the publication of the Oxford Handbook of Hip Hop Dance Studies with editors Dr. Imani Kai Johnson and Dr. Mary Fogarty in conversation with Dancing Funk & Disco Kinships: Kinethic California author Dr. Naomi Bragin and USC Kaufman professors E. Moncell Durden and d. Sabela grimes.
September 30, 2023: Students participated in a community-focused block party alongside L.A.–based dance artists K'niin, Asia One (No Easy Props), Versa-Style Legacy, and UniverSOUL Hip Hop. Additionally, Phuong performed with USC Kaufman BFA dancers as part of the SC Choreographic Collective, DJ Adé performed an opening set, and DJ Slaterrose hosted improvisational pop-up performances.
October 4, 2023: A conversation with Dr. Shamell Bell about the 28-Day Global Dance Meditation for Black Liberation and the community-led improvisational methods of "co-choreographic praxis. Ahmad DuBose-Dawson and Yoda Jones also led Everything Raw, a freestyle platform inspiring improvisation and collaboration. USC students were invited to sit in with the live band and flow with the live painting and art making. Space was also provided for all to linger, build and break-out in cyphers at this outdoor jam session. This event showcased the boundless potential cultivated when individuals and communities come together to share and harness raw energy.
---
By Rhaine Marquardt (BFA '26)