Saleemah E. Knight teaches jazz dance master classes
March 11, 2016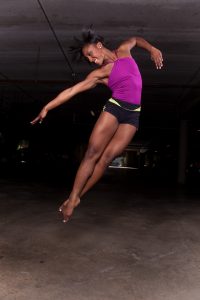 USC Kaufman faculty member Saleemah E. Knight will teach two jazz dance master classes at Loyola Marymount University and at the Debbie Allen Dance Academy on Saturday, March 12 and on Sunday, March 13.
On Saturday, Knight will teach an advanced-level jazz workshop for the BFA students from Loyola Marymount University. They will explore jazz from a cultural perspective and train on classical and contemporary jazz techniques and improvisation.
"I want students to learn that the essence of jazz dance moves beyond the four walls of a studio," said Knight. "It should be understood as truly a community-based form."
On Sunday, a younger group of dancers from the Debbie Allen Dance Academy will learn the basics of jazz technique. The goal of this master class is to introduce students to the art of jazz, stretch their muscles in that direction, reflect on the history of this dance form and have fun.
Sharing beyond USC
Saleemah E. Knight has been a guest lecturer for eight master classes in different schools this year. By teaching multiple groups of students, Knight cultivates a greater sensitivity about jazz beyond the borders of USC.
"What I found when I moved into the commercial dance was that there was a lack of understanding about the deepness of the practice," said Knight. "I realized there was an opportunity to teach that there is more to jazz dance than the glitz and the glam. There is also a scholarly, intellectual side."
USC Kaufman BFA freshman Rachel Walton and UC Irvine alumni Brett Yamanaka will assist Professor Knight during the master classes.
---