Senior BFA students reflect on chosen minors
February 11, 2021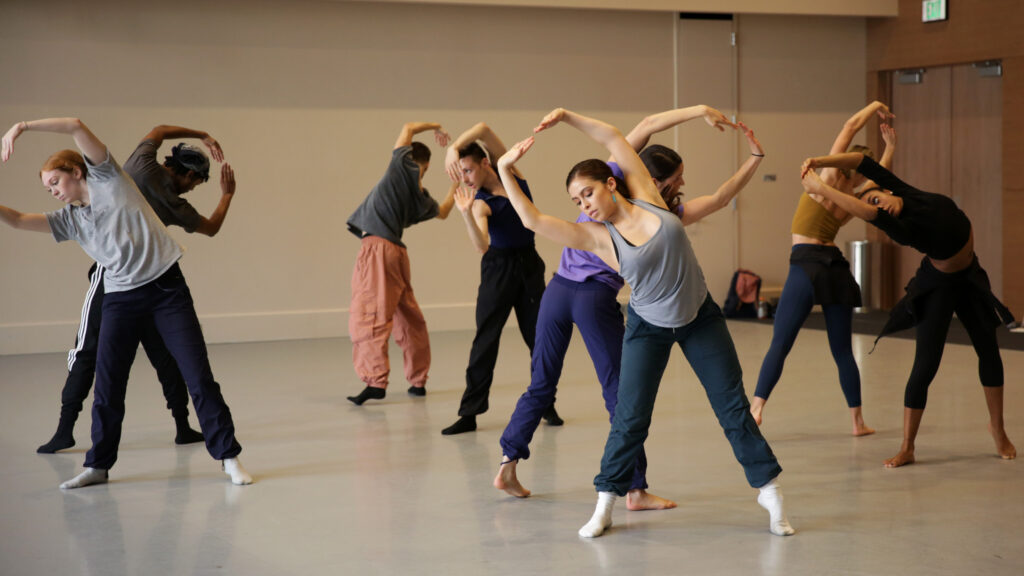 As the Class of 2021 embarks on their final semester, they are beginning to plan for life after graduation. The USC Glorya Kaufman School of Dance provides conservatory training within a university setting. That means dancers have the chance to pursue their academic interests outside the art form to enhance their education. A number of seniors – including Simrin Player and Mariano Zamora González – chose to pursue minors. They now reflect on how this shaped their time at USC Kaufman and their career ambitions.
Simrin Player
When selecting her minor, Player knew she wanted to study something in the realm of communications because of the expansive nature of the field. She chose to pursue a minor in Culture, Media and Entertainment at the USC Annenberg School for Communication and Journalism. This curriculum resonated with Player because as a dancer she feels at home in the entertainment space. However, she wanted to gain a deeper understanding of how it operates.
"I've been in the entertainment industry for quite some time, but I wanted to learn a little bit more about how and why things are made. I wanted to learn about the cultural significance behind all of the media that we consume," she said. "I found this to be the perfect minor because dance and communications are related as dance itself is a form of communication."
Player explained that her minor offered a look into the complexities of media consumption habits. She also noted that COMM 355, Advertising and Communication with Professor Rook Campbell, was one of her favorite courses.
"What we consume tells so much about your personhood, your values and your beliefs," Player said. "The realm of culture, media and entertainment shows how these items that we hold near and dear to us are not merely for function. These pieces say a lot about who we are. The more you can understand and analyze that, the more you can understand about a person."
Looking toward a career in dance and entertainment, Player appreciates the versatility of her communications knowledge for future opportunities.
"The reason why I got my minor in the Annenberg School was because of the flexibility of communications," she said. "I don't have an incredibly clear path that I'm going to be pursuing post graduation right now. But I'm comfortable knowing that I will be able to adapt to any circumstance in entertainment because of my minor."
Mariano Zamora González
Growing up, Zamora González's family introduced him to the worlds of dance and architecture. His aunt owned a dance studio and his mom performed as a ballerina. He also had aunts and uncles who worked in architecture and construction. From a young age, he was interested in both art forms and decided to minor in the USC School of Architecture on top of his dance training.
"Dance is like moving architecture," Zamora González explained. "I've gotten a better sense of spatial awareness because of architecture, which translates into dance. Architecture is basically shapes and in dance you can manipulate those shapes to move however you want."
Zamora González originally wanted to double major in dance and architecture. However, the requirements for both programs were too demanding to fulfill simultaneously. Instead, he forged ahead with the BFA program while getting a taste of architecture with the minor.
"My favorite part about the minor has definitely been the classes that are more hands on with sketching and using rendering applications," Zamora González said. "However, I've also enjoyed learning about the history of architecture, how it all came to be and which architects I should be paying attention to right now."
Overall, Zamora González sees his background in architecture coming into play after a career in dance.
"I figured I would dance first because my body is only young once. When I'm done dancing, I would shift my focus to architecture. We'll see what happens, but that's the plan."
Finding the right minor for you
When deciding on a minor, Zamora González suggests USC Kaufman students to start early because the BFA program is so robust. He also recommends looking into the Academic Achievement Award. This lets students pursuing multiple undergraduate degree objectives take up to 21 units a semester at the standard full-time tuition rate.
"I started my minor during freshman year, and I think that's why I was able to fit it all in," Zamora González said. "Also, apply for the Academic Achievement Award. My sophomore year I was able to fit in extra credits each semester additionally to all the USC Kaufman classes."
Similarly, Player encourages BFA students to adopt minors because the knowledge gained outside USC Kaufman can build on their dance training.
"Take charge of your education and take classes wherever you see your interests," Player said. "It's about trying to diversify who you are as a person so you can arrive confidently in any space or circumstance as a more informed artist."
---
By Brigid Murphy