Student Blog: So You Think You Can Rep?
December 14, 2018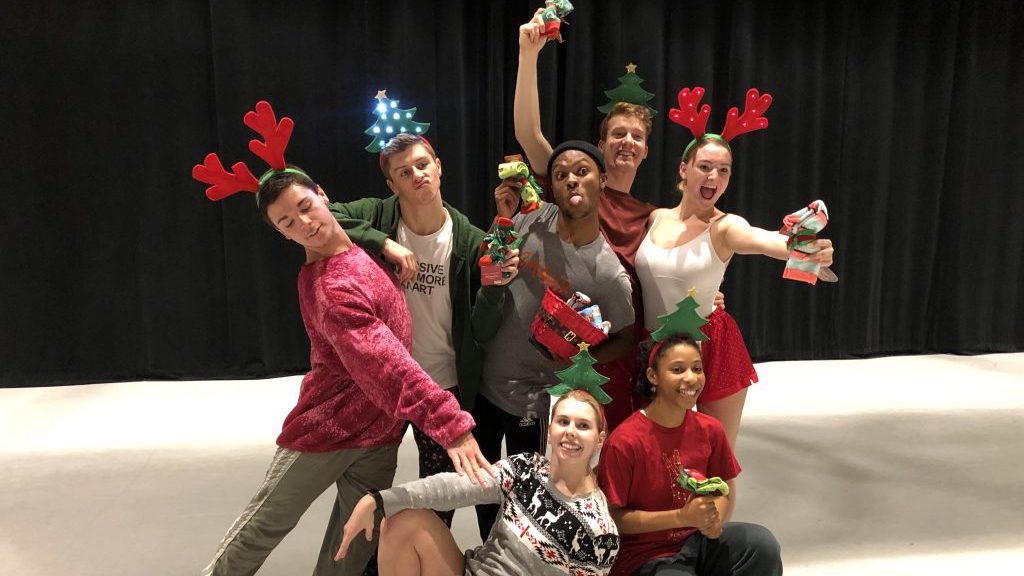 By Eli Alford
All of the incredible repertory we get to learn and perform is one of the best things about USC Kaufman. In our Fall Dance Performance, myself and my fellow BFAs showcased works by world-renowned choreographers including Paul Taylor, William Forsythe and Crystal Pite. I highly anticipated this performance. There, after a long semester, my classmates and I could finally see the fruits of our labor. Performing onstage for a live audience was one of the most enjoyable and rewarding experiences this semester.
A holiday twist
Performance experience is a crucial component in our training at USC Kaufman. After the sixth and final performance of our fall show, we really needed Thanksgiving break. Upon our return, however, the curtain had not yet closed. It is a USC Kaufman tradition that our Repertory and Performance final entails what we like to call "So You Think You Can Rep." This year, our repertory class (almost a hundred dancers) was divided into ten groups. Each group then created a seven-minute maximum "skit/dance." Our dance had to utilize every piece of performance repertory, past and present, that it possibly could. There was one caveat–it must be holiday-themed.
While the goal is to be named the winner, "So You Think You Can Rep?" is also a time to incorporate some fun. Jokes, faculty impersonations and holiday twists go into a self-choreographed dance that brings the USC Kaufman family together. Students, faculty and staff pile into the large performance studio to watch and laugh. Different groups present what they have rehearsed for the last two weeks. It's always a surprise! We get a bit competitive and keep our pieces secret until the day of. Costumes are over-the-top festive (glitter and pom-poms and this year, a giant dreidel costume). It's hard not to smile at your competitors. Ultimately, faculty decide the winners.
The annual BFA holiday party follows this light-hearted performance. Dancers share smiles and hot chocolate in a studio upstairs. After what can sometimes be a crazy and stressful semester in rep class, there really is no better way to end it than with this comical and entertaining tradition.