Spring Class Spotlight: DANC 188a
December 23, 2016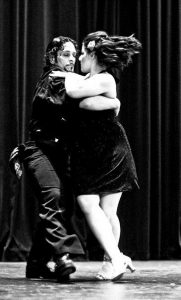 For any university student that wants to explore International Standard, International Latin, and American Style ballroom dances, DANC 188a with Professor Jay Fuentes "emphasiz[es] partner connection, communication, and creativity, with the practical application of dance within a social setting." No experience is necessary; this two-unit course introduces ballroom dance to all levels. We asked Professor Fuentes a little bit more about it in the questions that follow.
Who is this class for? What types of people/audiences would enjoy learning this material?
JF: This class is designed for non-majors, however it is fast-paced, and I cover a lot of material. I challenge students with moves that are probably too advanced to teach beginners, but once I break it down it becomes clear. I was a student at USC myself, and I know how manic it can be. I see my class as a haven where students can forget about their overwhelming day and enjoy moving and learning something new, all while having fun.
What is the most important thing that a student in this class would learn?
JF: I think most students are surprised by the life lessons this class teaches. Partner dancing requires a different set of skills because it is centered on the idea of a two people working together (which in itself can be a challenge). It also allows for discovery of interpersonal skills, interests, socializing and expression.
What's the most fun and/or cool part of this class?
JF: It's hard to pick out what aspect or what dance is the most fun, but the two most popular are Swing and Salsa. When a student discovers they can dance, they discover they can in all fields.
When is this class? Is it open to majors, minors, or all university students?
JF: Fortunately this class is open to all university students. It is offered three times on Monday and Wednesday and once on Tuesday and Thursday. There is also a B level for those who have already have a developed sense of ballroom. Here we focus on the technique, style, frame, advanced steps and choreography.
Do you have a fun anecdote from previous semesters of this class? If so, would you mind sharing it with us?
JF: As a 24-year veteran of teaching at USC, I have come to recognize that each semester–each class accrues organically–is different for each individual. I try to stay topical to make them laugh–I have been known to throw myself on the floor to make a point. My classes are current and fluid with social aspects that bring the students together through dance and every field of interest they pursue.