Spring Class Spotlight: Jazz Dance 184b with Saleemah Knight
January 13, 2017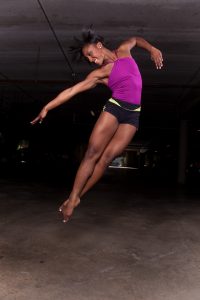 Non-dance majors and dance minors can take Saleemah Knight's Jazz Dance (DANC 184b) class this spring if they have already taken the corresponding Jazz Dance 184a class. If you want to learn more about "African and Latin based diaspora dances with European influences, improvisation, center work, performance techniques, and strength/stretching series," this class may be for you. We interviewed Professor Knight to find out more about the course:
Who is this class for? What types of people/audiences would enjoy learning this material?
SK: Jazz 2 is a moderate level jazz dance technique class for those with at least 7-10 years of dance experience. The class offers top-notch instruction for students aiming to increase their understanding of jazz dance practices, improve flexibility, expand their technical foundations and gain the ability to quickly retain choreography.
What is the most important thing that a student in this class would learn?
SK: We look at jazz from a historical and cultural perspective, with the intention of understanding where the form originates and how it has evolved overtime. Aside from comprehensive technique building, a student would also have a clear understanding of authentic jazz dancing and its appropriated derivatives.
What's the most fun and/or cool part of this class?
SK: The class provides students with a second community, outside of the traditional classroom learning environment. Something that students definitely feel after taking my class is a special connection/bond with the students around them who have shared the same learning experience. Essentially, the course is an embodied journey through the many facets of jazz dance from its history to its social implications to concert jazz dance practices, and finally to commercial entertainment.
When is this class? Is it open to majors, minors, or all university students?
SK: The class meets on Tuesdays and Thursdays 
1:30-2:50 p.m.
 in KDC 105. It is open to minors and non-majors who have at least seven to 10 years of previous dance experience.
Do you have a fun anecdote from previous semesters of this class? If so, would you mind sharing it with us?
SK: One of the most outstanding classes I have taught to the non-majors had several students, who doubted their abilities all semester. They ended up having several breakthroughs over the course of the school year, and became some of the most proficient dancers in my class. My fondest memory is actually a collection of many memories of students who have left the course feeling impacted and empowered; when this happens, I feel that I have done my job as "Professor Knight."