Student Blog: Acquiring Forsythe at LACMA
October 16, 2016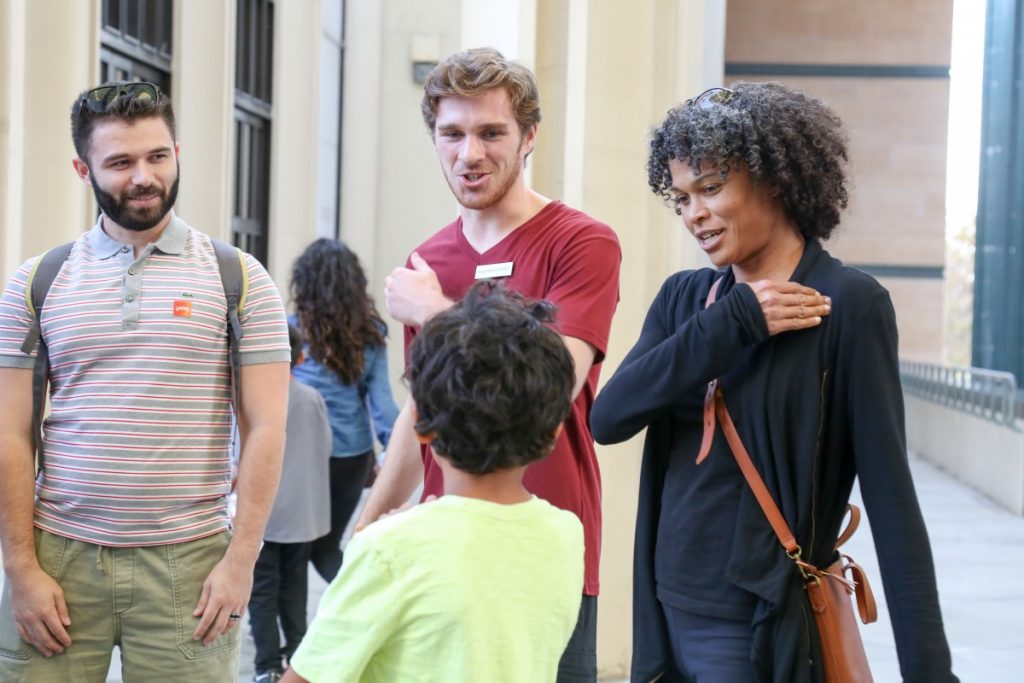 By Celine Kiner
This weekend, a few classmates and I had the opportunity to be part of a site-specific Forsythe work at LACMA. In Acquisition RYBG–which was accompanied by Forsythe's Stellentstellen, performed by Rauf "Rubberlegz" Yasit and Riley Watts–we taught a choreographic system to museum-goers, the objective of the work being that they "acquire" the system. Through this setting, we gathered many different experiences from our audiences, and many new ways to represent the system or add to it. Professor Forsythe encouraged us to interact with the audiences, and he mixed and mingled with the crowd as we pitched the choreography to the occupants of the outdoor plaza at LACMA. He brought composers to Mary and me, because our addition to the choreographic system was musical notes. He walked Adam and Jessica through a new movement pattern that they could apply to the system. He knelt on the ground to read a picture book out loud to a little boy. He was perfectly human.
Here are a few of my colleagues' stories from the weekend:
Sophia Oddi As dancers, we are taught to be relational beings in the sense that we use our bodies to express and emote. This weekend, I carried the responsibility of verbally communicating a concept, something which I found particularly challenging as an individual who has grown accustomed to conversing through movement. It was truly a remarkable experience; not only was I able to successfully transfer knowledge that I had acquired myself, I had the opportunity to speak to a diverse and fascinating group of individuals that I would have never had the opportunity to speak to had I not intercepted them at LACMA. One of my most memorable conversations revolved around trying to help someone understand that other than acquiring a task and creating modalities–there wasn't necessarily a "point" to Acquisition RYBG. People, myself included, often feel as though there should be a specific end goal to everything, specifically when related to art. It was refreshing to be able to tell someone that not only was this exercise a good brain teaser, it facilitated us meeting and sharing a couple minutes of our lives together.
Rachel Walton The most interesting part of the LACMA experience was interacting with the public, and meeting many different kinds of people. We spoke with some engineers, and were able to tailor our presentation to their experiences. Using numbers instead of colors and comparing Forsythe's breaking down ballet to them breaking down car parts, we found that they were much better able to grasp the choreographic task.
Justin Epstein Performing at LACMA was an external rewarding experience for me because I love teaching people about dance and choreography. It was so much fun for me to be so invested in the trials and triumphs of complete strangers. When people would make progress with the difficult choreographic system, the expressions of honest joy they exuded will be unforgettable.
---
Site-Specific Forsythe was  part of Fall for Forsythe, a monthlong celebration of the work of choreographer William Forsythe in Los Angeles. Other Fall for Forsythe events include:
Focus Forsythe: The Choreographer's Process | Sept. 29-30
Futures in Motion | Oct. 14, 2016
Forsythe Designed: A Costume Exhibition | Oct. 7-19, 21-23
Site-Specific Forsythe at LACMA: Acquisition, Stellentstellen | Oct. 15-16
Celebrate Forsythe | Oct. 21-23