Student Blog: At home in house and blues
August 14, 2017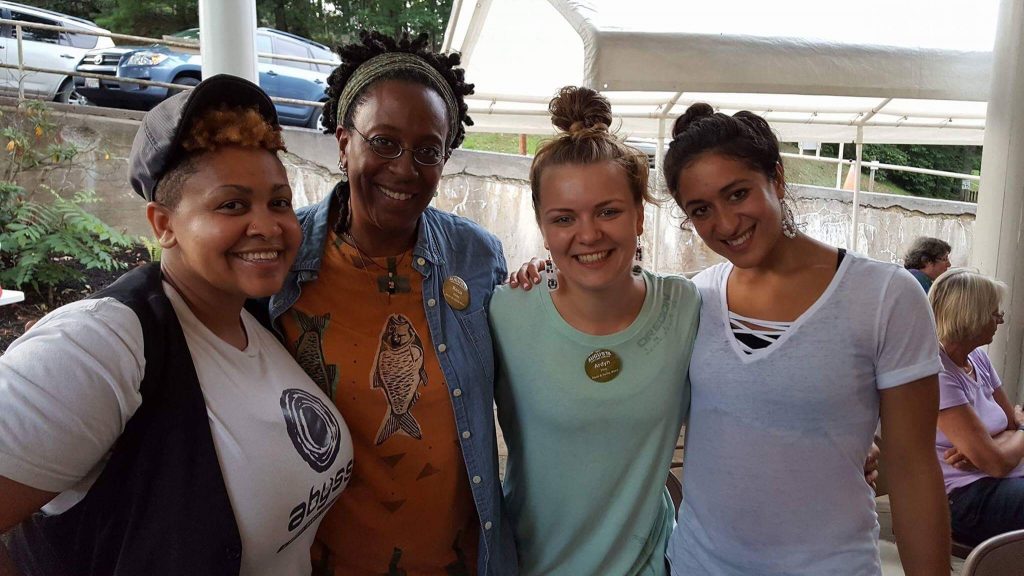 By Ardyn Flynt
This summer, I was fortunate enough to spend time dancing to music that makes my heart soar, exploring movement that has fascinated me for years, and experiencing a culture that I have long been curious about: house dance. I spent four weeks in New York City, dancing with the Bill T. Jones' company during the day and attending jam sessions at night. I watched incredible house dancers Sekou and Cricket, whom I have long idolized, stalk, cypher, and lose their minds when the music came on. On the weekends, I spent all day in Central Park, where a group of roller skaters and dancers would jam to house and disco music all afternoon, working up a sweat and enjoying the NYC weather.
In the second half of the summer, I worked with a Junious Brickhouse in Washington, D.C., where he has founded a nonprofit, Urban Artistry, to promote urban dance education and community building through dance.
Urban Artistry was an incredible family of extremely talented dancers, but more importantly, incredible people. It was an environment unlike I had experienced in Los Angeles or New York, a place where I felt, for the first time, truly welcome and free to take movement risks. I spent most weeknights at the studio, attending jams and taking class: house, hip hop, locking. It was Junious who took me to my first club, to have the exciting "dance until 3" experience I had heard so much about (though the massive black X's they put on the backs of my hands didn't come out for days).
Midway through July, Junious graciously invited me to join him and his Urban Artistry dancers at a week-long festival as part of my training. Junious, along with blues musician and Augusta fellow Phil Wiggins, are reintroducing the idea that blues music is dance music. Our job as dancers was to follow the music, and create cyphers. When reflecting on my time with Urban Artistry and amongst the community at Blues Week, three things come to mind: the incredible improvisatory skill of the dancers and the musicians, an unparalleled level of respect between them for the form and one another, and the family they have built.
The crux of Blues Week was the jam sessions. Every night, impromptu jam sessions would erupt in various places on the campus. Fiddle, piano, guitar, and multiple harmonicas could be heard echoing from Halliehurst porch, the jam spot at which the dancers spent the most time. Though many of the musicians had not met, and some of the songs played were original works that few knew, the music was entirely harmonious. A player might say "key of F," count off a lively tempo, and everyone would file in. Players took solos, played in unison, riffed off one another…. entire songs were born amongst strangers, from different states and with different repertoires, such was the improvisatory skill: This, I discovered, was Blues music.
These players were not only brilliant technicians, some of the best, but they were so good at what they did, they were making up new things, breaking the rules. A sign of a good player, I realized, was innovation. Innovation, and the ability to contribute to any jam session, either as melodic or rhythmic support, or within a solo. These players contributed to the jam sessions with their music, but also with their personalities, their generosity. One fiddle player, Ben Hunter, could be seen dancing and snaking with his body as he played a solo. Others were known to dance, crack jokes, tell stories. They were also very gracious with themselves, very sharing and open-minded amongst new people. This particular attribute struck me the most, especially in a context where their skill was on display, up for judgement.
Judgement is a curious thing. Dancing in the concert world within a conservatory setting, I almost always feel self conscious about the quality of my work, due to the expectation of judgement. Because, in the conservatory setting, we work towards a performance at the end of each semester, and ideally a job with a performing company after graduation, there is a heightened awareness of any sort of audience. For me, when I am dancing around people, especially in a situation where they are better than me and possibly strangers, I am more likely to go on the defensive than to open up. For fear of judgement, I fold into myself in these situations, my breath gets more shallow, my nerves are on end. That's the feeling I am acutely familiar with after years of training as a performer, and entering into cutthroat audition seasons every year.
Urban Artistry instructor and dancer Russell Campbell told me that judgement was good. Judgement was generous. You will always be judged, and if someone chooses to take time out of their day to see you and form an opinion about you, you are lucky. They have given you a gift.
These people blossomed rather than folding. The jam sessions were what the Blues experience was about, the heart of the community. It was so beautiful to see people light up with the creation of spontaneous music, in the presence of new friends, without fear.
Other than the improvisatory skill, an attribute that struck me most about the Blues community and the dancers was the respect they all exhibited. There were many discussions about how to give credit to the originators of a genre, how to respect the elders in a given community, and how to label things in order to invoke integrity, yet not ignore history.
One phrase in particular was a topic of conversation throughout the week: "Buck dancing." Buck dancing is a form of movement, similar to flat-footing, that historically was danced by enslaved people and is highly rhythmic and improvisatory in nature. African American male slaves were called "bucks," thus the title for the dance came about. Blues legend and dancer John Dee Holeman attended Blues Week, along with dancer Williette Hinton. Mr. Holeman described Buck dancing as being more on the heel, rather than tap dance, which is danced largely on the toes. But even Mr. Holeman was cautious about the term "Buck" dancing. When both he and Williette were asked about their childhood dancing, they often referred to the style as just "dancing," or even "flat-footing," a term used for similar movement by mostly white dancers who were emulating the dance. The question was whether to keep the term "Buck," knowing that it was historically a derogatory term for enslaved men, or to let go of it, risking losing the history of the people that danced it.
Conversations like these would happen between music-making, or in dance classes with elders like John Dee or Williette. The respect with which these community elders were treated was immense, with people not shying away in awe, but rather interacting with Mr. Holeman, asking questions while bringing him coffee, making sure he was comfortable. Mr. Holeman still performed too. Even in his late 80's, he was still getting onstage with a guitar, singing blues tunes and tapping this foot, looking a decade younger as soon as he struck the first note. Williette, for his part, was out-dancing all of us. He was master commander of the cypher at the swing dances, pointing at people to enter the cypher, and directing soul train lines through the dance pavilion. When Williette pointed at you to dance, you did not question it. And how could you with such brilliant music?
The dance arm of blues week was seeking to re-introduce the idea that blues music was and is dance music. For me, this often took the form of house-inspired movement. I was pleasantly surprised to find that it was nearly impossible to not dance with all the music around. Often upbeat, polyrhythmic, and with unfamiliar instrumentation, I found myself fascinated by the music, and what better way to explore it than to move along with it?
I found that classical training was also incredibly applicable – I used extensions, legs, Forsythian epaulement, pirouettes, and RUBBERBAND technique to get to the floor. I used release technique and Professor Lott's X series in my floorwork. I couldn't identify each move and where it appeared, but it all informed what came out. And that was the beauty of dancing to the blues music; it didn't have to be house, it didn't have to be anything. It just had to be movement with a relationship to the sound. It had to be whatever I could offer to the cypher, to the generous musicians who were sharing their spontaneous music-making and their feelings, thoughts, and joy through their instruments. One dancer, Ryan Webb, interpreted sound mostly with locking, popping, or Memphis Jooking footwork. Another dancer, Maren Cummings, brought movement informed by traditional west African styles. Hannah George-Wheeler came as a trained b-girl, and Rebecca Conley as a tap and Irish step dancer. We brought all that we knew to the jams, and learned plenty from all that we saw.
Respect existed not only for the elders and the form, but for the present cyphers and people. Cypher etiquette was stressed–don't enter into someone else's run, don't get in someone's face, share the space, be supportive from the circle, give love. And watching the Urban Artistry dancers interact with their teacher and mentor, Junious Brickhouse, I understood how integral respect was to the creation of family.
Junious had trained these people for years, generously shared what he knew with them. They, in turn, took the information and built their own styles, their own interests, but they always listened to him. They credited him in social media posts and referred to him when blues week participants asked questions about urban dance. They took care to represent him in the best way possible onstage–making sure to iron the costumes before performing–their respect for Junious and his generosity and training was astounding to me. He was a mentor for them in dance, but also in life. I also began asking him questions about my own dance experiences, cultural appropriation, and culture. I never felt afraid to ask a question, because he was so generous with what he knew, and only asked for integrity in return.
Junious explained to me that appropriation was born out of ignorance and disrespect. As a middle-class white girl that did not grow up around hip hop culture, I have always tiptoed around questions of authenticity, often not participating in dances or communities where I falsely perceived I would be resented. Junious explained that as long as you're asking questions and learning, seeking to understand from a respectful place, you're not appropriating. This view was put into practice in cyphers at his studio, at Urban Artistry. I always felt welcome in cyphers, never felt inferior or an outsider. Even from the first jam I attended at the studio in May, I felt the freedom to explore, to try new things. I started doing floorwork and incorporating contemporary forms that I didn't even know I had the capacity for. From the get-go, Russell Campbell, who DJ-ed and ran the jams, made me feel like I was a part of the group, welcome to share and be shared with, even though I was new. For the longest time, I couldn't place why this place made me feel comfortable enough to try new things, to risk looking silly, where I hadn't been able to in Los Angeles cyphers. I realize now that it was the respect and integrity each individual in Urban Artistry held, for themselves, and for the family they had built.
This level of respect for not only the art form, but also for other people, made me realize what I want for my Kaufman family. Kaufman is the biggest and best-chosen family I have. It's full of some of the most inspiring, hardworking people I know, and many of my closest friends. But I came to realize, spending time around Urban Artistry, that I hadn't done my due diligence in respecting my family. I've been guilty of gossip, snap-judgments, snide remarks born out of jealousy. We all have, and I've judged people as hard for it as I have contributed to it. I think it's easier, in a program where we audition against one another, and where many of us come from competitive backgrounds, to forget what we initially came to the program for: dance, and the "new movement."
The summer before freshman year, when I was asked "what does the new movement mean to you," I replied with something grandiose and ambitious. I talked about fusing dance genres with science, with mathematics, and with social outreach. I didn't even know what those things meant, but I was excited for and shell-shocked by the opportunities I knew awaited me. Now, the new movement means something different to me. It means looking at the diverse artists I'm surrounded by, my peers, and offering my skills, my work ethic, my support, and everything else I have to give them. It means being generous with them because I respect them, and because if we are all generous with each other, we will grow as a cohort far faster than what people expect out of a competitive conservatory model. It means keeping an open, honest, heart, because to refuse to do so means withholding the best parts of ourselves and stunting growth for everyone. The new movement means introducing respect, integrity, and honesty to a traditional pedagogical dance model, elements of the cypher that much of the urban dance world has been using since conception. The new movement means innovation in dance to me, but also innovation in family. I have Junious Brickhouse, the Urban Artistry dancers, and the incredible blues week community to thank for that. As I say goodbye to a newfound family this summer, I'm looking forward to reuniting with my Kaufman family, and bringing the best parts of myself to share.