Student Blog: Starring in Backstreet Boys' "Chances" video
November 15, 2018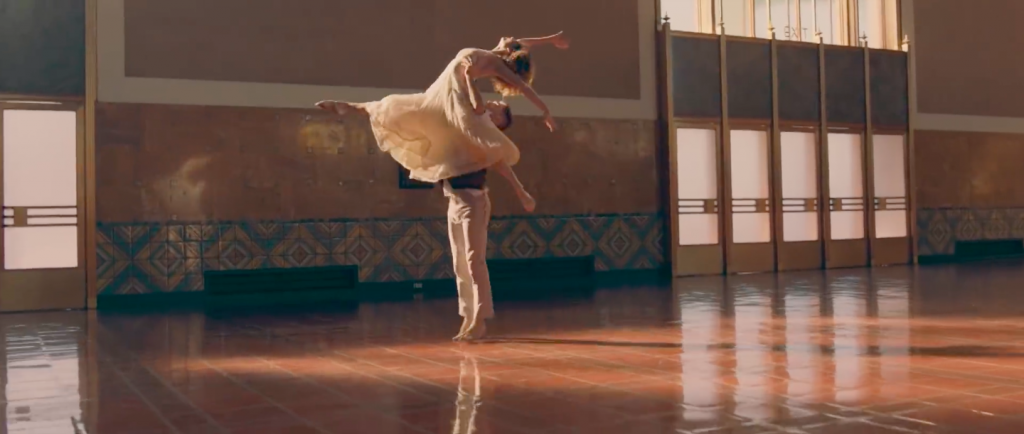 Last week, two USC Kaufman BFA students danced through the Backstreet Boys' new "Chances" video. Madison Vomastek and Jake Tribus lead the video's plot through a train station and into a whirling duet number. Madison recounts her experience below.
A childhood dream by coincidence
What are the chances that this "ballerina" would end up starring in a Backstreet Boys music video? I would have thought one in a million. But through patience, trust, and availability, I was able to fulfill a childhood dream of mine. I remember listening to Backstreet Boys with my older cousin Grace, in her room with her fabulous cheetah-print couch, and thinking that they were the definition of cool. Meeting and performing with them reassured my childhood notions, and they exceeded my expectations. Each one of them, Brian, Howie, AJ, Kevin, and Nick, is an artist on his own, and has such a giving heart. I was lucky to not feel like just a body in the video but a vital piece of the puzzle.
The incredible direction of René Elizondo, the cinematography and editing by Grant Locke and Nikki Nilan of Malibu Films, and choreography by Kayla Kalbfleisch made this particular experience so fulfilling. I have learned through this process that I want to work for people who are kind-hearted, communicative, giving and open to endless possibilities. I was able to find all those characteristics and more within this team. They truly went above and beyond to make this experience one I will forever remember.
Old friends
Additionally, I could have not been part of this project or have met any of these people without my dear friend Jake Tribus. I have known Jake since I was thirteen years old. It's another "what are the chances" moment that we were able to dance together in this video. Jake has been an inspiration to me since the beginning. I feel incredibly lucky to dance with him in our beautiful school, let alone be his partner in multiple works.
I am overwhelmed with gratitude for the amount of support I have received in response to the video. It has inspired me to continue to push myself, to be open to the endless possibilities that dance and movement can offer. I have learned through this project that you never know who you might run into on a train station. It could be your future collaborator or your next great love, as long as you keep an open mind and heart and allow situations to manifest as they do. Relax into riding the ride!