Student blog: Ballet BC, bold beauty
September 18, 2017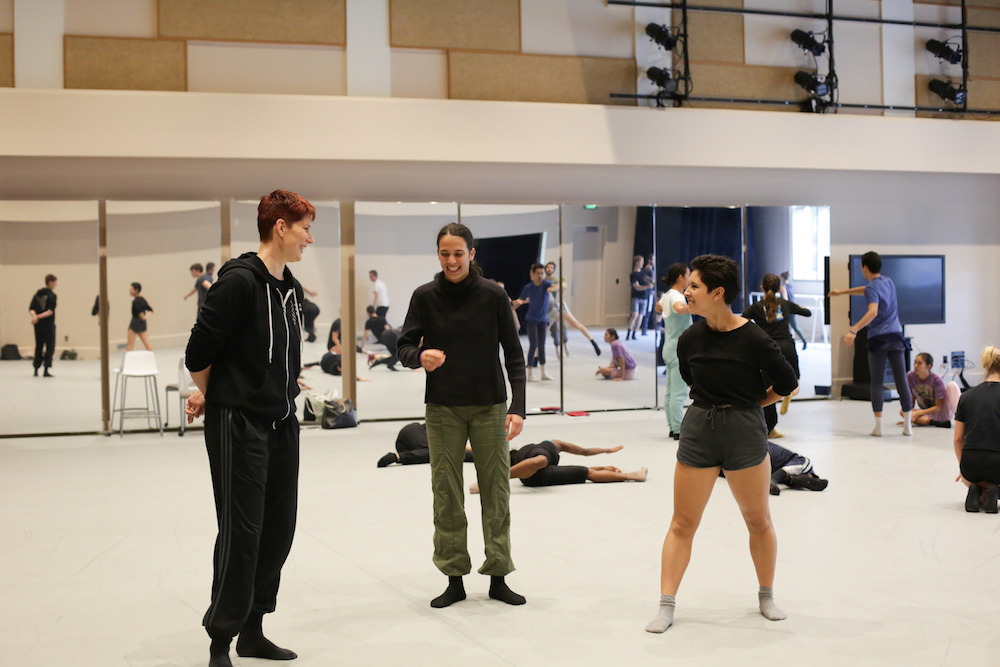 By Celine Kiner
Ballet BC director Emily Molnar has a "warm yellow aura," as one of my classmates phrased it–upon introduction, she emits welcoming, curious, and incredibly grounded energy. Her questions are rooted in a strong technical base and impressive résumé; she asks in order to create confusion and investigates in order to build beauty out of it.
The class of 2019 had the pleasure of working with Molnar in a brief composition class last week–she and the company were in town for a Visions & Voices performance at USC's Bovard Auditorium, as well as a few performances at Vice Dean Gates' Laguna Dance Festival.
Curious composition
We've been fortunate enough to workshop with incredible artists A to Z, including William Forsythe himself (who Molnar danced for during her time at Frankfurt Ballet), but Emily brought something new: a sense of safety in the unknown. She somehow created a light around her that seeped into our understanding, assuring us that it was okay to welcome discord. It would lead to change, to newness, to invention.
Her cues brought out a mature but unabashed willingness that I had never before seen in my classmates. We all shared our compositions, appreciated each others' work, and created just beyond our limits; this, in my opinion, was an ideal environment for an artist. Molnar had somehow created it in a room full of people that she had only met twenty minutes before. Our faculty noted afterward that not one composition looked the same as the other: Molnar had coaxed our individuality out, and it came through our choreography.
Creation and the company
The few words she spoke afterward put the process into perspective–Ballet BC is a creation-based company, performing an impressive majority of new works. In fact, they have premiered over 40 new works since 2009. The program this week included Molnar's 16 + a room, Crystal Pite's Solo Echo, and Gai Behar and Sharon Eyal's Bill. It made sense, then, that Molnar could so easily fashion a creative environment out of thin air. The company members, as Wednesday's show made clear, knew each others' movements inside and out–their hours of developing together in the studio surely had not been wasted. They moved well in unison, but even better in solo work, blooming out of their strength and technique to present gorgeous movement through a unique lens. Dancers morphed to fit the movements in the choreographer's work, but somehow retained a trademark personality through the program.
Molnar has built a dynamic process within her company that encourages mistakes and catalyzes growth–the beautiful end result is strong and bold. My classmates and I have taken an inquisitive attitude from just a short hour; you can bet that we'll be auditioning for Ballet BC once we graduate.