Student Blog: First-year expectations
April 10, 2017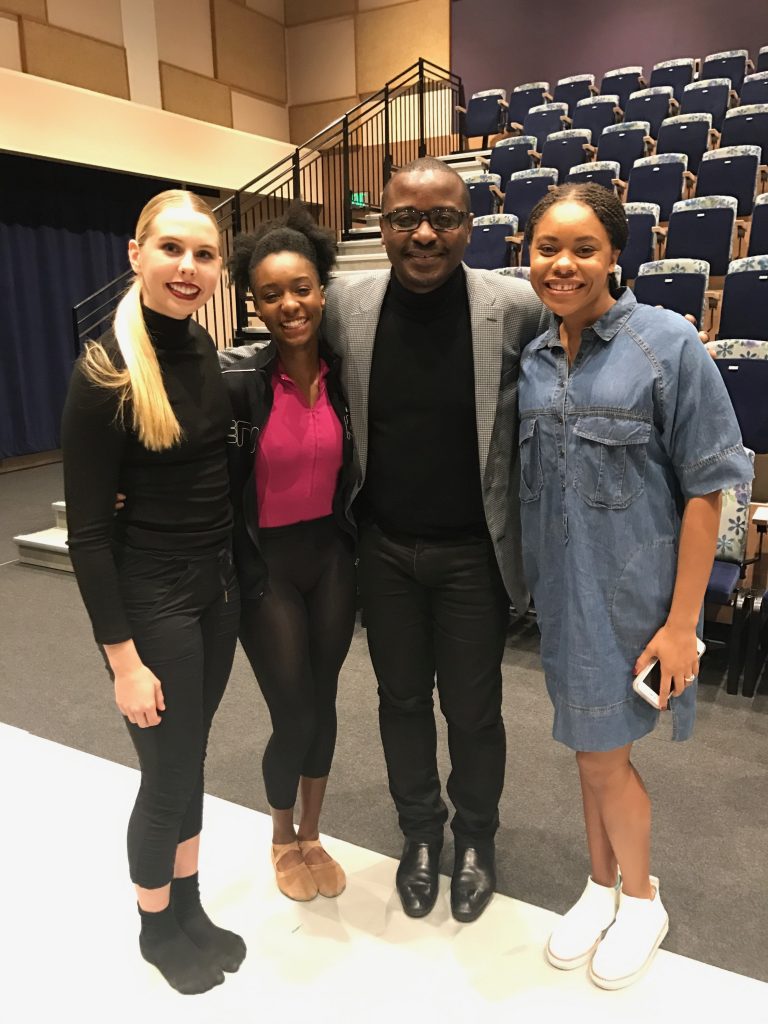 Time flies. One second, you're starting your college applications, and the next thing you know, you're walking into your first day of college classes, not quite sure about what the year will bring. Coming to USC Kaufman, I had some sense of how my life would be different–in a new environment, dancing with new people–but I did not realize how much I would learn and grow as an artist and person in my first year.
Rigor through repertory
Throughout freshman year at Kaufman, you can expect to be dancing a lot. Starting day one, we dove into technique classes, consisting of many styles and well-known repertory (like "Falling Angels" by Jirí Kylián, for example) that I never imagined I would have an opportunity to learn and perform. You are guaranteed to be introduced to something you have never done before, whether it be a whole new style of dance or a way of working with a specific choreographer. I had no idea that I would ever be performing a breakdancing piece until working with Raphael Xavier in January. For three weeks, we worked with Xavier on building strength for the breakdancing techniques and enriching our vocabulary on many steps that are used in his new work. This being said, we get to learn from and are exposed to so many guest artists who inspire us with their expertise, career, and passion to expand their knowledge. The amount of information and ideas circulating throughout our building brings incredible energy every day.
Bonding moments
Building lifelong relationships with people is another thing that marks this first year especially. Given the nature of such a small program, you will become very close with your classmates and those you dance with on a daily basis. We have many bonding events, including movie nights in the collaborative space at Kaufman, holiday parties, and game nights. I love to volunteer with my Kaufman friends during the auditions for the next class; I love telling prospective students about the program, sharing my experiences with them as they eat lunch and prepare solos, and knowing that I was just in their place a year ago. I have even ben able to host auditioning students in my dorm when they need a place to stay, and show them around the university so that they get to be college students for a day.
Finding academic balance
Some of this year's challenges have been balancing all of the homework and essays with an intense dance and rehearsal schedule. First semester, I took an anthropology course for a general education credit, and this semester, I am in a required freshman writing class with students from varying majors throughout the university. This academic work is mandated in addition to the academics we take within the BFA dance major curriculum, which means we are definitely kept busy. There have been some late nights and full weekends of studying after the exhausting hours of dancing, but after all of that, turning the work in is the most rewarding. Conveniently, my freshman dorm, Webb Tower, is very close to the Kaufman building, and I spend most of my time studying there.
High standards & a steep learning curve
Also, as a freshman dance major, we have had to jump into things that the sophomores have already had a year of experience with. I had some difficulty trying to quickly learn and match the quality of the sophomores in the excerpt of Forsythe's work, "In the middle, somewhat elevated," after they had already performed it the previous year. Forsythe also made a point of challenging the freshmen in his improvisation classes–he held us to the standard of the sophomore's current level, after their first year. In all honesty, this could be confusing at times, but that just made me more determined to focus in and really achieve a thorough understanding. I think that being pushed in this way has really helped me grow and improve as a dancer.
Experiencing dance in Los Angeles
Finally, sometimes you have to expect the unexpected and just know that this year will be loads of fun. We get so many amazing surprise opportunities: tickets to professional dance companies who perform in Los Angeles, meeting famous artists in the industry, and several master classes. My favorite performance this year was the "Celebrate Forsythe" show in October at the Music Center, where we got to see three of Forsythe's works performed by Houston Ballet, Pacific Northwest Ballet, and San Francisco Ballet. I even had the chance to perform for Robert Battle, artistic director of Alvin Ailey American Dance Theater, in a private demonstration of our repertory. Each week brings something unique that just reminds me of how fortunate we are.
Although we do spend so much time in the studio, we still find a way to experience a lot of the cool places that Los Angeles has to offer, one of which is the Griffith Observatory. Through USC Kaufman, a handful of my classmates and I had the opportunity to film a national commercial there at the beginning of this semester, which now airs nationally and even played during the Superbowl. It is most definitely a busy freshman year; however, it is busy in the best way possible!