Student Blog: Making a Music Video
July 18, 2022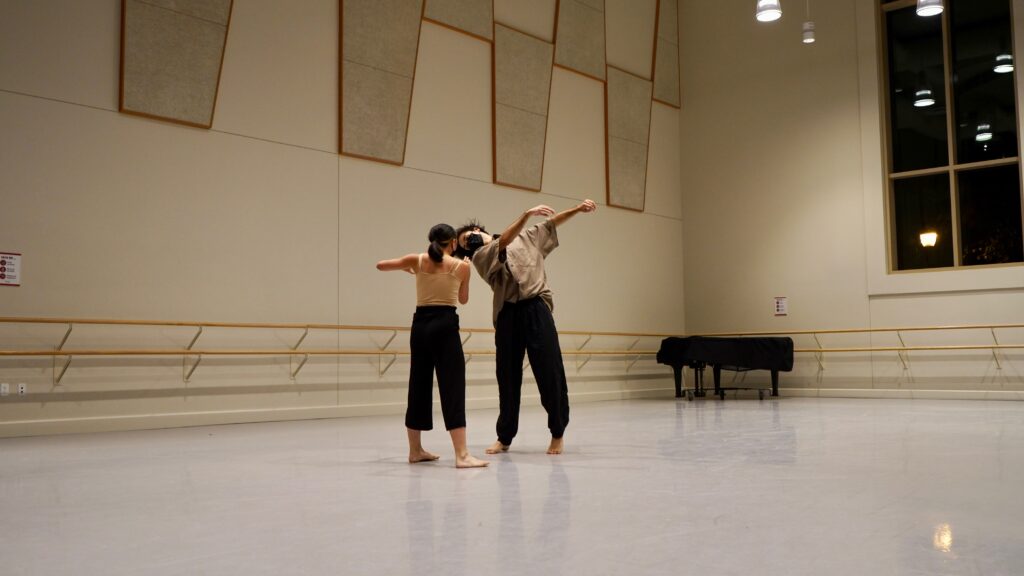 Beginning the process
As a USC Kaufman student, we are always encouraged to go beyond our practices and incorporate multi-disciplinary studies into our projects. With this in mind, I talked with some of my peers because I wanted to create something that would have students from across USC participate in a collaborative project that could emphasize creativity, unity and exploration with all these disciplines in mind.
This is why I reached out first to my good friend Micah Yoo, who I met through our first-semester GESM freshman seminar Learning about Learning. Micah is a violin major at the USC Thornton School of Music, but also a songwriter and music producer. Recently, Micah shared one of his unreleased songs with me, and I thought that was the perfect opportunity for my project to start. I proposed to him that we make a music video that incorporated his song with dancing as a main emphasis in the video. He agreed and we started the planning process to make this happen.
Planning for the music video
After setting up the first meeting with Micah and discussing the overall concept and mood we wanted for the music video, the first thing on the list was to look for a team that could help us. We both looked around the USC community and we were able to find our amazing team. From the USC School of Cinematic Arts, we got our Director Josh Powell, Director of Photography Devon Johns, 1st Assistant Director Anthony Hsu, Gaffers Zach Thurman and Andrew Nibbi, and Producer, Stylist, Makeup Artist and Color Grader Min-Ju Kim. We received lots of help from our Editor Blaine Morris and Grip Tiffany as well. We also were able to find our actor Marco Torres and actress and dancer Valerie Chen from the USC Glorya Kaufman School of Dance.
Once we had the full team with us, we started creating the storyline, storyboard, mood board. We then began creating outfits, finding locations, getting all our supplies and funding, and more.
The filming experience
We allocated two days for filming. Day one was on the first location, which was the house. Day two took place at the Glorya Kaufman International Dance Center. It was two very long days, but with the help of all the team we were able to shoot everything smoothly and get all the footage needed for the music video. After we finished everything, we sent the video to our Editor and Color Grader for post-production.
This music video was my first film project that I took part in. I learned so many things such as collaborating with people outside of your career field, learning new terms, managing logistics and more. We were able to create something beautiful that we hope inspires and resonates with someone out there. I'm extremely grateful that my team helped make this happen. I'd also like to thank former USC Kaufman Head of Communications Cecile Oreste and Head of Dance Operations and Technology Dane Martens for allowing this project to become a reality.
We hope you enjoy the music video and make sure to stream "Arlo" by Micah Yoo!
---
By Diego Lopez (BFA '24)