Student Blog: Performing in the Elective Experience
December 7, 2021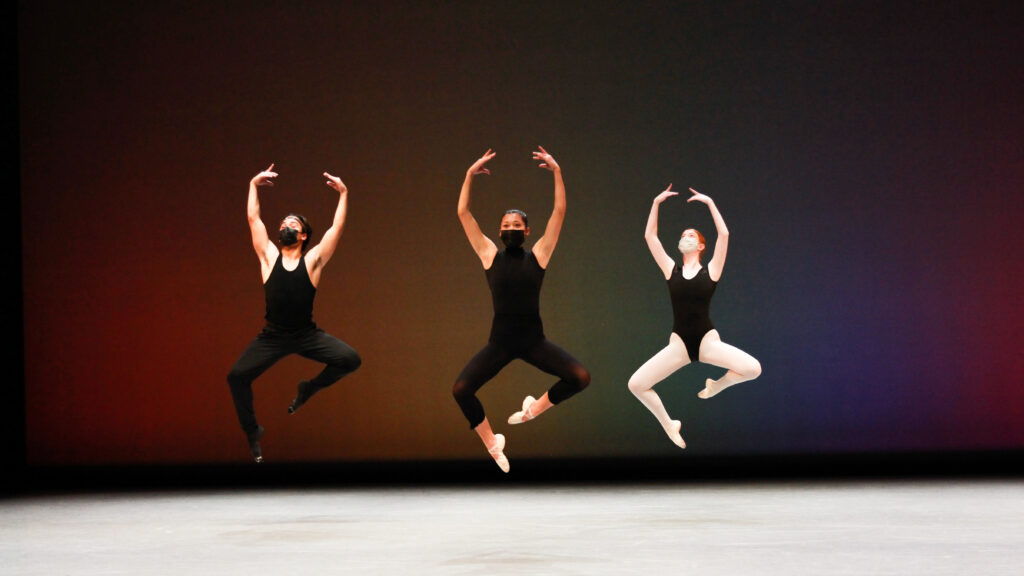 The Elective Experience celebrates the dance elective courses offered at the USC Glorya Kaufman School of Dance. USC students from all majors can take these classes, and at the end of every semester the Elective Experience offers an opportunity for students to showcase what they have been learning in class. Technique is offered in a wide range of styles, from ballet to African drumming, creating a dynamic and exciting showcase.
Taking elective technique courses
This semester, I took ballet with Professor Bruce McCormick and jazz with Professor Saleemah E. Knight. These technique classes count towards my dance minor, but are open to all USC students. Both classes were filled with a mix of dance minors, musical theater majors and other USC students.
Throughout the semester, these courses build on dance technique by introducing different modules. For example, Professor Knight's jazz class explored various avenues of jazz dance, from its African roots to its Broadway interpretations and commercialized forms. We learned several combinations of different styles of jazz. When we switched modules, we engaged in discussions about the history and trajectory of jazz dance. Our dress code for the class moved with us as we moved from Broadway to commercial jazz dance.
Professor McCormick's class also built on different elements of ballet technique throughout the course. Every class began with barre, and then we worked on center and across the floor combinations. Our midterm project involved us working in groups to create a waltz combination. Professor McCormick emphasized creating a community in class and a safe space for growth.
Putting together the showcase
The Elective Experience's primary purpose is to showcase the work we do in our elective classes throughout the semester. Therefore, we did not spend too much class time rehearsing our pieces. In both jazz and ballet, we put together choreography we had been working on for the duration of the semester. The performance is entirely optional, but participation is highly recommended and the experience is very fun.
In jazz class, one of the students edited together all the songs we had danced to throughout the semester to create a six and half minute medley. We then spent a few classes staging the choreography we had been practicing already. The final product encompassed All That Jazz is (the title of the piece). We went from our across the floor combination to a Broadway jazz piece and finished off with commercial jazz. Mimicking our classwork, we had a costume and shoe change in the middle of the piece.
In ballet class, Professor McCormick took a center floor combination and a grand allegro that we had been practicing in class and strung them together to create our piece for the show. The ballet class had a lot of students, so the class was split into several groups for this piece.
The Elective Experience
The day of the show, we all arrived at the Glorya Kaufman International Dance Center about half an hour before show time to warm up and stretch. The students in my jazz class wanted an extra rehearsal outside of class, so we met earlier that day to clean our piece for the show. As a dance minor, I can reserve studio space at the Kaufman Dance Center, so we were able to practice in a large space.
The Kaufman Dance Center studios acted as green rooms for the elective students, and we were assigned different rooms to sit in while we waited for our turn on stage. The USC Kaufman Dance Operations team explained the process of the show, and pulled us backstage one group at a time.
All three showings of the Elective Experience sold out, and there was a full audience for our performance. This was my first time dancing in the Kaufman Large Performance Space. I am usually sitting in the audience, and it was very exciting to be on stage. After nearly two years of COVID it was so fun to be able to perform again, and I am so grateful for this opportunity.
These elective dance courses are some of my favorite classes at USC, and I always meet such incredible people. The Elective Experience was the perfect way to end the semester, and I love that USC Kaufman gives all of their students a chance to perform. This showcase also helps build the community of dance minors and elective students at USC Kaufman. I highly recommend that everyone take an elective dance class regardless of dance experience. There are levels available for everyone!
---
By Hannah Doerr