Student Blog: West Side Story in full swing
February 12, 2018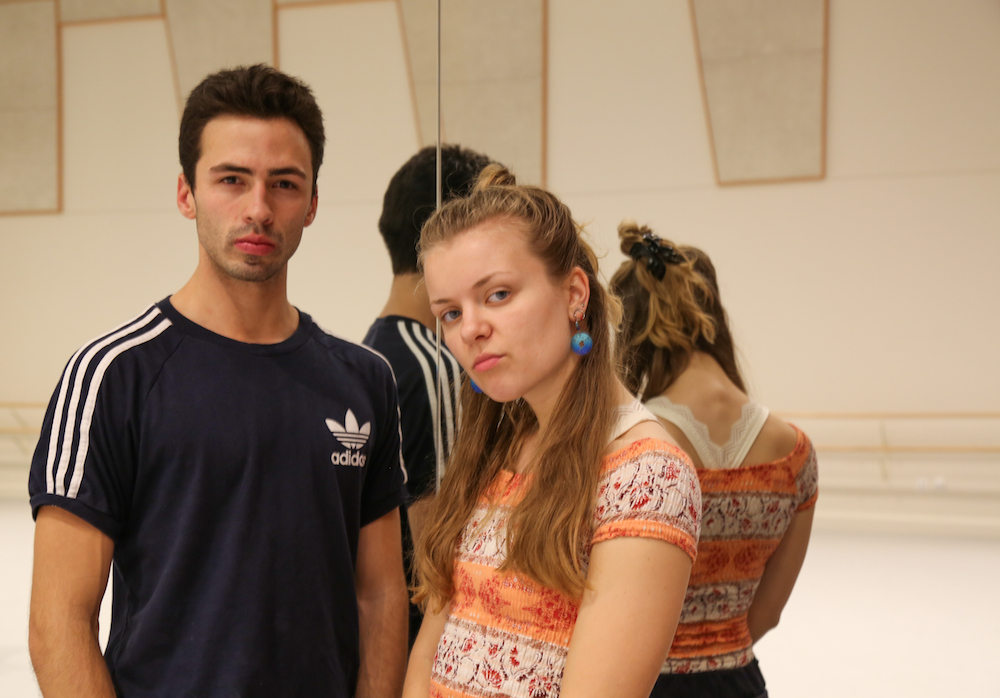 By Ardyn Flynt and Juan Miguel Posada
The Jets versus the Sharks–in KDC 106 this semester, the diverse student cast of West Side Story is making its way toward opening night in Bing Theatre, March 29. The program will be the very first collaboration between USC Kaufman, USC Thornton, and USC School of Dramatic Arts, and it doubles as a Visions & Voices event. BFA students Ardyn Flynt (who plays Jet character Anybody's) and Juan Miguel Posada (who plays Shark leader Bernardo) write a little bit about their rehearsal experiences below.
Play it cool, girl
"Boy, boy, crazy boy…" cue deep heaving. Never before have I been expected to dance so aerobically, and then somehow sing in an articulate (and in-key) manner. But this is West Side Story: high energy, athletically demanding, and entertaining as hell. These past two weeks have felt like years. We've been in the studio every night–learning original Jerome Robbins choreography from Danny Pelzig, singing iconic songs like "Cool" and "Tonight" with music director Parmer Fuller–and have just begun blocking scenes with director Ken Cazan. Long rehearsals, however, mean meeting new people from other arts disciplines, and delving into a script that, though set in the 50's, retains ideas and social issues remarkably relevant in 2018. Ken begins the rehearsal of every scene with a read-through from the actors, and a discussion of what their characters might be thinking and feeling in the scene.
I play Anybody's, a 15 year-old girl who wants desperately to be part of the Jets, the white gang hoping to hold their territory against the Puerto Ricans in a time when they have little else to call their own. Anybody's, as a 50's character, was merely considered a "tomboy." She is young, dirty, and likely doesn't have a home to sleep in at night. One line directed at her, "go walk the streets like your sister," infers that her sister is likely a prostitute, and therefore the parents are probably not around. Ken has taught us to use cues like that from the text to build a backstory for ourselves, and to understand our relationship to the other characters.
Anybody's throws punches like the best of the male Jets. She's firey, constantly getting into fights, and seems angry at the world. For Ken, setting the show in 2018, this means playing Anybody's as a transgender character. This makes sense; though the times may have not called for the term "trans" at the original premiere, in my generation, we can understand that Anybody's wants to be a boy more than she wants to be a girl. Her sexual identity frustration explains her constant anger and desire to be a part of the Jets, to be accepted and to find a place she belongs. Ken has made character development really interesting, because he helps each individual Jet analyze the script in a way that gives them insight into their family life, their age, how they might react.
At one tension-filled moment in "Cool," Ken has my character try to rip off her breasts in frustration and anger; to figure out how to play a 15-year old, transgender youth in the 50's as a 21-year old, cisgendered female in 2018 is a massive challenge, and one that requires enormous consideration and respect for the person I'm representing. It's a stark contrast from the dance world. In Kaufman, when we learn a piece of rep, to embody it fully means to sweat, to rehearse, to physicalize a movement over and over until it becomes muscle memory. In West Side, to embody a character fully requires an understanding of text, requires analyzing dialogue and considering what a nonsense word like "frabbajabba," or "cracko-jacko" might have meant at the time. It's an exciting challenge and it feels like we are just at the tip of the iceberg; I'm leaving my scant acting experience in Ken's hands, and looking forward to building a story with him and an ensemble with the rest of the West Side cast.
Modern-day Bernardo
So far, West Side Story rehearsal has been quite the accelerated adventure, with plenty of new experiences already, since I have very little musical theatre background. The opportunity to dance, act and sing with a whole ensemble of people brings so much power, especially when it's to this iconic work of art. I am playing the role of Bernardo, the Sharks' gang leader. Contrary to what people might believe about most gang members, Bernardo has a very courteous essence to him. He portrays himself in a very elegant, yet assertive way. He is a man of his word, and knows what he wants and what's best for his family. Throughout these three weeks I have developed a passion and a relationship with my character. As a Latin man living in America, I know what it feels like to want a better life full of more opportunities. Just like Bernardo in the play, I moved to America because I wanted that for myself. It is such an honor to represent my heritage and my culture through such a courageous character.
The Puerto Rican Sharks are strong-standing individuals who know their identity. They came to America, even though they were not welcomed, and regardless of the circumstances, they fight for what they believe in and always stay true to their culture and values. For them, family is everything, since it's the only thing they have. The female Sharks are also strong and resilient. Anita, Bernardo's girlfriend, is the maternal figure of the play. Her dignity and presence matches that of all the other Sharks, and reminds me of valuable female figures I've had in my life growing up. Rehearsing scenes with talented actors that embrace this way of carrying themselves has made me value not only the history of my culture, but also my personal identity. Still relevant now, West Side Story is a work of art that celebrates culture, art, and love, while narrating the real circumstances of racial climate in America.
I can't wait for my peers and family to see this magnificent musical full of energetic dances, powerful scenes and breathtaking music.