Student Blog: Working with Peter Chu
October 15, 2021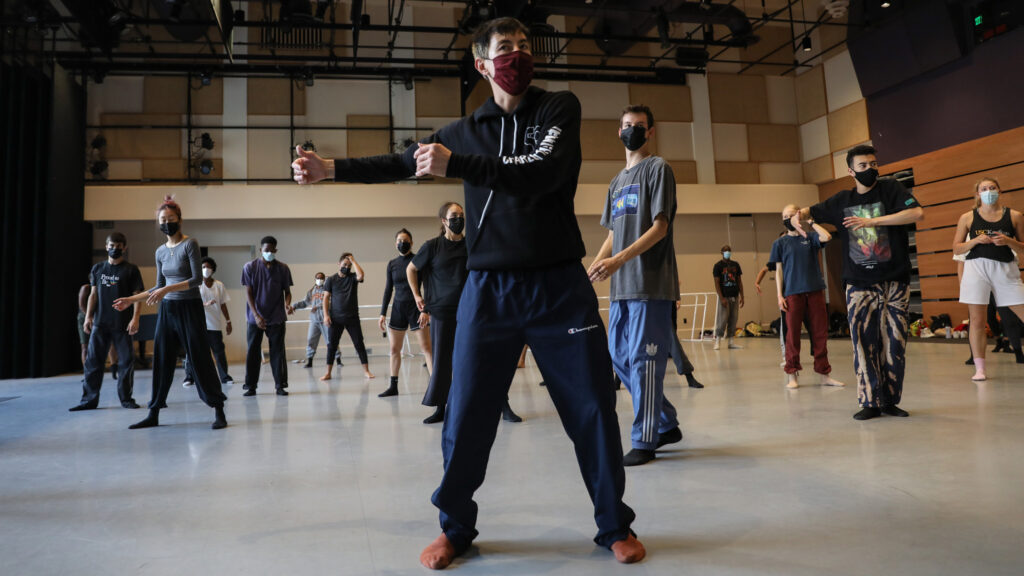 Working with guest artist Peter Chu was a lively and refreshing experience. Chu emphasizes connecting with the body on a deeper level and initiating movement in ways I've never been taught before. He likes to identify different organs, such as the kidneys or heart, and break down how transitioning through them changes our movement shapes and quality. He also talked about rooting our movement into both the ground and our bodies. It's fascinating to see how a phrase of choreography changes when the dancer starts thinking about intentions like resisting their feet into the floor or initiating their hands from their heart. It also challenges dancers to think of movement through a more complex lens.
Creating a mindful rehearsal environment
Chu also brought a very caring and mindful approach into the rehearsal space. He created time for us to acknowledge our bodies and how we're feeling physically and mentally. Especially, at this point in the semester, students are feeling fatigue from dancing so much as well as balancing midterms in academic classes. Checking in with ourselves is crucial to our health and productivity. He also took time while reviewing the choreography to identify when to be cautious of injury. Doing so is a beneficial reminder for dancers to protect their bodies and work efficiently.
Spontaneous movement with details
The solo Chu created is very spontaneous, yet also has specific movement qualities and details that together create an exciting and intriguing piece. Chu explained that many company directors have told him they want to see dancers doing work that varies from the more popular repertory seen today. The solo requires speed, expansion and control in addition to a specific water-like marking quality. Chu was also clear about small details such as using the palms to widen our hands rather than the fingers. It seems like a minute change, but it makes a visible difference. Overall, I found his guidance to be a very new and thoughtful way of examining choreography. The stamina of the solo is also a nice challenge. Because most dancers are working on two to four other solos that will be performed within the same time span for filming, it's important we are rehearsing Chu's solos and the other ones frequently to build our endurance.
Finding inspiration in others
While the dance is a whirlwind of fun to do, it's even more exciting to watch my peers translate the movement onto their own bodies. Each dancer at USC Kaufman brings something different to the school and comes with varying backgrounds. Working on solos allows everyone the space to lean into their strengths and individuality, more so than a typical semester. Chu's solo especially utilizes a variety of influences so most dancers can resonate with one part or another. Despite the large amount of material we've given the past few weeks, these solos will provide dancers with lots of options for reels and audition materials. It's exciting to see what each dancer will put together in the next few months, especially for the students in my class as we prepare for our careers beyond USC Kaufman.
---