Tessandra Chavez sets commercial dance piece on BFA students
April 5, 2022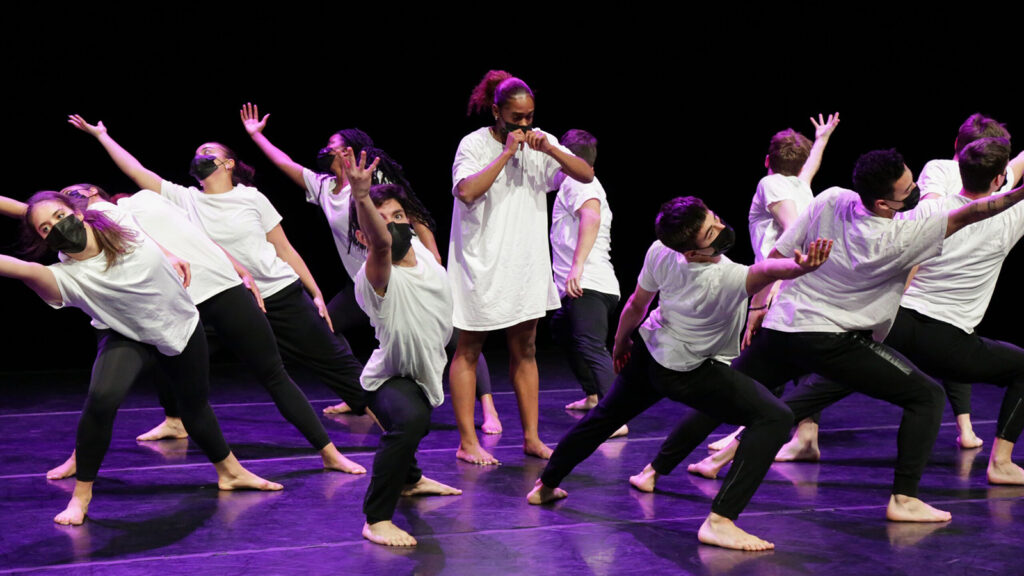 This semester, two-time Emmy Award-winning choreographer Tessandra Chavez set a new work on BFA students from the USC Glorya Kaufman School of Dance. Her piece, titled Big White Room, will premiere at the USC Kaufman debut at the Wallis Annenberg Center for the Performing Arts on April 21-23, 2022. Chavez joined USC Kaufman last semester as an Artist in Residence.
Big White Room
In February, Chavez and assistant Connor Gormley worked with members of the Class of 2022 and the Class of 2023 to create Big White Room. According to Chavez, the piece revolves around one dancer, Emily Carr (BFA '22), who tells the story of an artist struggling with anxiety and perfectionism. The ensemble dancers symbolize the stereotypical white padded isolation room found in insane asylums.
"For a while I had wanted to do a piece about mental health, specifically anxiety and what that looks like in artists. I find that many artists are perfectionists, myself included, and part of that means you are really in your head and really hard on yourself. There are a lot of demons that you battle in that headspace," Chavez said. "I wanted to put that on stage in a way that was relatable to the masses."
USC Kaufman debut at The Wallis
The BFA students will perform Big White Room as part of USC Kaufman's debut at The Wallis. After several semesters of virtual dancing due to Covid-19, Chavez is looking forward to in-person dance performances.
"For so long in the pandemic we've been at home and watching dance digitally. I think dance is best experienced live, where you can feel the emotion and get goosebumps," Chavez said. "I'm excited for dance enthusiasts to be in an audience to experience beautiful dance."
According to Professor Saleemah E. Knight, who serves on USC Kaufman's Artistic Advisory Committee, presenting commercial dance in this show is an important step for the school in solidifying their commitment to its motto, "The New Movement."
"The Wallis is our first L.A. premiere, so it's an opportunity for the entire city to finally be able to see what we do at USC Kaufman," Knight said. "We've been saying we're hybrid, but now it is visible in the forms that people see at our shows."
Bringing commercial dance to USC Kaufman
According to Knight, USC Kaufman has recently brought commercial dance into its core technique curriculum. Both Chavez and Knight discussed the significance of integrating commercial dance technique into the BFA students' training.
"For years, many college programs were very ballet, modern and concert dance based. But commercial dance has really blown up over the years in terms of being on television, with programs like 'So You Think You Can Dance' and 'World of Dance,'" Chavez said. "This has made dancing commercially a viable option for aspiring dancers. I think it's important that all universities offer both worlds, so that dancers can really look at their options and maybe even do both."
Both also emphasized the importance of showing students that their dance careers can be broad and not limited to one realm of dance.
"By bringing in commercial and hybrid masters in the field like Tessandra, I want the students to see how a master can exist in many different forms. There are artists prior to their generation who have done concert-commercial very well," Knight said. "I want to open the opportunity that if a student is interested, they can do both concert and commercial dance. It doesn't have to be one or the other."
Chavez and Knight are professional colleagues, working with high level dance conventions around the country. According to Knight, bringing Chavez in as an Artist in Residence offers an opportunity for students to start building their own professional relationships and connecting with choreographers working in the field.
A beautiful process
Chavez had a three week residency at USC Kaufman earlier this semester and will return in future semesters to work with the BFA students.
When asked about what it was like to work with the students, Chavez said, "The process of creating the piece was beautiful and magical from start to finish. The students were incredibly hardworking, focused, willing and excited to dive into a new style."
For audience members watching this piece, Chavez hopes they find comfort in the work's message.
"I want them to know that they are not alone. So many people suffer with anxiety and mental health struggles, especially during the pandemic," Chavez said. "We can find relatability in all of that, and know that we are not alone."
Chavez's piece will be performed at the USC Kaufman Debut at The Wallis, April 21-23, 2022. In addition to Chavez's work, repertory includes choreography by Achinta S. McDaniel, Justin Peck, Ohad Naharin, Toyin Sogunro and Doug Varone. Buy tickets today!
USC Kaufman Artists in Residence are supported in part through generous funding from The Choi Family Artists in Residence Fund. Additional production support provided by a generous gift from Katherine and James Lau. This performance of Minus 16 is supported in part by Renae Williams Niles and Gregory Niles. 
---
By Hannah Doerr