The new building's enviable location
February 23, 2016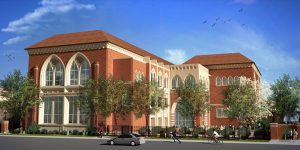 An icon arises with the completion of the Glorya Kaufman International Dance Center. Starting next semester, students and artists will enjoy the new movement in brick and mortar at the center of the city of angels.
USC Kaufman's building contributes to Los Angeles' vibrant arts landscape, where various creators from the fields of cinema, music, visual and performing arts, among many others, merge to drive the city's stardom as an international hub for culture and innovation.
"This is one of the largest dance-dedicated complexes in an American university," said Jeff de Caen, Associate Dean for Operations. "It also boosts Watt Way as a new creative artery to the campus, where all the six art schools of the university are located."
A desirable spot
Glorya Kaufman International Dance Center's close proximity to the USC School of Cinematic Arts and the USC Thornton School of Music sets an enviable advantage for students to capitalize from the dialogue between sister disciplines.
The building's strategic position will be evident through its large windows, which look out on the developing USC Village. This site will offer students a fleet of services, including restaurants, grocery stores and a brand new fitness center to serve dancers' needs of strength training.
The Glorya Kaufman International Dance Center will become a pinpoint for a rich exchange of artistic ideas and a privileged position to make the most out of student life. For ongoing updates, take a look at the live view of the the construction's progress.
---