New Movement Residency: Tony Testa to create Olympic ceremony submission
June 5, 2019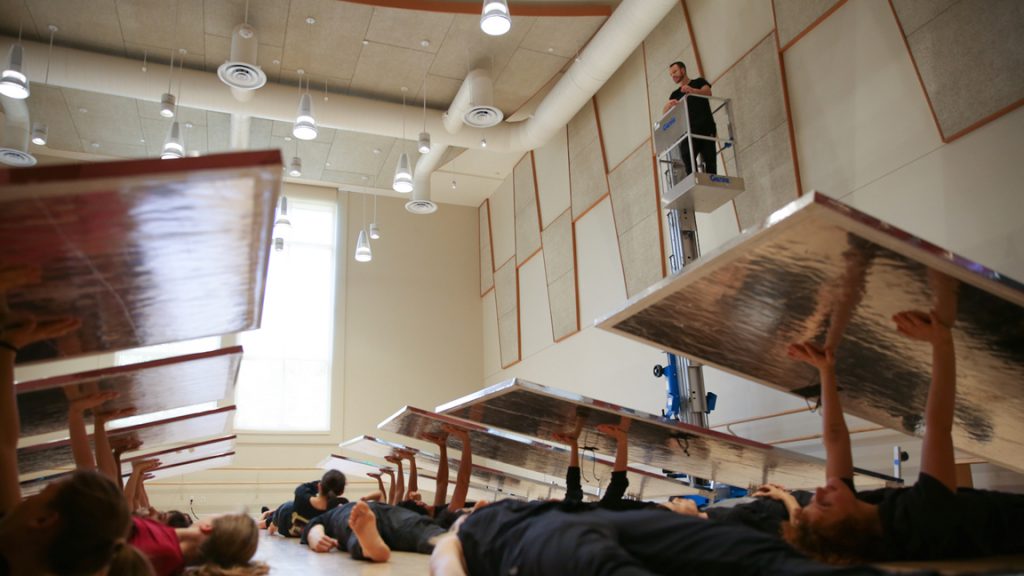 Choreographer Tony Testa's rehearsal studio is bubbling with energy—dancers in all black create elaborate formations, while Testa watches from a scissor lift. He gets better perspective on formations from here, he tells me. It's not too often his choreography needs to be imagined from an overhead camera angle, but this submission for the Olympic opening ceremony in Beijing 2022 calls for just that.
Testa grew up in Colorado, studying tap at first and then expanding his dance repertoire as he became more infatuated. He spent many late nights choreographing in the dance studio by himself. When his mother, a local dance teacher, retired, he took over her classes. Making phrases for his classes led him deeper into a passion for choreographing.
Now based in Los Angeles, Testa has a foot in both the commercial and stage communities.
"I'm fortunate, because I have a really good balance of styles right now," he said. "It keeps me busy and actively interested."
He continues to teach with two traveling conventions, teaching kids, teens and young adults. At the same time, he dances and choreographs in a good amount of entertainment/film. In his Los Angeles hub, Testa recently converted his own garage into a black box. There, he produces his own experimental dance and photography.
Going big with an Olympic proposal
Testa applied for USC Kaufman's New Movement Residency this year with the general idea that he would make a new work. Upon seeing the high ceilings and expansive space at the Glorya Kaufman International Dance Center, however, he decided to go bigger. While at USC Kaufman, he's working toward defining his vision for the opening ceremony in Beijing.
"Olympic ceremonies are this rare and amazing mixture of theater, film, technology and dance," he said. "Being part of one has been a dream of mine since I was a little kid—I thought, 'why not?'"
In preparation for the residency, Testa dove into research, looking for ideas from Chinese philosophy.
"Our guiding subtext—the things that drive a lot of what we're doing—are the elements of feng shui," he said.
For Testa, these pillars and their governance of spatial arrangement fit well with movement. He found that their relationship to the earth's natural elements could influence his choreography. Conversely, he noticed that these concepts would find their way into movement he made separately. In one of his rehearsals, a flowing sequence suddenly turned into the flow of ocean waves.
Keeping the process light
Testa and his rehearsal assistants Patrick Cook and Charissa Kroeger used these guiding principles to immerse dancers in a space full of stimulation. Testa's photography hangs in the corner, suggesting natural themes and images that dancers can pull inspiration from. In between rehearsals, they rearrange photos to invite new perspective. Boxes of props populate the studio cubbies; all are just possibilities, there for the dancers to research and create.
"Part of the process is welcoming everybody to collaborate and get involved in our creation," he said.
While at USC Kaufman, he has a mixed cast of dancers, comprised of his own network and USC Kaufman students and alumni. Welcoming dancers from USC Kaufman has allowed him to more closely simulate the scale of an Olympic cast. Additionally, the two-story ceilings in the rehearsal studios allow him to watch from a higher perspective on the scissor lift, anticipating camera angles and more. This way, he'll have appropriate footage and logistics to submit for the Olympic committee.
Though it is a large-scale and ambitious project, Testa is adamant that this passion project is all based in fun.
"The first thing I told everyone was that this was supposed to be a frictionless process," he explained. "It began with my dreams as a little kid—I want the inspiration and energy to stay that way."
---
By Celine Kiner