USC Visions and Voices Presents: Lucky Plush in Trip the Light Fantastic: The Making of SuperStrip
February 12, 2018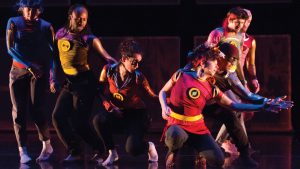 Washed-up superheroes start a nonprofit think tank in a wildly funny and fresh performance by Chicago's Lucky Plush Productions, presented by USC Visions and Voices. Trip the Light Fantastic: The Making of SuperStrip seamlessly weaves comic-book graphics, sound effects, and immersive video into an evening of captivating dance-theatre. With Lucky Plush's signature blend of nuanced dialogue, complex choreography, and off-the-cuff improvisation, the superheroes move through training missions and specialized movement techniques—only to discover that real-world problems are far more complicated than singular forces of evil. Join us for this spectacular investigation into the realities of trying to build a better world.
Monday, February 12, 2018 | 7:30 p.m.
Bovard Auditorium
Learn more at visionsandvoices.usc.edu.
View all events