New Movement Residency works reach the stage
September 8, 2018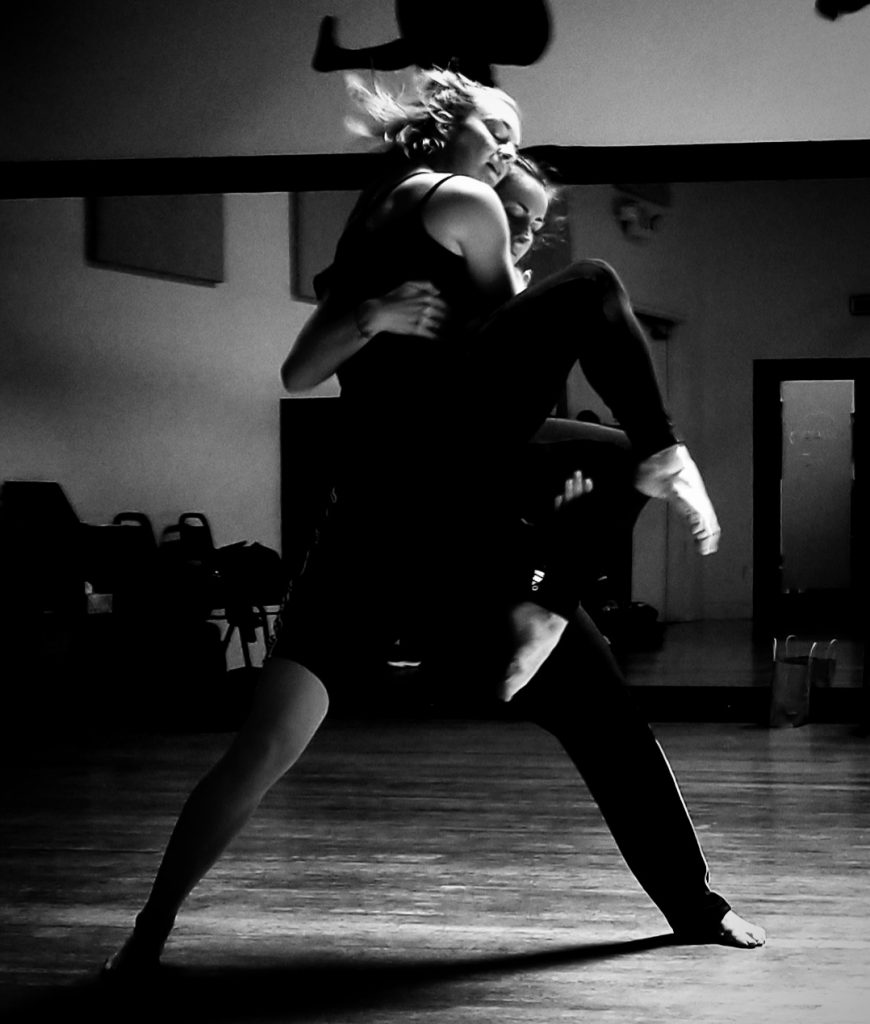 This fall, choreographers who participated in USC Kaufman's New Movement Residency take their works to the stage. CONTRA-TIEMPO will perform Ana Maria Alvarez's joyUS justUS at Bovard Auditorium on Sept. 13 as part of the University of Southern California's Visions and Voices program, while Kybele Dance Theater will premiere Seda Aybay's NOIR at The Broad Stage the very next night. Since their three weeks at USC Kaufman, both Alvarez and Aybay have been hard at work on choreographic details. While New Movement Residency participant Loni Landon hasn't solidified a performance date for the specific work she created during her residency, evidence of her movement research appeared at A/D/O in New York last week and will resurface at Joe's Pub for DANCE NOW in early September.
joyUS justUS
In response to CONTRA-TIEMPO's last full-length evening work, joyUS justUS focuses on the joy of resistance, telling stories of communities of color in South Los Angeles. In creating the work, Alvarez and the dancers of CONTRA-TIEMPO collaborated heavily with families in these communities, as well as with Las Cafeteras and USC Kaufman faculty member d. Sabela grimes for the score. The narrative will be communicated through the social dance forms in which the company is based: salsa, Afro-Cuban, hip-hop and contemporary, with a few added elements specific to this work. USC Kaufman BFA senior Ardyn Flynt was able to participate in the creation process during the New Movement Residency, and will appear onstage with the company, along with fellow BFA student Rachel Harris.
To RSVP for the performance on Sept. 13, please visit the Visions and Voices website.
NOIR
 Aybay's NOIR revisits archetypes of the film genre to create a contemporary narrative piece, using movement and projection to set the noir tone. After her residency at USC Kaufman, Aybay asked BFA senior Rachel Walton to be part of the performance, choreographing her into the piece. Walton assisted in creation during the New Movement Residency, working with the dancers of Kybele Dance Theater and often stepping into Aybay's part when Aybay wanted to watch from the front. Aybay has been workshopping NOIR since 2017, and showed a part of it at this year's Dance USA conference—its full, finished premiere will be at The Broad Stage on Sept. 14.
Visit The Broad Stage website for tickets.
Loni Landon's work
Loni Landon plans to add the work she made during the residency into her "repertoire bank" for future works. Since the residency, Landon has been quite active in the New York dance community. She created an immersive work for A/D/O in Brooklyn last month, with meditation directed by Lori Ann Ferreri and sound by Ricardo Romaneiro, Hannah Sumner and Apex Sky, as well as visuals by Mauricio Ceppi, featuring dancer Nicole von Arx. Landon was also featured in Dance Magazine regarding her relationship to social media—she's currently working on a solo with dancer Amanda Krische that will premiere at DANCE NOW at Joe's Pub beginning Sept. 5.
For information about DANCE NOW, please visit the Public Theater website.
---
By Celine Kiner