Professors E. Moncell Durden and Saleemah E. Knight appear in the film Uprooted: The Journey of Jazz Dance
February 6, 2023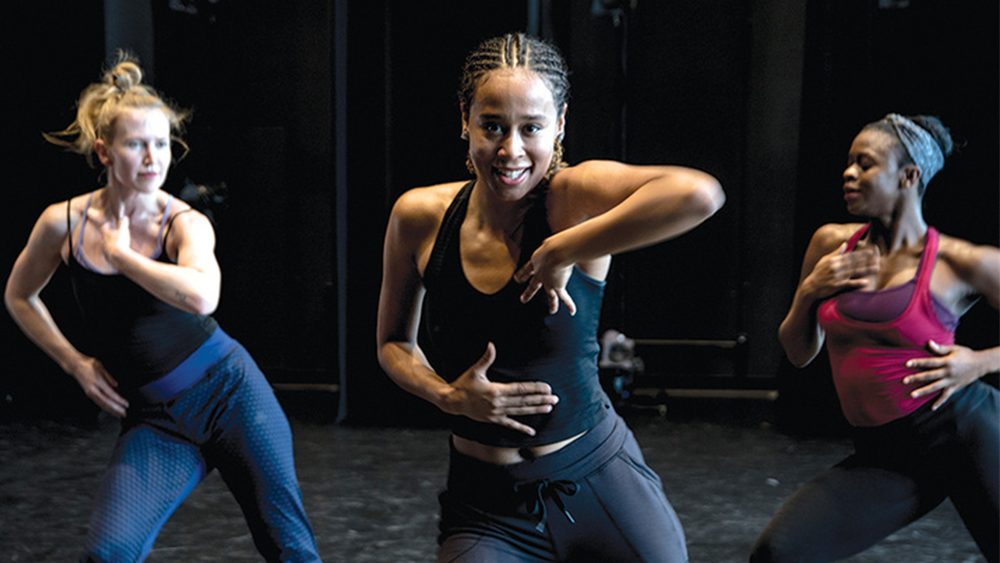 Organized by the USC Glorya Kaufman School of Dance, USC Visions and Voices presents Uprooted: The Journey of Jazz Dance – A Screening and Conversation. Hosted at the Ray Stark Family Theatre on February 8, 2023, this event will include a screening of the film followed by a conversation with the director Khadifa Wong and USC Kaufman professors E. Moncell Durden and Saleemah E. Knight.
A feature-length documentary, Uprooted: The Journey of Jazz Dance explores the lineage of jazz dance and follows its evolution through different decades and genres. USC Kaufman professors Knight and Durden appear as dance experts in the film alongside a cast of other scholars, choreographers and performers.
Knight is one of USC Kaufman's original founding faculty who teaches jazz dance technique and theory courses on dance studies. She is an internationally recognized interdisciplinary performing artist in the concert and commercial dance realms, as well as a choreographer, researcher and master teacher. Durden teaches hip-hop, jazz and improvisation techniques and theory courses on dance studies at USC Kaufman. He is a dancer, educator, practitioner, historian, ethnographer, author and documentarian.
Making the film
According to Durden, a producer of Uprooted, Lisa Donmall-Reeve, was inspired by the book, Jazz Dance: A History of the Roots and Branches, published in 2014. She decided to turn the concept into a film, and reached out to many of the authors that appear in the book, including Durden. Looking for a wide array of perspectives from scholars of dance studies, the producers contacted Knight as well, and thus they both joined the project.
Typical of a documentary, the process involved interviews of all the experts. The producers sat down with both Durden and Knight, separately, asking them questions about the history, lineage and future of jazz dance.
"The creation process was interview style, but co-creator Zak Nemorin allowed me to run with what I know, based on my academic research and extensive experience as a movement practitioner," Knight said. "I believe they started with one nugget in one place, but being a professor of dance studies who lectures on the topic regularly, it was easy for me to answer their initial questions and then follow with 'but did you also know about[…]'"
Durden discussed how the producers started with certain questions covering a corner of jazz dance, but as the process of filming went on, they realized there was much more. He explained that they circled back to him and interviewed him a second time, to dive even deeper into jazz history.
An opportunity for more
Knight defined the main message of the film as the fact that, in the 21st century, jazz is alive and well. The 90-minute film does not, however, fully capture the essence of jazz dance, and Knight sees the potential for a sequel or even a series. Even the book that inspired the film necessitated a sequel. The editors Lindsay Guarino and Wendy Oliver, who appear in Uprooted as well, published a second book in 2022 with editor Carlos R. A. Jones titled, Rooted Jazz Dance: Africanist Aesthetics and Equity in the Twenty-First Century. Durden appears as an author in this book as well.
"I'm excited for the future of jazz dance in terms of changing how it is discussed as part of the cultural canon of American history. Jazz is the original American dance form produced by Black American people. Our Black originators such as Pepsi Bethel, Leon James, Al Minns, George Snowden, Katherine Dunham, Florence Mills, etc., are central to the creation of jazz but are left out or mentioned peripherally when discussing the form's lineage. The goal is to make their impact common knowledge and also see their movement contributions taught in studio practice, for without them, there would be no jazz dancing." Knight said.
Given the short length of the film and the ever expansive breadth of jazz dance, there is much more information to learn. Uprooted gets the viewer excited about jazz dance, and if one wants to learn more about the history, lineage and future of jazz dance, Knight recommended a few places to go.
"To first understand what you should be looking for in order to identify true jazz dancing, you have to know Brenda Dixon Gottschild's research. Kariamu Asante Welsh's writings are seminal to the form, and Robert Farris Thompson, who wrote about the aesthetic of the cool," Knight said. "For the technical practice, get in my class and the classes of some of the greats like Pat Taylor and Melanie George. Aside from actual jazz, Afro-cuban foundations are also really important."
This film is only a stepping stone in educating a generation of dancers about the history and importance of authentic jazz dance.
For more information about this event and to register, please visit USC Visions and Voices' events page here.