USC Kaufman students perform works in progress
March 4, 2016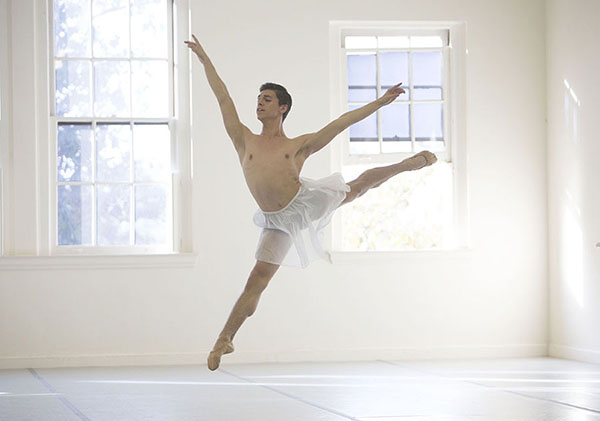 USC Kaufman BFA students performed choreography of their own design last week in addition to works by established artists, such as Paul Taylor, William Forsythe, Jiří Kylián and Alejandro Cerrudo. Faculty members, parents and friends gathered on Feb. 26 and Feb. 27 to watch the students' works in progress at the Spring Midterm Showings.
"My daughter's been dancing since she was 3 years old. It's very exciting to see her become a professional dancer at the Glorya Kaufman School of Dance," said Chris Allen, whose daughter Alyssa performed on both days.
A night of self-expression
Through three short video productions and 12 live performances on Friday, students shared their own artistic identity. The work not only showcased their rigorous dance training, but also conveyed their wide-ranging approaches to dance-making from multimedia work to improvisation and comedy.
"It's great to be able to put on a show like this and develop our own individual flair," said freshman Lenai Wilkerson. "By working with our peers, we have to learn how to balance trust, playfulness and focus in order to get the job done."
Embodying a legacy
On Saturday, students presented excerpts of four works created by renowned choreographers.
In the opening piece, an excerpt of Paul Taylor's "Cloven Kingdom"(1976), four male dancers donned suits in a jaunty satire of pretentious formal occasions. In excerpts from Jiří Kylián's 1978 ballet "Symphony of Psalms," male and female dancers brought shape to emotion within Igor Stravinksy's evocative choral score. The dancers then performed highlights from William Forsythe's "In the Middle, Somewhat Elevated" (1987), the athletic ballet en pointe known for its disruption of classical form. The performance concluded with Alejandro Cerrudo's "Lickety Split" (2006), a series of sumptuous contemporary duets danced in gracious coordination.
"Students have been very busy, challenged by the work of different talented artists," said USC Kaufman faculty member Thomas McManus. "Outside of all the work that they've done this semester, they've managed to put on these fantastic performances."
BFA students delivered a professional caliber presentation at the midterm showings, building anticipation for the upcoming Spring Dance Performance Apr. 28-29, 2016.
---