USC Kaufman students to perform in "A Chorus Line"
March 11, 2022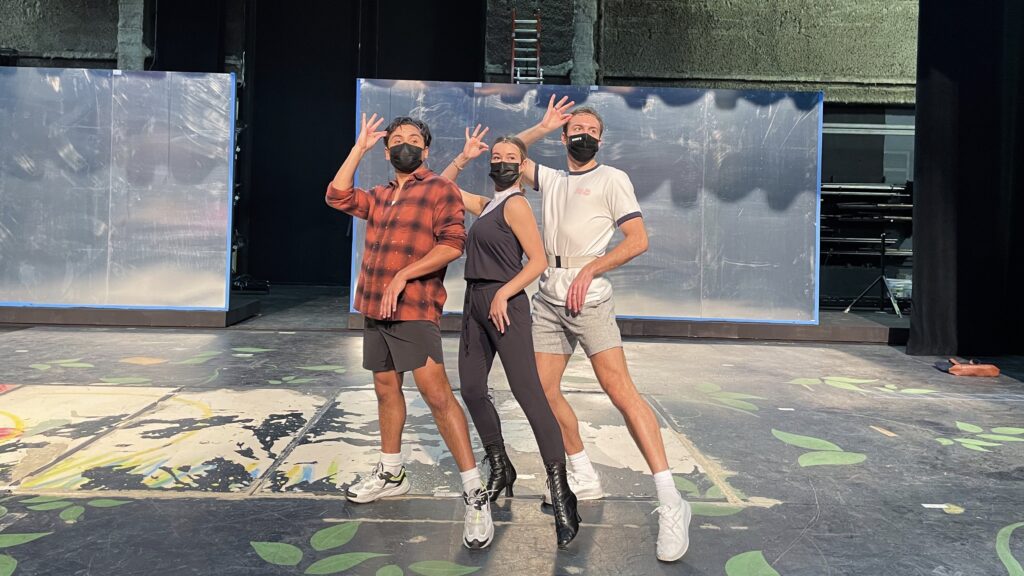 This year's USC School of Dramatic Arts all university musical is A Chorus Line. This musical tells the story of a casting call for a Broadway show, where the director whittles down hundreds of dancers to just 17. These 17 dancers take turns throughout the show, telling their life stories and expressing their love of dance in song.
The audition process
The auditions for A Chorus Line were open to all USC students, conducted virtually due to Covid restrictions. There were two rounds: a self tape of a short dance combination and a song and monologue of your choice. Students then received callbacks for a specific character. This second round consisted of a self tape of the character's monologue and a portion of an ensemble song, as well as a dance callback.
"I was extra passionate about auditioning for A Chorus Line because the last show was canceled because of Covid," said Ava Noble (BFA '23). Noble, who is playing the role of Christine, added that she "started training heavily in voice when the pandemic hit. Finally having an opportunity to exercise that growth in an audition room was super exciting."
According to Noble, she has had a passion for musical theatre since she was young. The opportunity to perform in an all school musical drew her towards USC. Dance minor Conrad Rocha, who is playing the role of Bobby, has also had a life-long passion for musical theatre.
"I got an email from USC Kaufman's Admission and Student Services Officer Kyle Beasley encouraging dance minors to audition," Rocha said. "Dance minors don't get that many chances to perform, so I am really excited for the opportunity to be on stage not only dancing, but singing and acting as well."
Utilizing USC Kaufman training
The training that the dancers receive at USC Kaufman prepares them for this kind of rigorous audition and rehearsal process. USC Kaufman recently began offering a musical theatre technique class in addition to the other foundational techniques BFAs learn. Both Noble and fellow dance major Luke Qualls (BFA '22) found the hybridity of the curriculum to be valuable in their experience with A Chorus Line. According to the students, the show is very dance heavy, with choreography in jazz, tap and ballet, so training extensively in various forms prepared them for the show.
"The hybridity of our training here, from ballet to hip-hop to tap to musical theatre, has taught us to be on our feet," said Qualls, who is playing the role of Larry. "If we need to put on tap shoes for one thing then do ballet right after that, we're ready."
As a dance minor, Rocha has been able to take technique classes at USC Kaufman in both jazz and ballet. He shared that these elective classes have prepared him for the choreography in A Chorus Line.
Noble and Qualls are working with the production's choreographer, Cedric Dodd, as co-dance captains. In this role, they warm up the members of the cast, keep track of formations and spacing for the dance numbers, and answer questions about choreography. When Dodd gives dancers notes, Noble and Qualls write them down, help to clean up the dances, and review counts. In pre-production, they acted as assistant choreographers as well, helping Dodd create the choreography for the show.
"USC Kaufman teaches dancers to be leaders, and to take command of a room even with professionals who have been in the business much longer than us," Noble said. "Being dance captains has felt comfortable because, through our training, we're used to talking to groups of people and running rehearsals with professors in the room."
Balancing rehearsals
A Chorus Line rehearses six times a week. The rehearsals include time spent working on songs with the music director, Abdul Hamid Royal, learning choreography for the show, and having acting rehearsals with the director, School of Dramatic Arts professor Tim Dang. The schedule can be a challenge to maneuver given the busy schedule of USC students, but serves as a valuable learning experience for the dancers.
"It is extremely difficult to manage time, but it is a taste of the real world," Qualls said. "I want to move to New York and be on Broadway. This is the perfect example of what that life would be like."
Noble and Qualls said the hardest thing to manage is professional work outside of USC, including outside auditions and jobs. Rocha also noted the struggle of scheduling and finding time to do schoolwork or meet with groups for class projects. However, they all spoke with excitement about the process and the rewarding feeling of being in a show.
"After training in musical theatre so much over the past two years, to finally see it pay off by getting more of a principal role has been really rewarding," Noble said. "I am really excited for everyone to see what we've been working on for 30+ hours a week!"
A Chorus Line will run for two weekends, March 31 to April 10, 2022 at the USC Bing Theatre. Learn more and buy tickets today!
---
By Hannah Doerr