USC Kaufman to present Justin Peck's "Rodeo" at The Wallis
April 15, 2022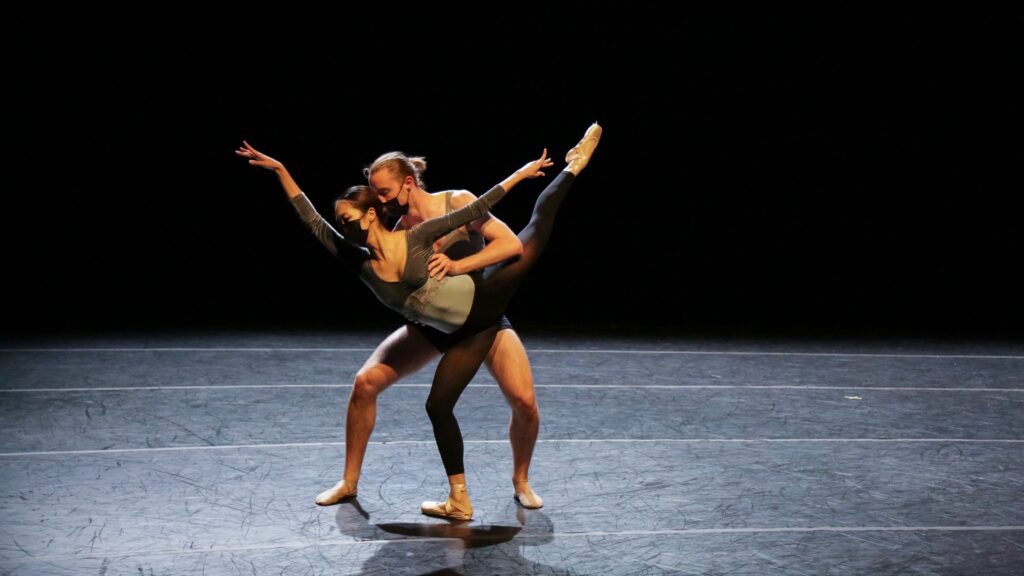 Michael Breeden, an Artist in Residence at the USC Glorya Kaufman School of Dance, met choreographer Justin Peck when they were peers at the School of American Ballet. Now after two decades of friendship, Breeden is staging Peck's version of Rodeo for the USC Kaufman debut at the Wallis Annenberg Center for the Performing Arts. Agnes de Mille originally choreographed this ballet, which premiered in 1942 with music by Aaron Copland.
Rodeo reimagined
De Mille's piece offers a Western setting with narrative components of a rodeo, indicated by its title. Peck's take on Rodeo debuted in 2015, and it steered the choreography in a new direction. He took the narrative out of the ballet to focus more on dancers' physical responses to the music. Additionally, the original ballet had a cast of 16 men and one woman. Peck reimagined this cast so that any gender identity could fit any role.
"One of the exciting things about this reincarnation is that we have male-bodied dancers in roles originally created for female-presenting dancers. The quintet that opens the ballet was originally five men and now it has gender fluid casting. I think this allows for so many opportunities for people to present who they are as a dancer. The work doesn't need to be bound by gender."
The teaching process at the university level
Breeden explained that Peck sees him as a kind of caretaker for his body of work. So this semester, he was excited to bring this piece to eager dancers and audiences. He also noted that teaching Rodeo at the university level helps students understand the importance of the teaching process alongside the final product.
"The students at USC are incredible dancers and creatives," Breeden said. "I love teaching at the university setting because it's about the process. In a company setting, sometimes it can just become about the product, like 'Okay, everybody learn it, and let's churn this out so we can get it on stage.' But this is about the deeper education and enrichment of each of the dancers."
Throughout the semester, Breeden worked with Jackie Kopcsak, Associate Professor of Practice and Assistant Dean of Faculty, and Bruce McCormick, an Associate Professor of Practice as well. He said that he appreciated their sharp choreographic minds as Rodeo's complicated nature adds to its beauty.
"Working with Jackie and Bruce is like watching cogs in a machine," Breeden said. "For one person, this choreography can get complicated. It was nice to have extra eyes on it, especially these two people who I trust so much. Justin then came to work with the students after I left. In between, Jackie and Bruce took care of it, and Justin was overwhelmed with the work they had done with the students."
Student and audience takeaways
In learning Rodeo, Breeden hopes the BFA students draw from their creative and curious spirits to enjoy the process. He also wants them to take in this experience to be able to see the true breadth of their talents.
"I hope the students carry this experience as a reminder of their own artistic depth of capabilities," Breeden said. "If they ever encounter low moments in their careers, they can look back and remember 'I am as good as Michael told me I was,' and I want them to hold on to that feeling."
For audiences, Breeden wants people to enjoy Rodeo's artistic variety. He also hopes they can see the beauty of the piece and greater show alongside the fun that dance can bring to both audiences and dancers.
"I think that Rodeo has a really beautiful juxtaposition of internal, intimate moments and just total dance for joy and fun's sake," Breeden said. "These moments in art can make you think about your own humanity and experience. That's what I love about it. And then at the end, you get to grin from ear-to-ear at how joyous dance can be both watching and dancing."
Rodeo will be performed at the USC Kaufman Debut at The Wallis, April 21-23, 2022. In addition to Peck's work, repertory includes choreography by Tessandra Chavez, Achinta S. McDaniel, Ohad Naharin, Toyin Sogunro and Doug Varone. Buy tickets today!
USC Kaufman Artists in Residence are supported in part through generous funding from The Choi Family Artists in Residence Fund. Additional production support provided by a generous gift from Katherine and James Lau. This performance of Minus 16 is supported in part by Renae Williams Niles and Gregory Niles.
---
By Brigid Murphy