USC Kaufman welcomes four new Artists in Residence
August 14, 2018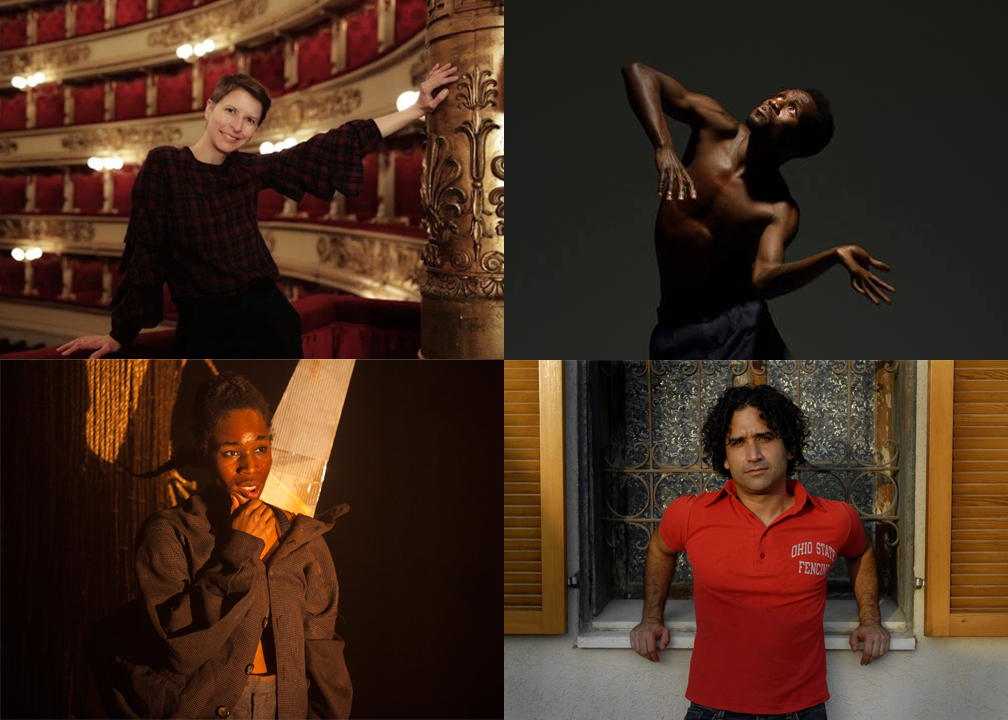 This fall, USC Kaufman welcomes four brand new Artists in Residence, each from a different background and with a diverse range of dance experience. The four choreographers—Aszure Barton, Marjani Forté-Saunders, Barak Marshall and Jermaine Spivey—will work with the BFA dance students throughout the year.
Aszure Barton
Barton set an excerpt of her work "BUSK" on USC Kaufman's BFA dancers last fall, and will return this year to delve deeper into her choreographic process. A native of Canada, she recently moved from New York City to Los Angeles, after having collaborated with Mikhail Baryshnikov, Teatro alla Scala, Nederlands Dans Theater and many more.
"It is a pleasure for me to be joining the faculty as an Artist in Residence," Barton said. "It'll be great to teach and collaborate with the awesomely talented group of students, as well as be a part of such a stellar and warm faculty. I feel honored and am really looking forward to it."
Marjani Forté-Saunders
A two-time Princess Grace recipient, Forté-Saunders joins USC Kaufman's faculty from a history with Urban Bush Women dance company and several others. She has taught as faculty and as a visiting artist at Hunter College CUNY, Princeton University, Bard College and the Graduate Yale School of Acting. She has presented work at Museum of Contemporary African Diasporan Arts in Brooklyn, NY and held residencies at Brooklyn Arts Exchange (with LOVE|FORTE), New York Live Arts, Movement Research, LMCC Extended Life and the CUNY Dance Initiative.
Forté-Saunders' biography notes that she "is thrilled to join a dynamic line of Artists in Residence at the USC Glorya Kaufman School of Dance. With deep gratitude, she mobilizes her work, honoring that it stems from being born in and having engaged with culturally rich, vibrant, historic and politically charged communities."
Barak Marshall
Not unlike Barton, Marshall set an excerpt of his work "Monger" on USC Kaufman BFA students last fall, and returns to present more works in his signature gestural dance theatre style. The son of acclaimed artist Margalit Oved, he was appointed the first-ever house choreographer of the Batsheva Dance Company by Ohad Naharin. His work has been performed by Les Ballets Jazz de Montreal, Ballet Junior de Geneve, Cisne Negro, BODYTRAFFIC, the Los Angeles Philharmonic and London's Rambert Dance Company and presented worldwide at Sadler's Wells, Jacob's Pillow, Switzerland's STEPS Festival, the Diana Vishneva Festival in Moscow and more.
"Having been fortunate enough to see the work of USC Kaufman's faculty up close and witnessing the exponential growth of the students–both as dancers and dance creators–I can say that what Jodie Gates and this stellar faculty have created here is the model for where dance education must go, because they recognize that new dance languages and ideas only emerge through intercultural dialogue and cross-pollination," said Marshall. "These dancers are assimilating and mastering such a diversity of choreographic and cultural languages because they are given the resources and encouragement to do just this. I truly believe that USC Kaufman will play a central role in the renaissance of American dance and I am honored to be a small part of this."
Jermaine Spivey
A close collaborator of Crystal Pite, Spivey is also the recipient of a Princess Grace Award, as well as the National Foundation for the Advancement of the Arts first level. He has performed and created work for Kidd Pivot and Hofesh Shechter Company, and has taught at the Juilliard School, UCLA, NYU Tisch, Baltimore School for the Arts, LA Dance Project and more.
Spivey has previously choreographed for the Hubbard Street Dance Chicago intensive in Los Angeles at USC Kaufman, and has taught several master classes with partner Spenser Theberge for USC Kaufman BFA dance students.
"Dance is an expression of the human condition, part of that being our multifaceted nature, and I believe what we are already seeing from the course structure here at USC Kaufman is a recognition, an encouragement and empowering of that nature," said Spivey. "This kind of nurture to nature is what I believe the world needs more of and I am honored and very grateful to join the rest of the faculty here in support of developing diversity in future young artists."
---
By Celine Kiner