Victor Quijada on language and lineage: teaching the RUBBERBAND Method
March 4, 2019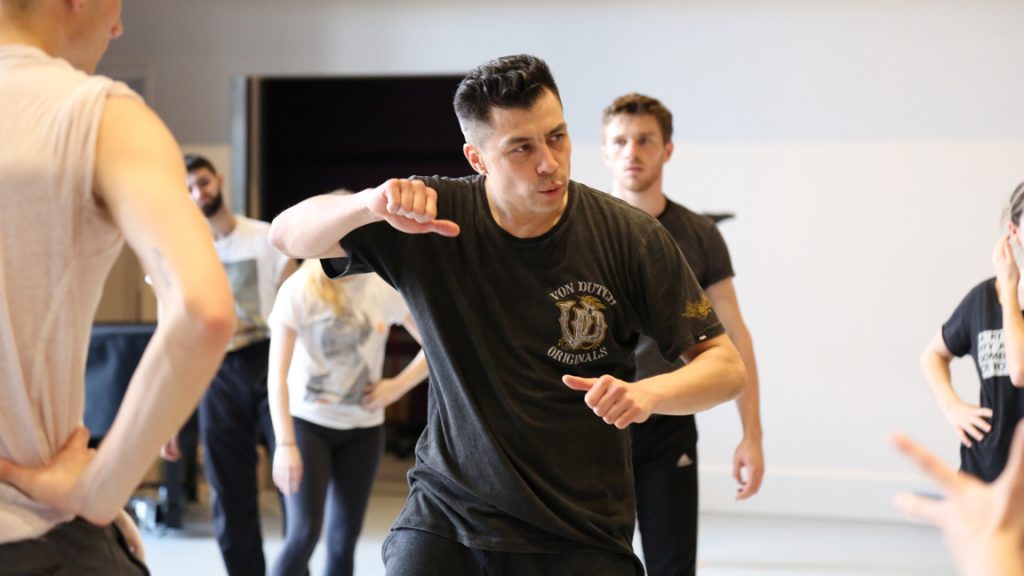 When USC Glorya Kaufman School of Dance Vice Dean and Artistic Director Jodie Gates asked Victor Quijada to join the school's faculty as an Artist in Residence, there was no job description. The school did not yet physically exist. In 2014, USC Kaufman was a few rooms scattered across the university campus. The first BFA class was still in the process of auditioning. Gates told Quijada what she hoped the school would become.
"She was very frank about what level of rigor we were aiming for," Quijada said. "She told me about why she wanted me on board, and this new vision of giving equal value to movement systems that had been around for three hundred years and for thirty years."
RUBBERBAND beginnings
Quijada seemed the perfect fit for "The New Movement" at USC Kaufman. His signature technique, the RUBBERBAND Method, is a consolidation of his classical dance background and social dance training, with his own aesthetic and flair built into the combined mechanics. After an illustrious concert career with Twyla Tharp, Les Grands Ballets Canadiens de Montréal and more, Quijada wanted a way to bring his passion for hip-hop and breaking to the stage—but on his own terms. In the beginning, teaching his company to move the way he did took hours at a time for single steps. To increase literacy and efficiency, he had to build his own language.
Company members at RUBBERBANDance undergo intensive training to ensure that they're well-suited for the technique and environment. Besides that, Quijada is protective of the technique: it's his life's work. Gates' proposal, then, made him a bit hesitant. He had done workshops before, but never committed to weeks at a time teaching his method—let alone with college students.
"Funny enough, I was still a little bit hesitant about sharing my method," Quijada said. "It also raised a lot of questions about what my role would be in academia, and how I could give my time equally and empower each student equally."
Despite his reservations, Quijada said yes. He recorded a welcome message for the first BFA class on his cell phone from Montreal. It was part of a video including Gates, faculty member William Forsythe and more.
Company to conservatory curriculum
Since then, Quijada has visited USC Kaufman for a few weeks each spring to teach his method to all BFA students. This year is his first year teaching four full classes of students; a way for him to measure each class' progress as well as the curriculum he drafted.
"It's a crash-course for a few weeks at a time, and a lot of it is learning new conceptual approaches," he said. "There are students that have an aptitude for it, students that RUBBERBAND speaks to. I've noticed that they find a way to continue swimming in it when I'm not here."
Each new return is a new experiment. Quijada makes decisions about what works and attempts to maximize efficiency when moving forward. For the oldest class, it's a brand new experiment each time. During his visit this month, Quijada saw the BFA students perform for the first time.
"It just so happened that my residency coincided with a performance this time," he said. "My favorite thing was seeing the diverse directions that everybody can go in. The dancing and the student choreography were really impressive."
Transmitting hybridity
Quijada attended a performance where the choreographers' lineage was particularly connected. He himself worked closely with Crystal Pite, whose "Ten Duets on a Theme of Rescue" was featured in the program. Pite also danced with Forsythe early in her career. Quijada says that he did his best to "pick Crystal's brain about Bill [Forsythe]" during his time with her. Though the USC Kaufman faculty are from all over, the dance world's few degrees of separation ensure a linked lineage for BFA students in training and repertory.
The program's commitment to hybridity means that on some level, the faculty understand similar principles about versatility. The discourse around this topic, Quijada said, is one of his favorite parts of working at USC Kaufman.
"Part of the research is being able to expand our family tree and genealogy, see how we cross paths with our training and history and mutual colleagues. Then it's about questioning what we're doing here, for the students," he explained. "How do we offer knowledge, information, training, shortcuts, and efficiency?"
Looking ahead in learning
This discussion has taught Quijada the importance of eloquence for himself and the students: not just with verbal language, but with movement language. Seeing the senior class begin to seek employment has shown him that these qualities must be instilled as early as possible.
"We have to talk about artistry, about being a professional, and about what else beyond the technique: the esoteric, the ephemeral and ethereal. But also the material reality. When you get out there, it's going to be hard because of this and that," Quijada said.
In this new role as an academic, Quijada explains that he is learning how his technique can help students transition between styles—but that's not entirely his part. He wants to make sure he shares his experience so that his students can "skip out on a few mistakes."
In his welcome message four years ago, he made a specific point.
"We have a responsibility to go beyond what those pioneers before us have laid down as the groundwork," he said.
Now, four years later, he's making good on his promise—doing his research and starting dialogue to expand that groundwork.
---
By Celine Kiner