Wendy Whelan, Brian Brooks, and Brooklyn Rider in Some of a Thousand Words
February 21, 2017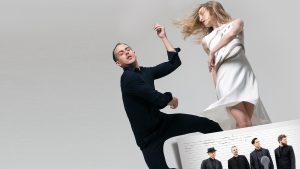 Wendy Whelan, who spent 30 years with the New York City Ballet, is widely considered one of the world's leading dancers. Brian Brooks is an award-winning choreographer and director of the acclaimed Brian Brooks Moving Company. They will come together to perform their tour-de-force duet First Fall along with luminous new work they have created with string quartet Brooklyn Rider, "one of the wonders of contemporary music" (Los Angeles Times).
Bovard Auditorium
University of Southern California
Tuesday, February 21, 2017 | 7:30 p.m.
Free admission
RSVP and details at Visions & Voices
In conjunction, Whelan's documentary "Restless Creature" will be screened at the USC Glorya Kaufman School of Dance; find out more and RSVP here.
View all events