2022 Cypher Summit honors women in hip-hop
March 31, 2022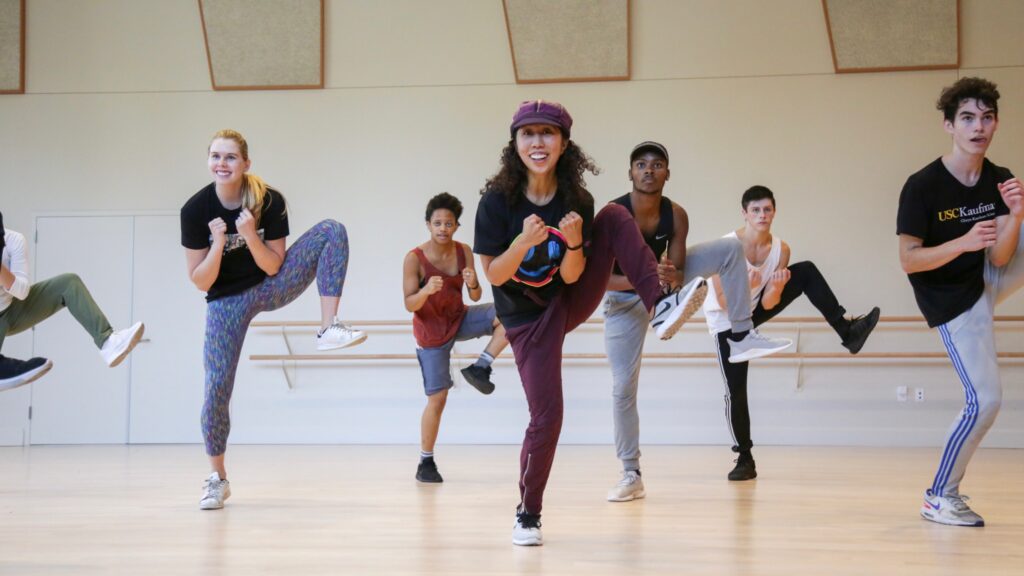 On April 1 and 2, the USC Glorya Kaufman School of Dance will hold its biennial Cypher Summit. While the overarching theme of the event continues to showcase the importance of hip-hop in educational spaces at the university level, this year's summit centers on women in hip-hop. In this spirit, USC Kaufman partnered with nonprofit organization Ladies of Hip-Hop to plan the event.
USC Kaufman lecturer Tiffany Bong is the founding director of the Cypher Summit. She explained that this year's event operates around four main goals. Goal one is to build agency for intergenerational women to tell their own stories. Goal two is to center women in hip-hop dance settings and practice. Goal three is to gather, connect and nurture inspiring and developing female hip-hop artists. And goal four is to showcase the multifaceted identities, contributions and career paths of women in hip-hop.
Origins of the cypher
Bong noted that the cypher comes from African culture. It provides a space to gather in an inclusive circle to share stories for healing, hope and strength building. She also described the nature of the cypher as a welcoming laboratory space for development and encouragement. This setting offered a natural fit to teach and prioritize hip-hop as the dance practice prompts a collective and organic experience.
"Hip-hop really draws people in and it gives you a community and a family to belong to," Bong said. "This dance comes from Black culture, but they've opened up their arms for it to welcome all people. It also offers the ability to express yourself creatively while gaining important life skills like self confidence, direction and identity."
Cypher Summit offerings
Day 1
The first day of the summit begins with movement workshops. These include disciplines such as classic hip-hop, house, heels and a New York City based style called Lite Feet. After the lunch break, the summit will offer a professional development session called Artist Toolkit led by Michele Byrd-McPhee, the founder and Executive Director of Ladies of Hip-Hop. In addition, dance student Jordan Powell (BFA '22) chose to focus her USC Kaufman Senior Project on women in hip-hop, and she will present her research followed by group reflection and discussion.
Day 2
The second day of the summit begins with a spoken word performance by L-Boogie, an LA-based dancer, creator and educator. Movement workshops will then continue with house, drumming, waacking and vogue. After lunch, there will be time to peruse a HERstories: Art Gallery curated by Donna Arrogante. Further, there will be panel discussions with female icons in hip-hop including Damita Jo Freeman and Flo Jenkins.
Cypher Celebration
Both days of the summit end with a dance party. The first day offers a casual Get Down with DJ TiffStarrdance. To conclude the summit, the second day ends in the Cypher Celebration. Bong described that this celebration shows the beauty of the cypher. As staged performance is not really a part of hip-hop culture, the celebration offers a space for artists to gather and connect through hip-hop.
"I'm very excited because we are bringing in a live band of USC Thornton students, and they're going to feature a lot of songs by women," Bond said. "We'll also have a curated group of female dance artists ranging from the Ladies of Hip-Hop to local LA artists, as well as some of our BFA students. They will all be meeting each other for the first time through dance in this celebration."
Alumna support
This year, USC Kaufman alumna Amaria Stern (BFA '20) helped Bong execute the Cypher Summit. While at school, Stern concentrated her studies on Black dance traditions through hip-hop, jazz and street-style classes. Stern participated in the 2020 Cypher Summit during her senior year as well. She appreciated the space to prioritize hip-hop in a university setting, and was excited to join the the team to help coordinate this year's summit.
With the 2022 theme centered on women in hip-hop, Stern hopes participants gain new perspectives on the importance of the female narrative within the dance practice.
"Specifically for the women, I hope they walk away feeling celebrated, seen and inspired to continue making their way in these spaces," she said. "And for our friends who don't identify as women or women in hip-hop, I hope they walk away feeling inspired by the stories that they hear of perseverance by these women. I also hope that they walk away feeling empowered to persevere in whatever spaces that they're in."
Main takeaways
Bong shared similar sentiments to Stern on takeaways from the Cypher Summit. She aims to reach all members involved in the event including local artists, BFA students and the wider USC community.
"For our community practitioners, I want them to feel invited and that there's a space for them. For women of color, there's a long history of not being invited to the table. We want to make a statement that we wouldn't be here without you. You're the ones moving hip-hop culture forward," she said. "For our BFAs, I hope they start to gain a more lived experience of what hip-hop is outside of a traditional dance studio or lecture setting. Finally for the USC community, I hope they have fun, feel included and the event sparks more interest and appreciation for hip-hop."
Cypher Summit, made possible with a grant from USC Arts in Action, will take place April 1 – 2, 2022 at the Glorya Kaufman International Dance Center. Register today!
---
By Brigid Murphy