Alumni Blog: Collaborating with William Forsythe on "Acquisition/Körperschaft"
December 16, 2019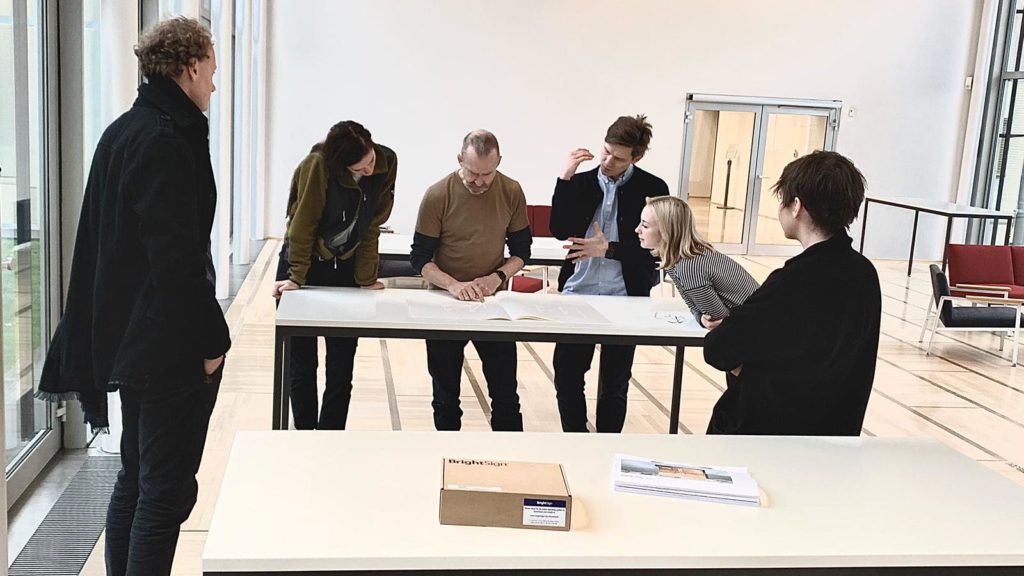 I recently had the pleasure of working for William Forsythe on his exhibit "Acquisition/Körperschaft" for the Museum Folkwang in Essen, Germany.
Initially, I collaborated with Forsythe in Los Angeles on specific iterations of the choreographic task: RYBG. I also contributed my own designs to the project. I was very familiar with the complexity of the tasks and how to increase difficulty by adding more opposing variables, since Forsythe taught the basic RYBG task when I was a freshman at USC Kaufman and I taught the work at his LACMA exhibit "Acquisition" in 2016.
Twenty-four iterations of RYBG were chosen to be brought to Essen. Three of those iterations were designed by alumnae Celine Kiner (BFA '19) and Mary Mallaney (BFA '19). Three were designed by me. After developing these tasks and ensuring that each had a potential solution, Forsythe and I collaborated with graphic designers to ensure that each RYBG iteration was executed precisely to be displayed in the Museum.
Bringing "Acquisition/Körperschaft" from Los Angeles to Essen, Germany
Walking into the Museum Folkwang in Essen on Nov. 18, I had little expectation for what this particular project would become. As USC Kaufman BFA students know, working with William Forsythe always brings unexpected outcomes. In the first few days in Germany, I met with Forsythe and the two other presenters of this work, Franziska Aigner and Tilman O'Donnell. It quickly became apparent that the point of the work was less about trying to get museum-goers to "perfect" the RYBG choreographic tasks, but to initiate conversations about how choreography functions independently of dance and what it can mean to "acquire" a piece of art.
Further, in pieces that involve the public, there is only so much you can prepare for. When the exhibit officially opened on Nov. 21, museum-goers immediately began questioning the work itself. "Acquisition/Körperschaft" was presented among many of Forsythe's movement-centered works. Consequently, patrons would walk into our exhibit expecting some sort of "performance" to happen. We were continually asked "How is this piece choreography?" since these different choreographic tasks involved very little movement, but an incredible amount of mental concentration. This led us to unpack the underlying definitions associated with words like "dance" and "choreography."
Each interaction that Franziska, Tilman and I had with museum-goers was unique. The RYBG tasks elicit many different responses. Some people laugh when they struggle to complete it, while others get frustrated. Group dynamics were incredibly interesting to watch. Companions would help each other, or become shy if their partner grasped the task more quickly than they did.
Exploring the presentation of a work
Whenever the exhibit became less busy, Franziska, Tilman and I would create improvisation scores for each other based on some of the themes of RYBG. We also discussed how this work can grow to be presented in other museum spaces.
Forsythe gave us the freedom to explore how the work was presented. "Acquisition/Körperschaft" is not subject to the objects presented in the exhibit. Instead, it is intricately linked to the three of us. If and when the exhibit travels to other spaces, we will be the driving force of how the work reinvents itself, under Forsythe's mentorship.
Transitioning from Forsythe's student to collaborator
Being in Essen for two weeks was an incredible opportunity to study how choreography functions in spaces away from the stage, to get to know Forsythe outside of the classroom and to expand upon the research I completed at USC Kaufman– which primarily focused on how choreography can integrate into technology. I am enjoying how working with Forsythe, Franziska and Tilman challenges my perspective on art as I continue to develop as a scholar and artist.
Ultimately, I am very fortunate to know him on a more personal level as a result of this project. He has always been an amazing teacher, but working with him as a partner has changed my approach to my life and career. The hours we worked together are priceless, and will be memories I cherish for a lifetime.
---