USC Kaufman alumni stage Jodie Gates' "Embellish" for The Sacramento Ballet
October 2, 2019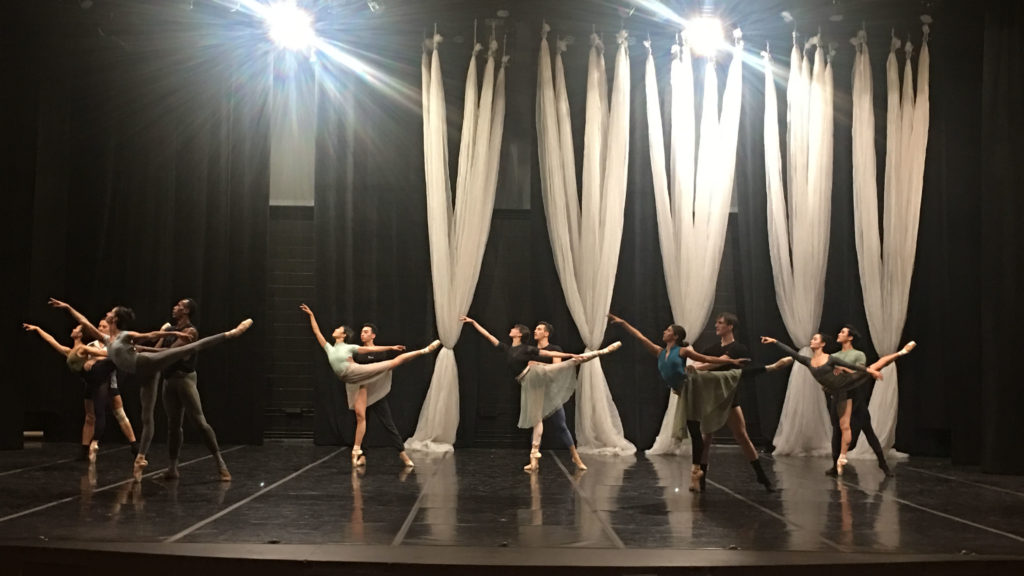 This month, The Sacramento Ballet will perform Jodie Gates' "Embellish" as part of their program, "Mozart in Motion." Gates, the Vice Dean and Artistic Director of the USC Glorya Kaufman School of Dance, selected two USC Kaufman alumni to stage the full-length ballet. Both members of the Class of 2019, Megan Yamashita—who recently joined Complexions Contemporary Ballet—and Juan Posada Penagos worked closely with Gates to evolve the piece for this performance.
"Embellish" was originally created by Gates on Colorado Ballet for the 2012 Gotham Dance Festival at The Joyce Theater. It is set to five of Mozart's movements.
Before getting into the room with The Sacramento Ballet, Yamashita and Posada Penagos met with Gates to discuss the work. They then learned the ballet through video archives of the rehearsals and the Gotham Dance Festival performance. From there, the pair had about four days to set the entire ballet.
"Both Megan and Juan took on a big responsibility in staging 'Embellish,'" Gates said. "I am very impressed by how they were able to command the choreography and the rehearsal space, given that this was one of their first experiences as répétiteurs. The progress they made in such a short rehearsal period speaks volumes to their leadership capabilities and versatility as artists."
Posada Penagos gives credit to his time at USC Kaufman in preparing him for this job.
"Having the privilege of working with Jodie Gates for the past four years gave me a great sense of direction when approaching these videos and translating what I saw on my screen into actual bodies in the room, because it is not only about the steps. I have a sense of her style and understand how to approach her movement and where she draws her inspiration from, making it easier for me to set the work," he said.
For more information on "Mozart in Motion," please visit The Sacramento Ballet website.
---