USC Kaufman alumni speak with admitted students
May 27, 2020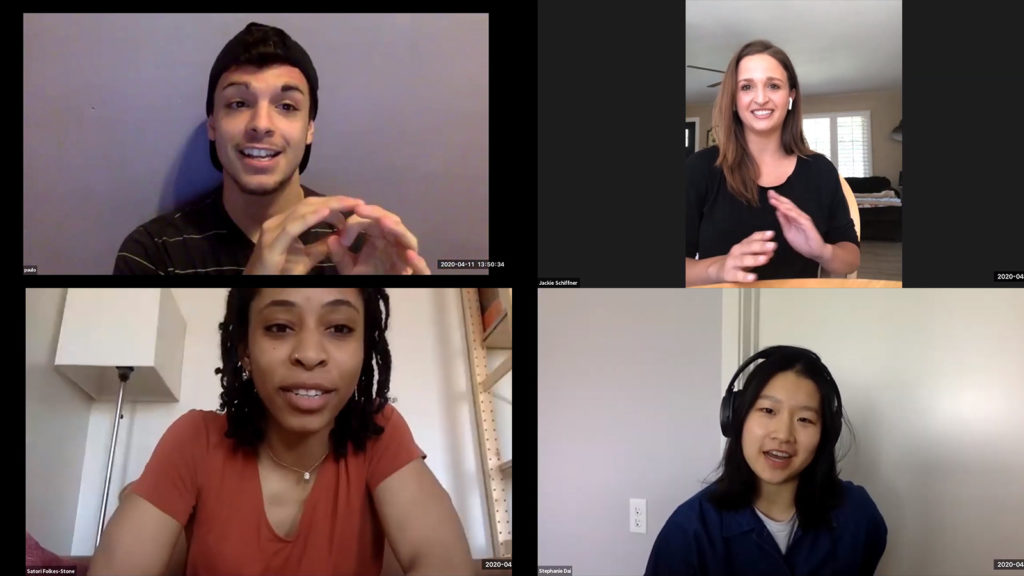 Admitted students for the USC Glorya Kaufman School of Dance's Class of 2024 recently attended a virtual panel with several of the School's alumni. The speakers included Stephanie Dai, Satori Folkes-Stone, Paulo Hernandez-Farella and Jackie Schiffner from the Class of 2019.
Dai is currently in Los Angeles, where she dances with The TL Collective. Both Folkes-Stone and Hernandez-Farella moved to New York, where Folkes-Stone is a cast-member in the Broadway revival of West Side Story, and Hernandez-Farella recently signed their second-year contract with Ballet Hispánico. Schiffner spent the past season dancing with Ballet Met in Columbus, Ohio.
Favorite memories
The alumni shared some of their favorite memories from their time at USC Kaufman with the newly admitted students.
"Our last BFA performance at the Bing was really sweet," said Dai. "Just to give it all felt really great and celebrate all the work we did in the past four years, which culminated in the repertory we put on the stage. It was a beautiful, family moment that we had at USC Kaufman and it was super-duper special to me."
Schiffner agreed.
"Our last performance was unreal," she said. "And all the trips and performances, of course. But I think my favorite moment in the studio was when Professor Forsythe was coaching us for our performances at The Joyce Theater. It was such a cool experience for me and for so many people because it was more of a conversation about how we could bring this piece— 'In the Middle, Somewhat Elevated,' an iconic ballet— to the next level."
Balancing academics and art
When asked how they balanced their schedule as a BFA with other university requirements, Hernandez-Farella offered their unique point-of-view.
"On top of getting my BFA, I also got my Minor in Nonprofits and my Master's in Public Administration, because USC has accelerated Master's programs," they said. "The biggest thing is strategic thinking. Realistically, if you want to pursue other academic interests while also getting your BFA, you really need to have that strategic mindset. Just because you can, doesn't mean you should. It's really about being on top of, 'This is what I love, and it makes sense why I'm doing this.'"
Folkes-Stone spoke to a different aspect of academics at USC.
"I really liked my GE classes, so it was a pleasure to have that balance," she said. "I'd have rep, and then right after rep I'd have to write an essay. And then I'd know I have rehearsal later that evening, so I'd go into rehearsal… I honestly really liked academics at USC. I left feeling really warm, especially with my gender studies class, which got my feet wet in the queer community. It was great. So, I feel I have fond memories and feel connected to those professors still."
Staying connected to USC Kaufman
The panel concluded with the alumni sharing how they stay connected to the USC Kaufman community.
"The beauty of USC Kaufman, at least for me, was that my employers are my best friends from USC Kaufman," said Dai. "Jordan [Johnson] and Aidan [Carberry] hired me for their latest show and it was just so beautiful to work with my friends."
Schiffner added on to this.
"Having that camaraderie, I feel that if I was with anybody from our class, anybody from the class below us, it would just feel like family," she said. "It's like an unexpected family, in a way, because of course you have those people you know you're going to be close with forever, but then you have this huge family that keeps growing and the love keeps growing. It's so special. I don't understand how you could replicate it anywhere else."
For more on this virtual panel, check out the video below:
---