Curriculum in Focus: The BFA Core
September 1, 2019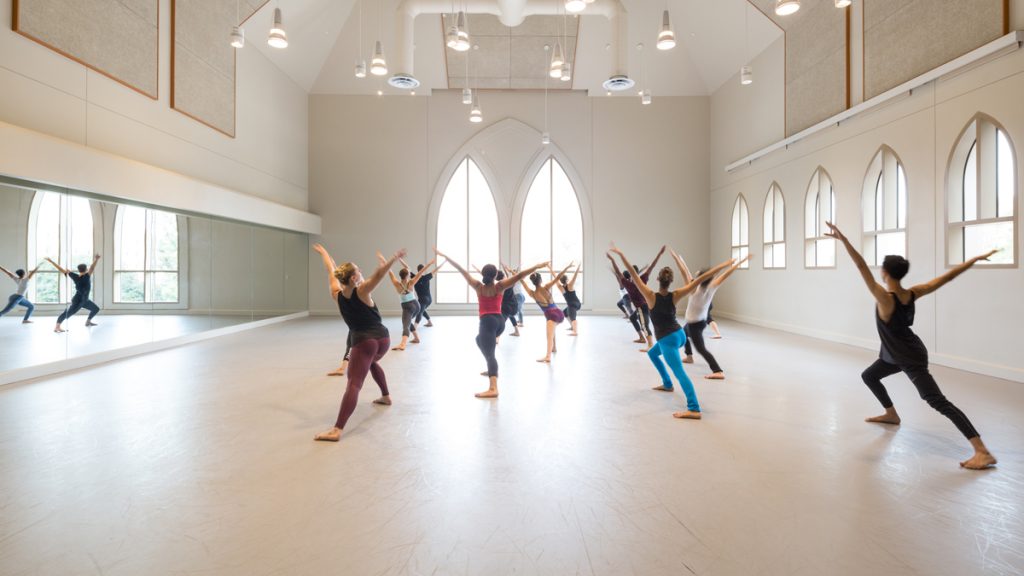 The BFA Core, a series of courses you'll take in sequence with your cohort, provides a common curriculum from which you can create your own path. The BFA Core is identified in purple (Mrs. Kaufman's favorite color) on the following table outlining our four-year curriculum: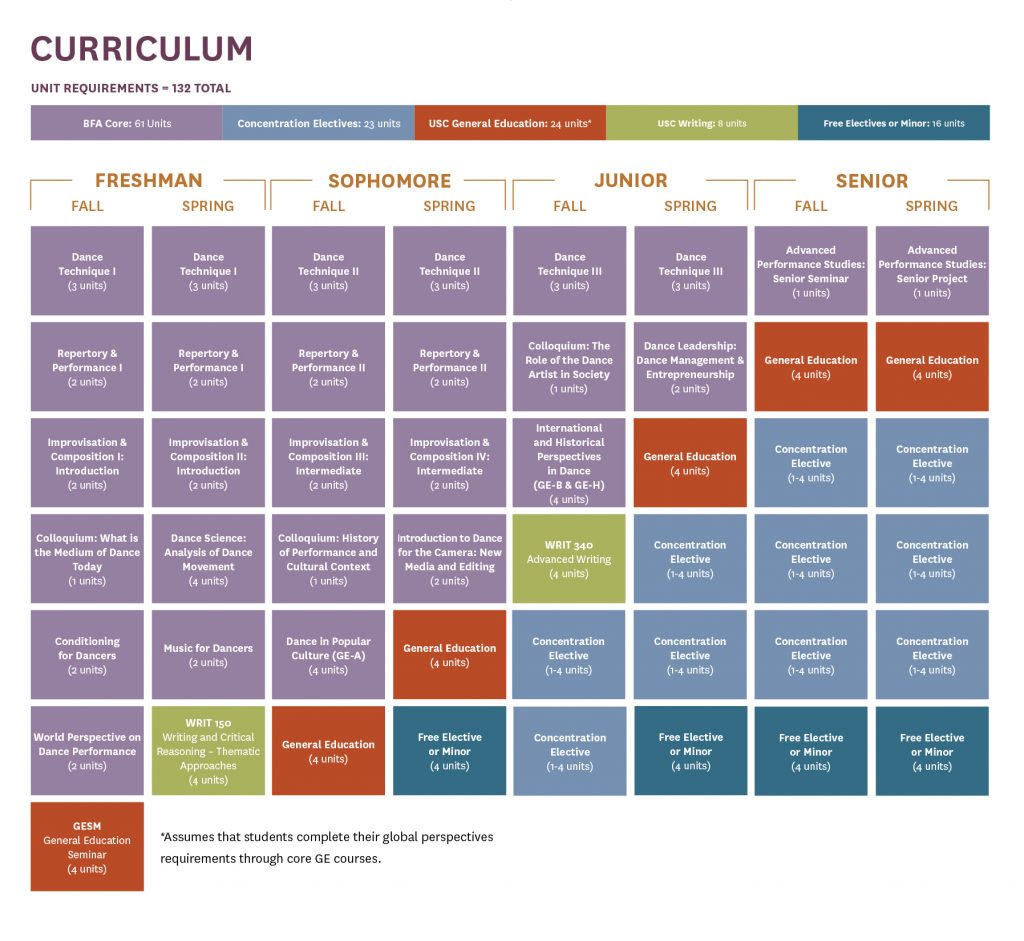 You can expect to dance five to nine hours a day, five days a week (plus rehearsals) in three primary studio-based courses: Dance Technique, Repertory & Performance, and Improvisation & Composition.
Dance Technique class has a unique structure. First, there are no levels, because you take your courses as a cohort. This creates a special learning environment where students support one another. Second, it's one class; the first half is Ballet, while the second half is Hip-Hop, Contemporary, Partnering or another style. This creates a dialogue between different styles.
Repertory & Performance is where you will learn seminal and new dance repertory by influential choreographers at a company level. This is the one class held on the same day and time for each cohort, allowing choreographers and repetiteurs to cast across classes.
Improvisation & Composition, held twice a week, is heavily influenced by the improvisational technologies of faculty member William Forsythe. We felt that it was important for all students—even those with a focus on Dance Performance—to be immersed in the choreographic process for a minimum of two years.
In your freshman year, you will also take Conditioning for Dancers and Dance Science: Analysis of Dance Movement. These courses are front-loaded to teach you early on about how to take care of yourself.
Required history and theory courses, such as World Perspectives on Dance Performance, Dance in Popular Culture, and International and Historical Perspectives on Dance, are structured to connect with your studio practice. They help you to understand the broader landscape of dance—past, present, and future—and where you fit within that landscape.
Each year, you will take a Colloquium course. The topic changes each year (i.e. What is the Medium of Dance Today? for freshmen). This Wednesday night class is where you will engage in spirited discussions with fellow students, faculty and distinguished guests—the idea being that we want you to be heard, not just seen.
Each year, you will also take an interdisciplinary course. We are fortunate to be within a university with vast resources from which to draw. Music for Dancers, created by the USC Thornton School of Music for our program, provides an introduction to music; Introduction to Dance for the Camera: New Media and Editing will help you become fluent in digital tools needed for innovation; Dance Leadership: Dance Management and Entrepreneurship provides leadership tools for career success with an in-depth look at the dance industry.
The final component of the BFA Core is the one-year self-directed Senior Project. Completed under the tutelage of faculty mentors, the senior project provides an opportunity to apply everything you've learned in the program towards a performance, research paper, choreographic work or anything else you dream up.
Stay tuned over the coming months for more about the many components of our degree.
For more information on the BFA Core, visit the BFA Core page on our website.