BFA students add minors alongside dance training
March 28, 2022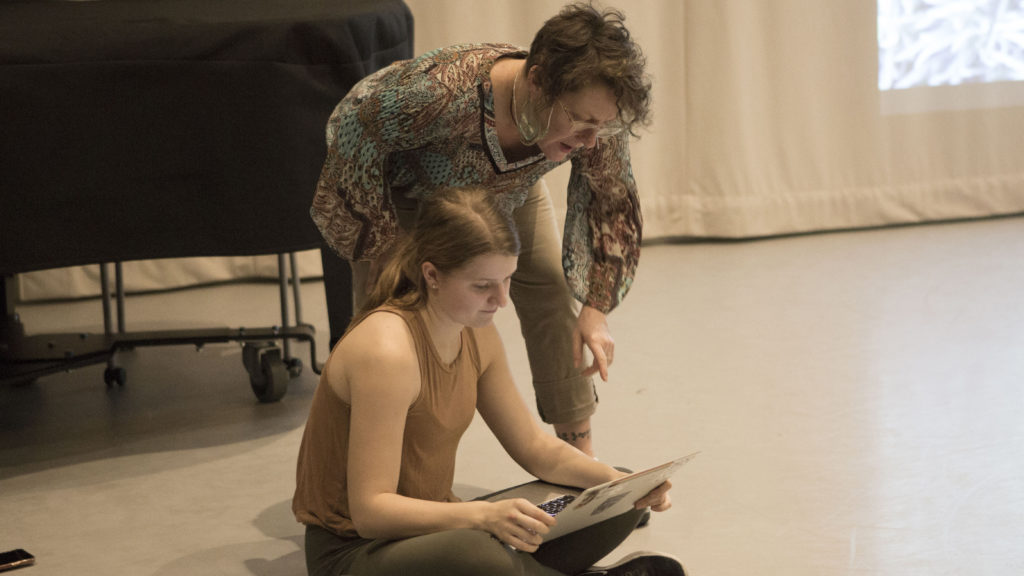 The USC Glorya Kaufman School of Dance is a dance conservatory in a university setting. Students in the BFA program take a myriad of dance classes along with school-wide general education requirements. This allows BFA students to explore subjects outside of dance, as well as add minors to complement their dance training.
Occupational Science
Bella Allen (BFA '22) took advantage of the abundant academic offerings at USC and chose to pursue a minor in Occupational Science within the USC Chan Division of Occupational Science and Occupational Therapy. Originally, she planned to minor in Neuroscience. After trying out the occupational science class The Creative Workshop recommended by her roommate, Allen decided to declare the minor.
"The goal of an occupational therapist is to help their patient be able to occupy all the spaces necessary to live a fulfilling life," Allen said. "It's about personalizing whatever form of treatment or path the OT is taking with their patient. For example, treating people with disabilities or disadvantages, it's not about looking at it as a disability but rather finding another way to do something."
Allen was attracted to the minor because of its connection to her USC Kaufman training. She described dance as the perfect method for finding new ways and approaches to movement, which goes along with the mission of occupational therapy.
"My whole journey with training has been about finding a new perspective, like a new approach to doing a tendu or to figuring out a compositional piece," Allen said. "I'm interested in furthering my knowledge of fields like dance movement therapy. I want to use dance as a mode of therapy for people through an occupational science lens."
Dynamics of Early Childhood
Like Allen, India Dobbie (BFA '22) decided to explore studies outside of dance. This semester, Dobbie began working toward a minor in the Dynamics of Early Childhood in the USC Rossier School of Education. According to Dobbie, she grew up as a studio dancer. Then, she became a teacher at her mom's dance studio in New York City. She cited her passion for teaching as the inspiration for adopting this minor.
"I've been able to apply my dance teaching experience to a lot of the concepts that we've been diving into," Dobbie said. "We look at how children are developing and what stages they're going through in their development. Then, I can relate that to a dance classroom setting or to the ways that we teach kids how to dance."
Dobbie explained that after her performance career she wants to transition into teaching. As a future teacher, she hopes to bring a knowledge of childhood development to the profession.
"When some dancers teach, there isn't an awareness of the kids' developmental stages and how we can most effectively and beneficially teach children," Dobbie said. "Especially in those younger ages, dance can be used as a tool to teach not only dance steps. It can also be a way to teach many other greater things about life and about growing up."
Entrepreneurship
Nina Gumbs (BFA '22) also branched out from her dance studies to pursue an Entrepreneurship minor in the USC Marshall School of Business. At first, she thought of taking on a traditional business minor. However, USC Kaufman alum Mariana Carrillo (BFA '20) advised her to look into the idea of entrepreneurship.
"Coming to college, I didn't know what I wanted to do besides dance. But, I always knew that I wanted to own my own business," Gumbs said. "My parents asked me to not take the minor because they said, 'You don't need a minor in entrepreneurship to be an entrepreneur.' But, I said to myself, 'It can't hurt to know more about the business before you try to make any moves.'"
In merging the dance and business worlds, Gumbs strives to bring the art form to the forefront of people's minds.
"I've realized that some people don't know nor do they care about dance," Gumbs said. "Whenever I'm in business classes and I bring up anything dance related, people ask, 'Is that a viable business idea? Is that a niche market?' You really have to convince people and remind them that dance is everywhere. It's important to flip the mindset that this is a business venture."
Finding a minor
When searching for a minor, Gumbs recommends trying a familiar subject or passion first. She acknowledged that there is so much more to learn about things we think we know well.
"I want to graduate knowing that I did the work that I could within my four years here," she said. "When I step out into the world as a graduate, I'll be doing so with more knowledge. That doesn't mean I'll know everything but knowing that I did some form of educational training, I can bring in new perspectives to whatever space I'm in."
---
By Brigid Murphy