New Fall 2022 course Kaufman in the Community: Dance and Ability
April 25, 2022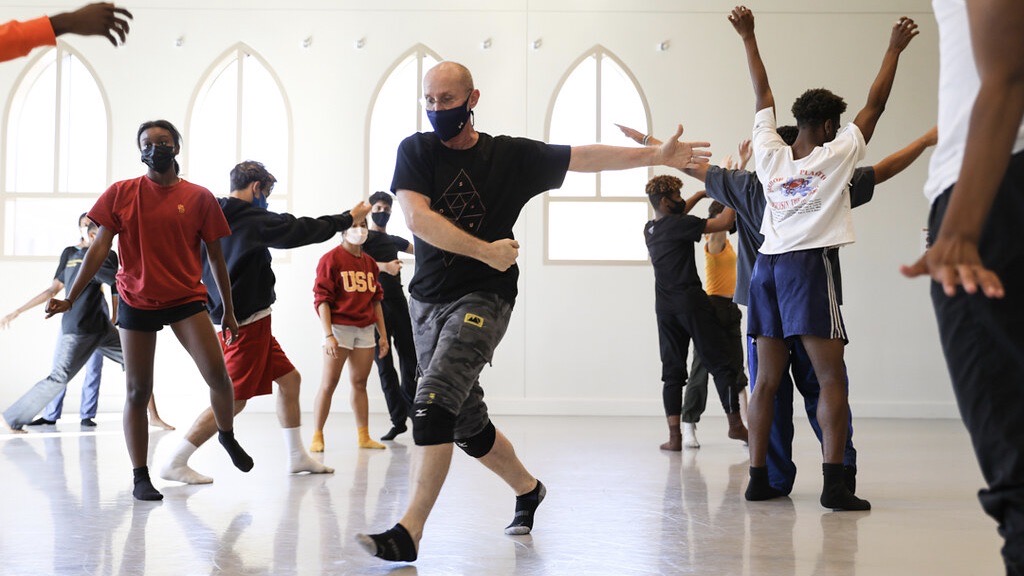 Interested in learning about how dance can be beneficial to our neurology? Want to work across disciplines at the University of Southern California and in the surrounding community? USC Glorya Kaufman School of Dance's newest course explores the benefits of dance for people with Parkinson's disease. Then, students will put that knowledge into action with fieldwork in the community.
Partnering with other experts
Professor Jackie Kopcsak began working on this collaboration for dance and ability with Daria Yudacufski from USC Visions and Voices. When they decided to turn this project into a course at USC Kaufman, Professor Patrick Corbin was a natural fit. Corbin does a lot of work with dance and ability, specifically designing movement therapy for people on the Autism spectrum. They secured a grant from USC Arts in Action, a funding organization at USC, and were able to turn this project into an elective course.
This course in dance and ability focuses on working with people with Parkinson's disease. As a collaboration, this multidisciplinary course will involve experts in various fields. These individuals include: Dr. Giselle Petzinger and Dr. Michael Jakowec, neurologists at USC Keck School of Medicine, Dr. Rebecca Cunningham, an occupational therapist, Dr. Marisa Hentis USC Kaufman's physical therapist, Dr. John Walsh from the USC School of Gerontology, David Leventhal, a certified instructor from Dance for PD (Parkinson's disease), and Amy Carlson, participant expert.
For this course, USC Kaufman is also partnering with an organization based in Pasadena, Calif. called Lineage Dance Company. According to Corbin, Lineage already has a Dance for Parkinson's program within their community. The teachers at Lineage are certified in Dance for PD, and the organization is a current partner of USC Keck School of Medicine.
Dance for PD
Dance for PD is an internationally-acclaimed organization that offers research-backed dance classes and training. Currently, Corbin is participating in their training program with Mark Morris Dance Company to bring this knowledge to USC Kaufman.
"Dance for Parkinson's is for people with Parkinson's and their caregivers and loved ones to come and partake in a dance class together," Corbin said. "You can do the whole thing sitting in a chair, holding onto bars or standing. It's suited for each individual's goals and needs."
Corbin encourages all students to take this course, regardless of their dance background. According to Corbin, anyone interested in the positive effects that dance has on neurology should register for the class.
"You don't have to be a dancer to come to this course and learn how to build exercises for people with Parkinson's and how to facilitate them in movement," Corbin said.
The course structure
Corbin has formatted the class in modules. Each module consists of lectures, studio time with Corbin and Lineage, and finally, fieldwork. This fieldwork includes hosting a Dance for Parkinson's class for the population of clients with Parkinson's who work with Dr. Petzinger and Dr. Jakowec at USC Keck School of Medicine.
"We will learn about neuroplasticity and the neuro-scientific aspects of Parkinson's. We will also study how dance is a beneficial practice for many neuro atypicalities, which has been proven through research and practice," Corbin said. "Dance helps us think, move in space, creates community and, most importantly, brings us joy."
Corbin explained that the culmination of the course includes a panel with all the professors, scientists, artists and some participants who have been involved in the project. This panel will allow students to reflect on the entire process of the course.
The creation of this class is an important step in building multidisciplinary education at USC Kaufman.
"We've made a big splash as a performing arts school, and it's time to really start mining the other stuff," Corbin said. "How else can we fit into this University as thought partners and actors in the community?"
Register today for Fall 2022 courses, including DANC 195 Kaufman in the Community: Dance and Ability! For an entire list of elective classes offered at USC Kaufman, go to classes.usc.edu
---
By Hannah Doerr