Building Walkthrough: The Mezzanine
May 5, 2015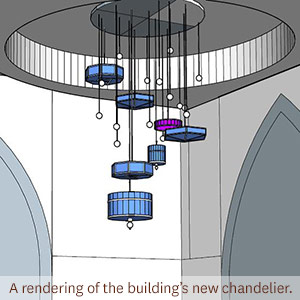 This week, we continue from the main lobby and up the grand staircase, past a portrait of our namesake, to the mezzanine level. Venture to the right and you'll find a "Romeo and Juliet" inspired balcony that peers into both the Topaz and Amethyst dance studios. Turning back to overlook the lobby, you'll notice a one-of-a-kind chandelier (pictured at right) composed of multi-colored art deco lamps that formerly graced the Kaufman home.
The doors ahead invite you to enter a state-of-the-art Fitness Center, which will be home to pilates and gyrotonics machines, balance and core tools and a ballet barre stretching area. And around the corner are conveniently located locker and dressing rooms for both male and female dancers.
Across the hall is the production control room, which is the technical nerve center of the entire building, but most specifically for the performance studio. From this location, lighting, audio, and video can be controlled for the performance studio and for the entire facility.
Stay tuned for more insights into our extraordinary new building, including a peek inside of our future performance space!