Building Walkthrough: A Peek Inside
March 30, 2015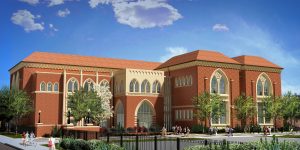 For today's installment, I want to share with you some of the innovative design elements of the Glorya Kaufman International Dance Center's exterior and lobby. A plaza with inviting furniture will provide a gathering space for those wishing to collaborate on projects, meet before performances, or simply luxuriate in the California sunshine. The plaza will also be the site of receptions, performances, and special events.
Entering through the main doors and into the lobby, you'll be greeted by a chandelier constructed from original art deco light fixtures personally donated by Glorya Kaufman. Another striking feature of the lobby is the undulating "grand stair," which moves guests up through the building's three levels.
On the hallway to your left, you'll see the "Wall of Firsts," an installation designed to celebrate the foundational history of this school, including its first class of students! Immediately adjacent are entrances to the "Large Performance Studio," the location of many future on-site performances by renowned choreographers, visiting dance companies, and USC Kaufman faculty and students. Finally, you'll arrive at the building's reception desk and box office, which will be the launching pad to everyone's Kaufman experience.