Creative computation: BFA senior project manipulates movement with technology
December 12, 2018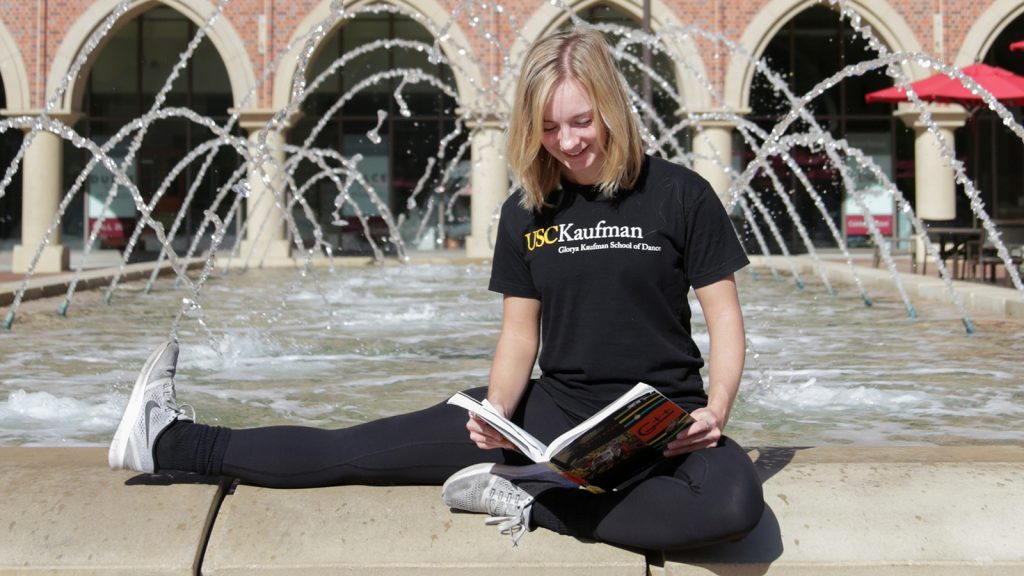 USC Kaufman BFA senior Rachel Walton is no stranger to technology. She attended a math and science preparatory high school before joining the inaugural class of the USC Glorya Kaufman School of Dance in 2015. As graduation approaches, Walton plans to present her love of dance with a tech-savvy twist in her senior project. Combining skills from the BFA dance curriculum and her Information Technology Program minor, she hopes to make dance accessible to a global audience.
The building blocks
Walton's minor studies have allowed her to explore different aspects of technology during her undergraduate career. Along with a few coding classes in languages like C++, she has also fit video game and app development courses into her busy schedule. There, she picked up the tools for her own senior project. She plans to apply her love for dance to an Augmented Reality landscape, to generate research tools for dancers and non-dancers alike. The application will allow users to share research across the platform's database.
"The project will culminate in a TED-Talk-style demonstration in which I will present the prototype for the app technology to the audience," Walton said. "Ideally, I would be able to have a live dancer perform the same movements that appear onscreen."
Once the code is in place, Walton will be able to incorporate movement vocabulary from her dance training. This will elevate the capabilities of the application in order to set it apart.
Technologies intersect
Walton's foundation of dance knowledge includes her unique grasp on faculty member William Forsythe's improvisation technologies. In the last four years, she has also amassed experience working with visiting choreographers on movement generation. The introduction of movement to her software will color the live demonstration, catering to an invited audience of possible users.
"By explaining my interests in computer science, new media, and technology, I will be able to discuss the 'why' of my senior project, and also talk about my long-term career goals," Walton said.
Her awareness of technology's presence in today's society prompted her to repurpose it for her own artistic vision. With her knowledge of code and app design, she'll be able to bring choreographic dreams to life.
"One of my long-term goals is to develop computer technology for dancers and choreographers, in order to create new platforms for them to increase the range of choreographic possibilities. I also want to share the joy and value of dance to non-dancers, because technology is an integral part of our culture," she said.
What's next
Make no mistake: Walton plans on dancing professionally upon graduation. Her time at USC Kaufman has simply expanded possibilities. Emphasis on the hybrid dancer throughout the curriculum has given her another outlet with which to express movement—movement she hopes to share.
"In the future, I hope to continue bringing dance into the culture of technology and make it more accessible to the public," Walton said. "Creating more overlaps between the art and technology world is a long-term goal of mine. I hope to use this project as a springboard to forging my own unique career path as an artist."
---
By Celine Kiner