Change the Stigma: dance minor creates mental health nonprofit
June 7, 2021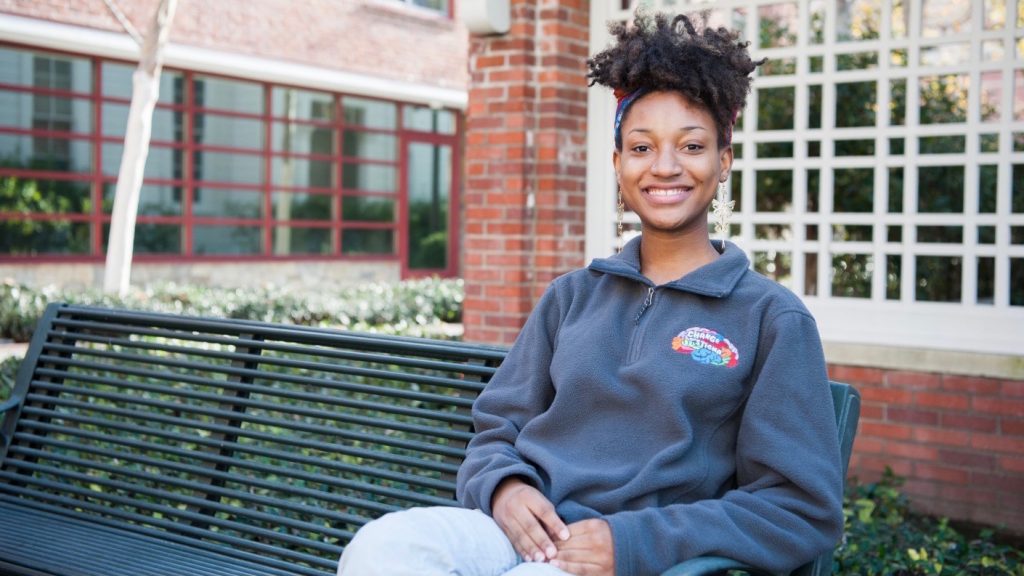 Alexis Augustine, a dance minor at the USC Glorya Kaufman School of Dance, drew from her past struggles with mental health issues to create her nonprofit, Change the Stigma. This organization strives to eliminate misguided stereotypes through discussion and open-mindedness in the arts and community events.
Augustine is also a Norman Topping Student Aid Fund (NTSAF) scholarship recipient. The fund awards scholarships to students with high financial need who demonstrate commitment to community awareness in their pursuit of higher education at USC. Augustine's mission through Change the Stigma aligns with that of NTSAF as she hopes to make an impact on campus and in the greater USC community.
Creating Change the Stigma
Augustine began to acknowledge her deteriorating mental health while in high school in New Orleans. She explained that growing up in the South taught her to keep things bottled up, but once she confided in her family and friends she realized that she was not alone in her struggle. This inspired her to create Change the Stigma originally as a club at her high school.
"I was essentially the first person in my family to come forward with some mental health issues," Augustine said. "My dad was very supportive, and that was really important to me. I also asked my friends about their mental health and if I was alone in my situation. I found that a lot of people were suffering in silence, so my friends and I decided to start a project in which we could talk about our mental health."
In its initial form, Augustine described that Change the Stigma served as a sharing space where peers could gather for moderated discussions on mental health. Augustine remembers specific conversations revolving around topics like anxiety and depression, but she knew Change the Stigma could evolve to address societal issues and their mental effects as well.
In addition to group discussions, Augustine explained that the nonprofit also hosted two artistic shows at her high school. These events showcased work such as spoken word poetry and musical pieces that helped both the audience and performers interact with mental health and societal issues posed by the production.
Change the Stigma on campus
Upon arrival at USC, Augustine brought Change the Stigma with her. She registered it as a student organization to form a club that could reach peers in her new environment. Here, the club became more conversational as Augustine established its presence on campus. She explained that her main development in the discussion space at USC has been the creation of the Candid Conversation Method.
"We use this method to guide our discussions, and it promotes open-mindedness and the importance of listening to understand other people's perspectives," Augustine said. "The conversations have been amazing and have brought many people a sense of comfort. We try to talk about a variety of topics, but I think the greatest trait of the organization is that we really accept anyone into our space."
Gaining support from peers
In establishing Change the Stigma at USC, Augustine received support from her friends and fellow peers. Augustine met USC Kaufman student Bella Allen (BFA '22) when they became freshman year roommates. Now, Allen serves as the Vice President of the organization. The mission of Change the Stigma resonated with Allen throughout her time at USC. She has appreciated it as a safe space to discuss meaningful topics for college students.
"Change the Stigma opens people's minds and their vulnerability to be able to hear new perspectives and ideas," Allen said. "Learning about different stigmas and stereotypes has helped me better understand their impact on our day-to-day lives."
Working past the virtual environment
Augustine explained that in the past year her group saw the strain that online learning was having on students. Change the Stigma decided to reduce their online events to help alleviate stress from this new environment. During this pause, Augustine and her peers were able to focus on obtaining a grant with The Provost's Arts and Humanities Initiative in association with USC Visions and Voices. This grant allows Change the Stigma to fund an in-person, artistic event in the fall, similar to what Augustine organized at her high school.
The event will feature a partnership between USC Kaufman and the USC Chan Division of Occupational Science and Occupational Therapy. Both Augustine and Allen have minors in occupational science. They are excited to blend it with their study of dance. Augustine envisions the event to incorporate dance performance with the discussion of occupational therapy and overall wellness. The pair agreed that this event has been a collective goal for Change the Stigma since it began at USC.
"This Visions and Voices event is definitely what we've been building up to since freshman year," Allen said. "The mission of Change the Stigma that Alexis wanted to continue at USC was hosting free events for people on campus and in the community to interact with. It's so exciting that we're going to be able to host a show in the upcoming fall semester."
---
By Brigid Murphy