Faces of the USC Kaufman dance minor
March 9, 2022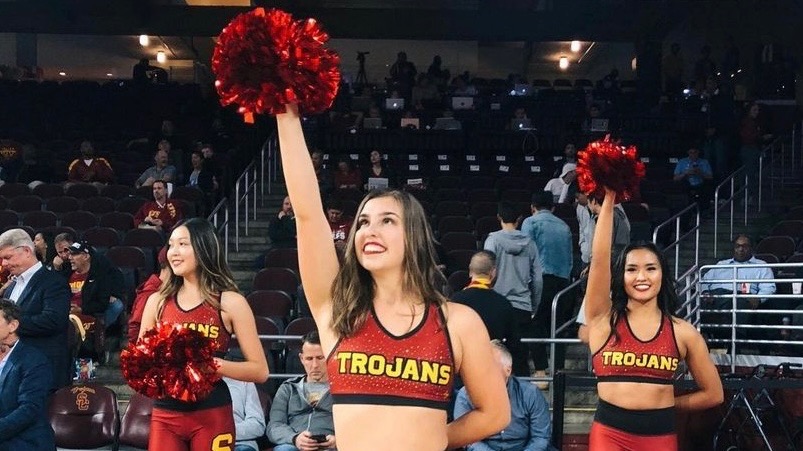 The USC Glorya Kaufman School of Dance offers a dance minor that is open to all undergraduate students at USC. No previous dance experience or audition is required to apply, so everyone from beginners to lifelong dancers can find a place within the program. The dance minor allows students across all schools to converge in their practice of the art form, attracting people from varying disciplines. These students include sophomore Greg Ward and junior Samara Anderson. Read on to learn more about their experiences as dance minors and how they balance it with the rest of their studies and activities at USC.
Greg Ward
Major change
Ward started at USC as a musical theatre major, but soon realized he had an interest in writing. He explained that he sought more academically rigorous courses, so in his second year he changed his major to English with an emphasis in creative writing. After being immersed in dance through the musical theatre program, Ward wanted to continue dance through a minor at USC Kaufman. He added a theatre minor as well to keep close to his passions.
"I still like to practice movement and dance in my weekly life," Ward said. "It's really nice to have classes where you can breathe and move your body. I've been a dancer my whole life, so I see this practice as important to my well-being both physically and mentally."
Modes of storytelling
Ward noted that while his dance minor and English major may seem disparate, he has seen how they can interact. He described how dance and creative writing are both vehicles for storytelling, which allows them to play off of each other in his studies.
"When I'm writing, I'm using the written word, but when I dance, I'm using my body to communicate. I see it as jumping from body to brain and from heart to mind," Ward said. "As a writer, you're constantly thinking about rhythm. You consider how words sound and how words combine with each other to create sentences that have a melodic tune to them. So it's nice when I'm in dance class because I can hear these rhythms that probably impact my writing more than I know."
A day in the life
This semester, Ward has one dance class on Fridays. Last semester, he had more dance classes peppered throughout the week. He described that alternating between his English and dance classes offered a nice change of pace throughout the day.
"Last semester, I would start my mornings off with jazz dance at 9:00 a.m. on Tuesdays and Thursdays with Professor Shannon Grayson," Ward said. "This was a great way to start the day because dance wakes you up and gets you going. Then, I would change and go to my English course at 11:00 a.m. I really liked that schedule because I was jumping back and forth between different practices."
Samara Anderson
A personal connection to dance
Like Ward, Anderson also appreciates the variety that dance brings to her studies. She is a psychology major with two minors: both dance and forensics and criminality. As a lifelong dancer, the dance minor attracted Anderson as an outlet for her passion along with her academic classes. She also wanted to take advantage of the opportunity to learn from the renowned faculty at USC Kaufman.
While Anderson does not see a direct overlap in her studies as Ward does, she still perceives a connection between psychology and dance.
"There's a very therapeutic aspect of dance, and I think that's a main reason why I stuck with it through college," Anderson said. "It's a form of expression that can be really beneficial for your mental health. For example, music therapy is something that helps a lot of people. I don't tend to think about psychology and dance as connected that often, but they have aspects that go hand in hand for sure."
The larger dance community at USC
Anderson is a member of Trojan Dance Force (TDF) as well, which provides another outlet for her passion. TDF is the official dance team of USC Athletics and performs at all home basketball games. In addition, the team makes appearances at other USC Athletics and Alumni events. Anderson has been on the team since her first year at USC, and noted that she has found a community of dance minors on the team as well. As a dance minor, Anderson is able to reserve studio space at the Glorya Kaufman International Dance Center, and explained how this has allowed her to further hone her technique.
A day in the life
Anderson especially appreciated her dance schedule last semester because she took one lecture class and one studio class.
"I took DANC 342 International and Historical Perspectives on Dance, which is required for the dance minor. I also took a ballroom class. I'm not a fan of history, but the history of dance was particularly interesting. My DANC 342 professor was incredible and so well informed on the topic."
In addition to her dancing at USC Kaufman and with TDF, Anderson is also involved with Xpressions Dance Company and is in the process of starting a tap club at USC.
Advice to prospective students
Both Anderson and Ward agreed that if anyone is interested in the dance minor that they should go for it and explore a balance of dance and academics.
"We have 18 units that we're able to take, so use those two extra units for a dance class and a nice break in your schedule of academic classes," Anderson said. "If dance is a passion of yours, do the minor."
USC Kaufman offers four dance minors. Learn more about them here!
---
By Brigid Murphy