Dance Clubs and Dance Minors; The Dance Community at USC
September 7, 2021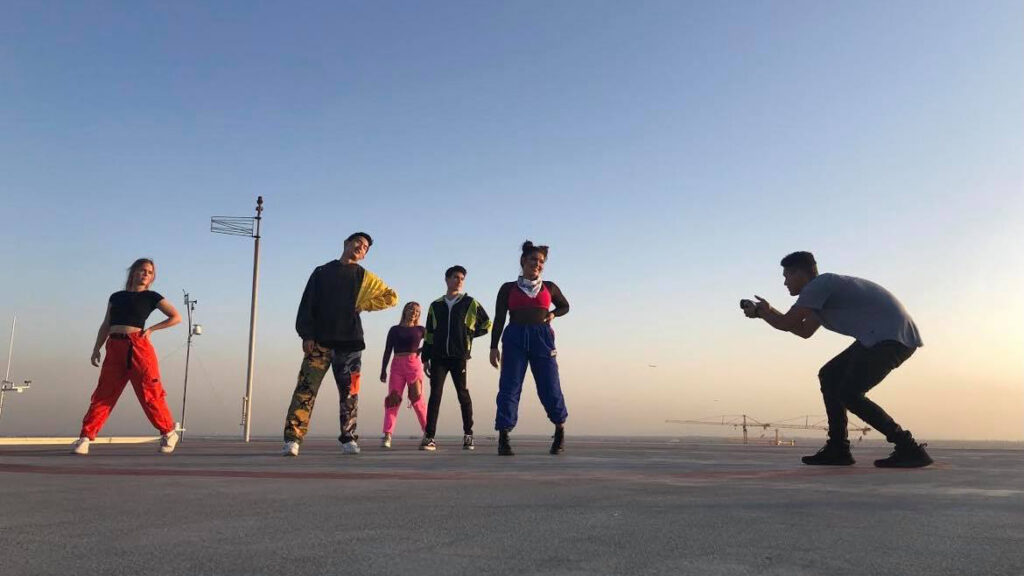 Outside the BFA program at the USC Glorya Kaufman School of Dance, dancers can become involved in the dance community at USC in many ways. With over 15 dance clubs in various styles, dancers of all backgrounds can find their place on campus.
The Dance Club Council (DCC) brings together student representatives from the dance clubs on campus. These clubs vary across dance styles and include people from all over the country, as well as numerous international students. Led by USC Kaufman Admission and Student Services Officer Kyle Beasley, DCC creates a larger dance community at USC. Beasley also serves as dance minor advisor, and many dance club members have a dance minor at USC Kaufman. Dancers take lecture and technique courses to further their understanding of and connection with dance, deepening their dance club experiences.
Finding Community in Dance at USC
Dance minor Paige Arredondo helps lead NSQK dance, an exhibition hip-hop team at USC. She has a double major in communication and journalism and is in her senior year. Arredondo first became involved in the dance community at USC by joining Chaotic 3, a competition hip-hop team. She moved to NSQK in her second year to be on its leadership board.
"The main reason I joined a dance club was to dance, and now the reason I stick around is the people," Arredondo said. "I love the way that NSQK fosters a really inclusive community. It feels like a home away from home where I'm able to do what I love with the people that I love."
Hybridity in Dance Minor and Dance Clubs
Grace Sumitro, a junior health and human sciences major, sits on the board of directors for jazz and contemporary group Xpressions Dance Company. Wanting to expand her dance training and her knowledge about dance, she decided to pursue a dance minor as well. Sumitro appreciates the diversity within the dance community at USC, as well as the emphasis on being a hybrid dancer.
"It's really cool to be able to groove and move with different people and form those connections through an art that we're all passionate about," Sumitro said. "It's really cool to see how people from different backgrounds learn to dance and how they incorporate dance into their own lives."
Hybridity serves as one of USC Kaufman's core pillars, and the dance minor reflects this concept. Required courses include lecture classes on dance history and analysis, as well as elective technique classes in various styles. Sumitro stepped outside her usual style to take a ballroom class with Lecturer Jay Fuentes and loved it. Arredondo enrolled in DANC 499 Dance for Zoom Fatigue which incorporated styles from all over the world. These included African dance with Lecturer Anindo Marshall and Bollywood dance with Lecturer Achinta S. McDaniel.
"I got to take classes I probably never would have taken otherwise," Arredondo said. "Dance for Zoom Fatigue was super fun and expanded my world perspectives in the arena of dance."
Dance Minors in Dance Clubs
Many of the dance minors at USC Kaufman participate in dance clubs on campus. The courses these dancers take apply directly to their experiences as dance club members. The dance minor gives students in depth knowledge about the dance forms they practice, bringing their dance clubs into greater context within the dance world.
"Having a leadership role in a dance team, it has been nice to use my dance minor to establish a foundation. Ultimately, it is my duty and responsibility to know the foundation of what I'm teaching and what we're encouraging in our spaces," Arredondo said. "It's nice to be able to identify the sources that need to be cited because I feel like that gets lost with dance. I think it's super important to go back to our roots and make sure that the next generation knows where this came from and how this space came to be."
Dance minor Conrad Rocha is a senior studying the Business of Cinematic Arts. In addition to dancing with Sumitro on Xpressions Dance Company, he choreographs for their performances.
"I added the minor because I love dance," Rocha said. "The training in the dance minor has definitely influenced my choreography for Xpressions and keeps my technique in shape."
Getting Involved in Dance at USC
Dance clubs at USC hold auditions every semester, typically the week after the university's involvement fair. This semester, Xpressions auditions will take place on September 7th, and NSQK auditions will be September 16th and 17th. To find a list of the dance clubs at USC, visit EngageSC. Meanwhile, visit each team's social media channels provides to find additional audition details.
"Any dancer can find their home at USC," Grace said. "Whether you're looking to dip your toes into hip hop, test out your salsa steps, or grow your choreographic skills, there is a dance club for you."
To learn more about adding a dance minor, visit the USC Kaufman website.
---
By Hannah Doerr