Dancing for social change–BFA student brings dance to Malabar St. Elementary
November 29, 2017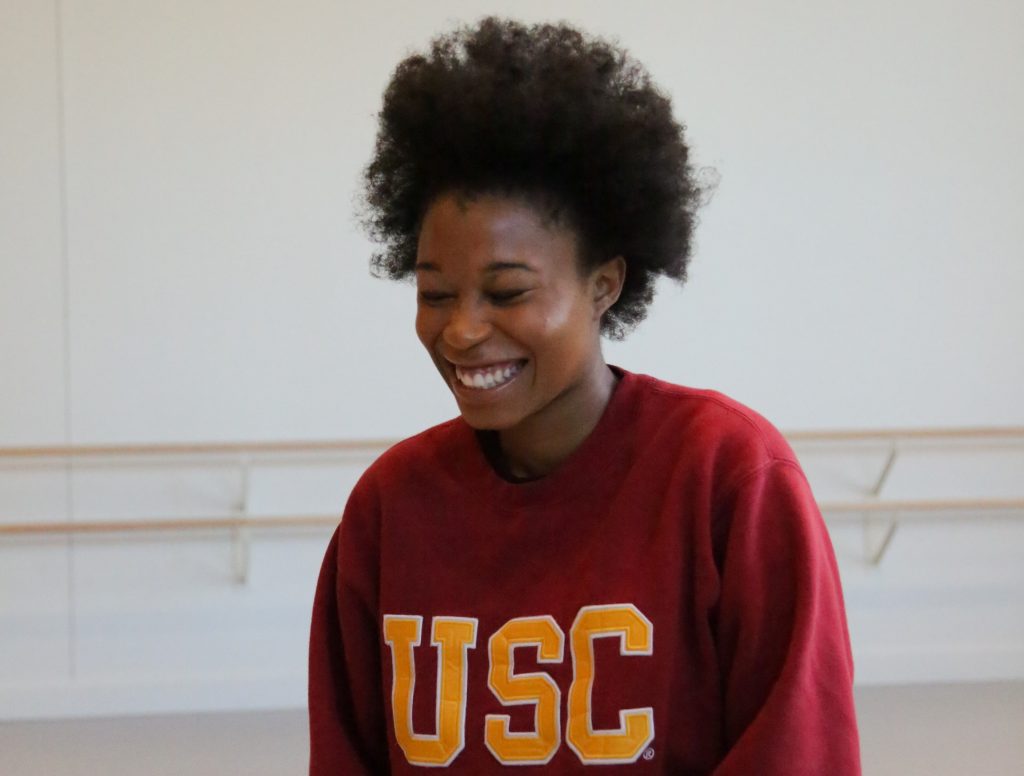 USC Kaufman BFA junior Brianna Mims has found more ways than one to apply her dance training and education—this year, on top of appearing in an Herbal Essences campaign and performing in d. Sabela Grimes' "The Electrogynous Experience," she both designed and implemented a pilot outreach program for students at Malabar Street Elementary in Boyle Heights, where she teaches dance class once a week.
Movement is "a fun way to expose children to people, perspectives, and ways of being that they might have never been exposed to," Mims said. With her guidance, fifth graders at Malabar not only explore movement principles, but also answer questions and participate in open discussion. Steps and rhythms are more concrete–they can be taught with counts and shapes–but she uses them in class to communicate less tangible concepts like courage and beauty.
Mims works with students to explore their weekly curriculum through a different lens. She incorporates the history they learn in their academic classes and the functions of dance in their communities into the movement she teaches them, to help foster mindfulness principles and personal development at a young age.
One of many programs
The Malabar Street program is not Mims' first outreach experience; she started working with kids at the Salvation Army in Jacksonville, FL, when she was in high school.
"I realized that they [couldn't] go out that much, so I was trying to…bring something that was fun to them. So I was like, 'oh, I'm a dancer, I [can] bring dance to them,'" she said. "Then I realized how therapeutic the art form was, so then I started to explore that a little more."
The program blossomed into Mims' nonprofit organization, S.A.R.A.H.'s Foundation Incorporated, which still runs in her hometown, Jacksonville. Children at the Salvation Army receive mentoring, tutoring, and dance classes. Since then, it has expanded to Los Angeles, where the foundation provides dance classes and various art performances to women at the Union Rescue Mission.
At USC, Mims works with USC Civic Engagement to connect and manage her outreach programs, and is currently building a partnership with Los Angeles County of Education, Juvenile Court School in hopes of bringing dance to another underserved community.
Free arts education in Los Angeles
A 2015 Los Angeles Times article noted that California has one of the strongest arts education policies in America, but that eight out of 10 elementary schools in the L.A. Unified school district don't meet the California policy's requirements.
Malabar Street Elementary is one of those L.A. Unified schools—Mims is bringing them a free option for arts education. The pilot program at Malabar brings access to 26 students, and aims to expand to serve even more. The students come from similar communities, so Mims' original goal of discussing different backgrounds has shifted slightly—she discusses a different topic with them each week.
Recently, Mims gave a worksheet to her students that asked what made them feel beautiful, and a student noted that the question had almost made her cry—she had never thought about the answer to that question before.
"That made me happy," Mims said. "She's understanding something, she's analyzing and processing things. I think that was one of my favorite moments so far."
Mims' weekly classes are becoming very popular, and beyond that, are using dance to make important discussions accessible to young students.
"My goal is just for them to understand…themselves better and to continue that process after they leave the program," she said.
---
By Celine Kiner